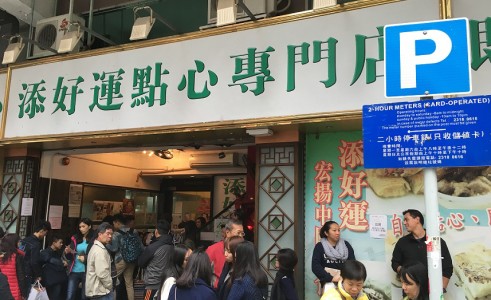 Tim Ho Wan Sham Shui Po
9-11 Fuk Wing Stree
Hong Kong, China
+852 2132 0066
In the world of gastronomy receiving the Michelin stars usually equate to higher prices, Hong Kong's Tim Ho Wan is an exception. This dim sum restaurant has the distinction as the cheapest Michelin starred restaurant in the world. Opened in 2009 by Mak Kwai-pui, a former chef of the three Michelin starred Lung King Heen, it has since expanded throughout Hong Kong and throughout the Far East as well as in Sydney, Australia. Its original location in Mong Kok had closed down a few years ago due to rising rent prices and relocated to another part of Hong Kong. There are currently two branches with a star, the North Point and Sham Siu Po, and since the latter was the oldest it was the one that I chose to visit.
Armed with two other companions we arrived for a late lunch on Sunday afternoon. There was still a large crowd of locals and tourist waiting for their number to be called. We waited for about twenty minutes before we were seated. The place was noisy and every table occupied. There's nothing special with the décor of the restaurant, just plain wood tables and chairs making, New York City Chinatown's Golden Unicorn and Jin Fong high end in comparison.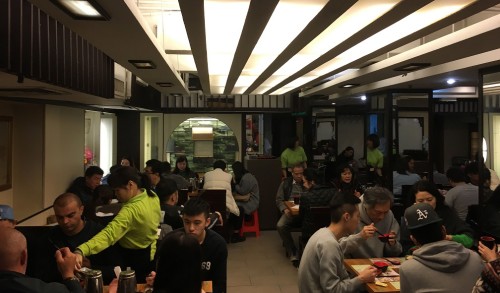 Unlike the places in New York City, where the food carts are being pushed around, here you fill up a paper menu, check what you want to order then you give it your server. One by one small plates of goodness start to flow. Steamed chicken feet with black bean sauce, an all-time great at a dim sum place, gelatinous chicken feet doused in black bean sauce had tremendous flavor. Steamed rice with meat & dry cuttle fish had a creaminess to it. The rice was covered in savory meat and cuttle fish. It was hearty and definitely filling. Poached fresh seasonal vegetables where the Chinese cabbage still retained the leafy aspect. Steamed dumplings in chu chow style had a filling that was a mixture of shrimp and fresh vegetables which made for a chewy dumplings.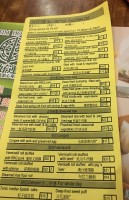 The steamed egg cake had a delicate and puffy texture as each bite left my palate wanting more. Steamed chicken with mushroom where the chicken meat was so tender that it fell right of the bone. Steamed with mushroom, peppers and garlic it infused beautiful flavor in the chicken. Nicely done pan-fried beef buns filled with satay paste had a wonderful fried crusty middle. Its beef stuffing marinated in satay paste was deliciously sweet yet savory. Steamed beef balls with bean curd skin, compact juicy beef balls oozed with oily goodness.  A dish that makes a normal appearance at almost every dim sum restaurant in New York City, Vermicelli roll stuffed with shrimp. At Tim Ho Wan the vermicelli was a little thick but worked well in absorbing the soy sauces provided. There's also the Cantonese classic, Pan-fried turnip cake, a crunchy outer layer while soft in the inside. This was a pleasant and modest dish.
We were satisfied at the end that we decided to forgo dessert. My companion and I were all in agreement and enjoyed our meal. Out total damaged was about 250 HKD including tax and 10 percent service charge (about $32) for ten shared dishes and just tea to drink. This was an excellent value for your money.
Flickr Album Gallery Powered By:
Weblizar
At Tim Ho Wan don't expect Michelin starred service, the staff is efficient and direct but not rude. There were times that a server had to yell out to the guest for their orders as the rooms got extremely noisy. Our meal was quick but we did not feel rushed at all since the food started coming out soon after we ordered. We gave ourselves enough time to help digest but at the same time we were not inconsiderate of those waiting for tables.
Tim Ho Wan is a humble restaurant that serves authentic dim sum. The food is simple, focusing more on taste than presentation, When the Michelin guide awarded this restaurant a star it caused a shockwave to the restaurant world. There was backlash from pundits and food enthusiast alike and the credibility of the guide was questioned. In a city with a myriad of dim sum restaurants was Tim Ho Wan the only one that the Michelin inspector thought worthy of the star? I'm pretty sure there is a lot more deserving but if based on the criteria of a one star "a very good restaurant in its category", Tim Ho Wan is a very a good dim sum restaurant.
For individuals who are ordering medicines online, there are several significant factors that must be elaborate. Internet is an ideal practice to get medicaments. Several medicaments are antifungal medicines. There are at least some medicaments for each sicknesses. Levitra is a treatment prescribed to treat few ailments. What do you have to consider about cialis vs viagra? When you buy remedies like Levitra you must ask your druggist about viagra vs cialis. Many drugstores describe it as viagra or cialis. Many probably sure the forcefulness of Levitra is well documented. In addition, there are some of explanations and pharmacists are as a rule able to pinpoint your problem through biological tests. Ordinarily the treatment options may switch on erectile malfunction medicaments or counseling. Your generic is for you only. Never give your drugs to other humanity even if their state appears to be the same as yours.