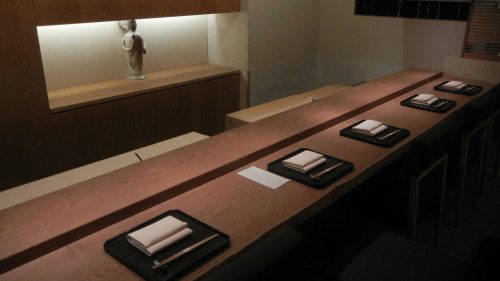 Kohaku
3-4 Kagurazaka, Shinjuku-ku
Tokyo, Japan
+81 3-5225-0807
Paris, New York and Hong Kong, these three metropolis giants fall short to Tokyo when it comes to the largest concentration of restaurants with Michelin stars on the planet. Last year, when the guide elevated the Kohaku from two to three stars, it lifted the city's record number of restaurants with three stars. It also made owner Chef Hideki Ishikawa the most Michelin starred Japanese chef with a total of eight. Running the kitchen at Kohaku, Chef Ishikawa tapped his disciple Koji Koizumi who had worked with him for many years at his namesake restaurant Ishikawa.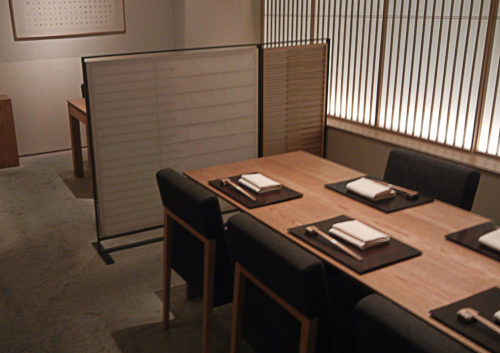 Kohaku resides along a small pedestrian only street in Kaguraza, Shinjuku-ku and within walking distance from its other sister restaurant Ishikawa and Ren. It has a modest exterior made from darkened bamboo sticks and a clean and simple interior adorned with natural wood. The restaurant is designed with a seven seat counter located by the entrance and a brightly lit dining room with uncovered tables, plain heavy padded chairs and floors covered in thick carpet.
Open only for dinner, Kohaku offers a single kaiseki for 19000 YEN. The meal started with Steamed Shrimp-Shaped Taro with White Miso Sauce. This was a bowl of white miso sauce with a floating ball of taro. The softened taro had plenty of starchiness infused with some nutty undertones. Deep-Fried Horse-head Fish and Ginkgo Nut, Home Blended Salt was next. With only three components this simple dish was perfectly executed. The fish scale and skin was extra crispy while the rest was kept firmed but also tender. Grilled Black-throat Sea Perch on a Sticky Rice was prepared nagiri-style like sushi. The sea perch was grilled impeccably with excellent texture and a pleasing burnt taste.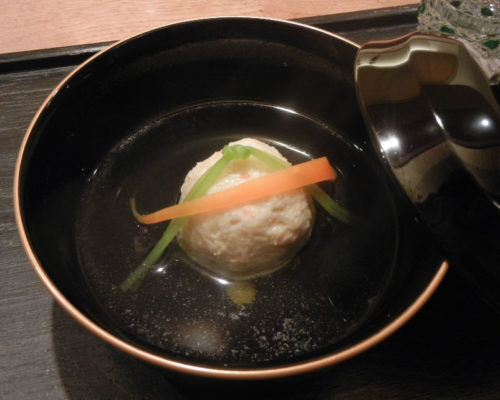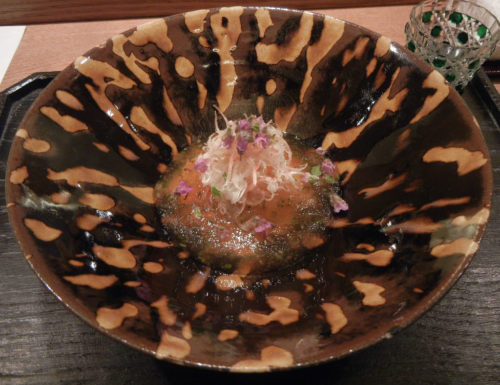 Snow Crab Dumpling in Clear Soup was the following course. Drenched in the subtleness of the clear soup, the dumplings distinct crab flavor shines brightly. The watery soup also provided moisture without mushing the dumpling. I was then served Filefish and its Inner Covered with Chef's Secret Jelly. In Japan it was said that file fish is as good as fugu, but slightly cheaper and is often use as an alternative. This was definitely interesting and unique at the same time.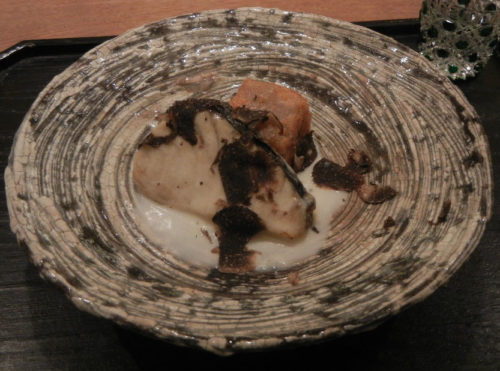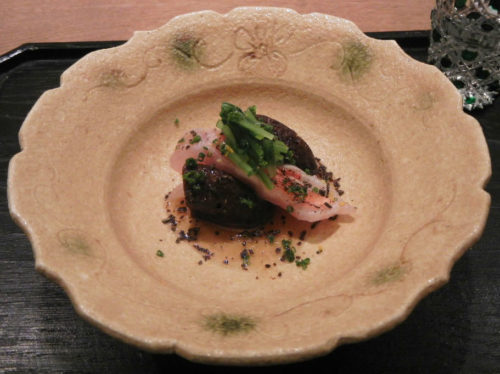 The kaiseki continued with Charcoaled-grilled Spanish mackerel and Knead Lotus Root, Scattered Sliced Truffle. The mackerel had a nice charred outer layer as well as having a pleasant charcoal aroma. Shaving of black truffles (which was not commonly used in Japanese cooking) provided a touch of intense earthiness that worked perfectly with the mackerel. Kinme Snapper Garnished Shitake Mushroom came after. The snapper was served sashimi style and was incredibly fresh. Complementing the bright clean taste of the snapper was the smokiness of the shiitake mushroom.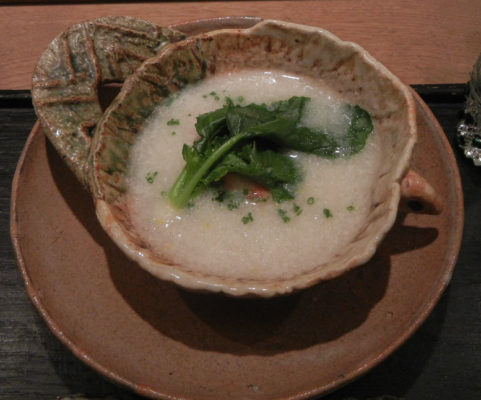 Just Harvested Bamboo Shoot and Prawn, Soup of Ground Milt and SHOGOIN Turnip from Kyoto was a bowl of thick lightly creamy soup filled with Japanese delicacy, and had plenty of fascinating subtle flavors. For the rice course Steamed Rice with Snow Crab and Queen Crab Roe, Pickled Vegetables and Miso Soup was served. Like my previous dinner at Ishikawa, Chef Kozuimi showed me a pot of rice with crab meat and covered in crab shell before mixing and presenting it in a smaller bowl. At this moment my appetite was satisfied from all the previous courses, and this filling blend of snow crab and rice erases any traces of hunger. Accompanying the rice were a side of pickled vegetables and miso.
Then finally, dessert came in the form of Caramel Ice Cream, Rum Mousse and Jelly with Fried Tofu Skin. This was not as sweet as I expected. It had some savory aspect with a tiny bite of alcohol that goes along with its cold element. Fried tofu skin was cleverly used for added textures.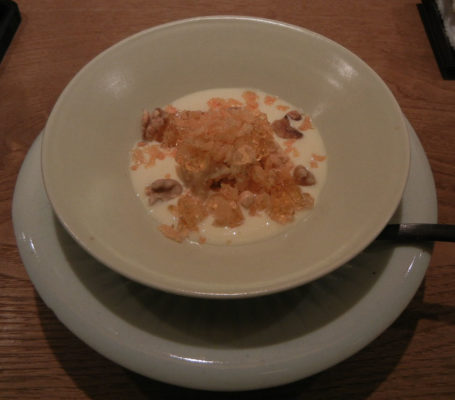 Though Kohaku has very good wine list it has a better sake collection. Prior to starting the meal I asked Chef Koizumi for a sake recommendation. He chose a bottle of cold sake that was on the dry side but wonderfully elevated each course.
This particular kaiseki focuses on fish, seafoods and vegetables. Red meat or any land proteins were nowhere to be found. The cooking was uncomplicated with modest flavors and only uses top notch seasonal ingredients. Chef Koizumi stayed within the boundaries of Japanese taste profile while also adding some of his own touch of modernity.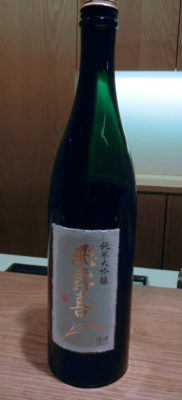 The Japanese is known for delivering incredible hospitality which I had experienced at Kohaku. When I was making the reservation I mentioned that I have a time constraint due to another engagement. What they did was simply unexpected. The restaurant opened half an hour early to allow me enough time to savor and enjoy my meal without being rushed. I made sure that I arrived on time and when I entered the restaurant, Chef Koji was waiting to welcome me at the counter.  For the next half an hour, the restaurant was all mine, and was one on one with the chef. The staff gave me their undivided attention, and even when it started to fill up the attentiveness did not falter.
Chef Hideki Ishikawa created Kohaku to be the casual version of Ishikawa. On my visit there was no indication of such. Though there are some small similarities between the two each have their own individual identity. Chef Koizumi and the staff at Kohaku are extremely capable in delivering a three star dining experience.