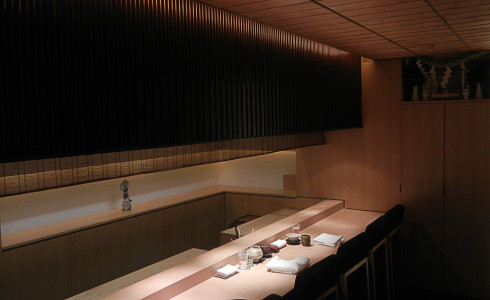 Ishikawa
5-37 Kagurazaka, Shinjuku-ku
Tokyo, Japan
+81 3-5225-0173
Official Site
Hideki Ishikawa is rarely mentioned when it comes to the list of great chefs of Japan. He has stayed under the radar in the cooking world but further investigation revealed that he is one of Japan's most decorated chefs. He currently has three restaurants with a total of eight Michelin stars combined, more than any other Japanese chefs. With two of his restaurants garnering three stars each, Ishikawa holds that distinction with only handful of people. The headquarters of Chef Ishikawa's star studded dining portfolio is his name sake restaurant the three Michelin starred Ishikawa in Kagurazaka, Shinjuku-ku where he leads the kitchen on a daily basis.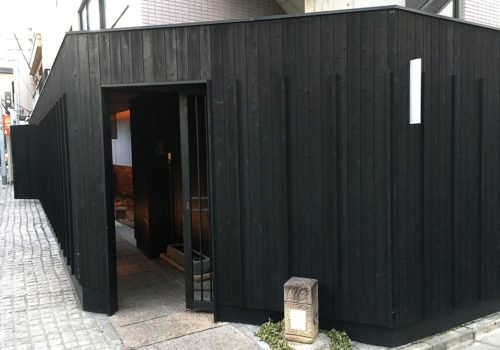 The restaurant is on a small side street behind the Bishamonten temple and has an unassuming façade of black wooden fences. There is a small Japanese garden that's noticeable before reaching the sliding door entrance of Ishikawa. As soon as I walked in, there was a loud greeting from the chefs marking my arrival. Inside there was a Zen like atmosphere, the lights were dimmed and hushed throughout the space. The interior is designed with different chambers providing privacy and intimacy while dining. Adjacent to the entrance in the front resides the counter with a smooth wooden top. It only seats seven guests and it is where I requested to be seated.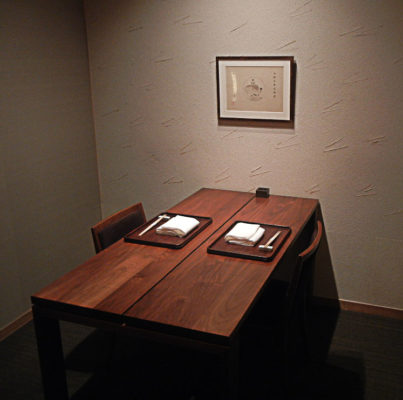 Ishikawa is only open during the evening and exclusively offers one kaiseki menu for 19000 YEN. To start the kaiseki meal I was served the Appetizer-Monkfish Liver, Shrimp and Shrimp, Covered with Egg Yolk Sauce. The monkfish liver had a fabulous creaminess that went well with the density of the shrimp.  Adding extra richness to the dish was the thick egg yolk sauce covering both the monk liver and shrimp. Deep-fried – Silver Pomfret, Oba Herbs and Sliced Lotus Root, Garnished with Arrowhead followed after. Thick lotus root fried in tempura style with tender fish filling had an incredible crispiness. Salt and sauce garnishes that it came with gives the lotus root two different types of perspective.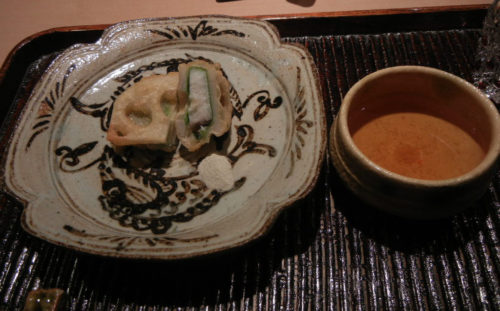 Next was the Soup-Rice Cake and Leeks, Soft-Shelled Turtle Stock with a Hint of Yuzu Citrus. There was plenty of bright subtlety in this clear soup while also having a lingering citrus acidity. That was followed by Sashimi- Sea Bream and Fresh Sea Urchin, Garnished with Fresh Seaweed and Japanese Herbs, Steamed Abalone with Stock Jelly which arrived in three separate tableware. The sea bream sashimi was extremely fresh and light with a certain mildness. Chef Ishikawa personally buys sushi grade fish at the market. The sea urchin was enormously buttery while the steamed abalone covered in jelly had an attractive taste.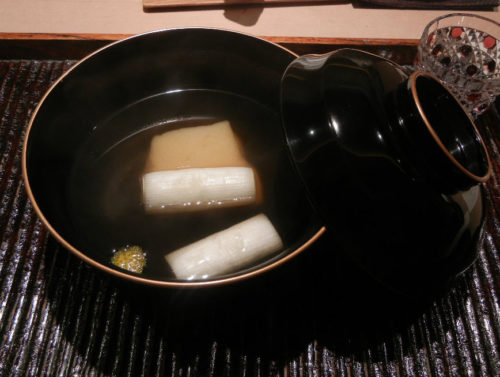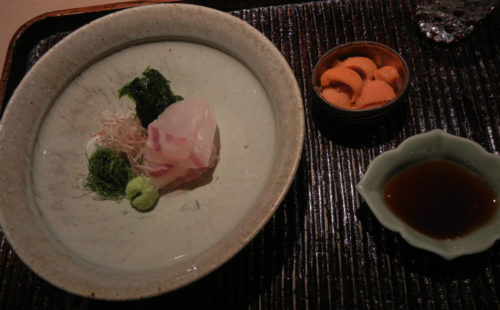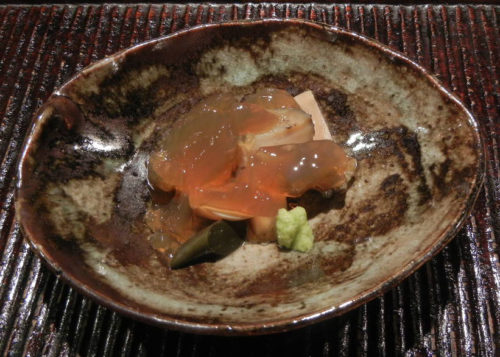 The meal proceeded with Charcoaled-grilled-Congers Eel and Shrimp Shaped Taro. Grilled wonderfully with charred outer layers that gave the eel a beautiful charcoal taste while having the inside soft and grainy. Next was the Delicacy-Snow Crab and Simmered Turnip. Served cold was a tasty crab meat in magnificent lucid broth. For a small offering it was filled with some terrific flavors.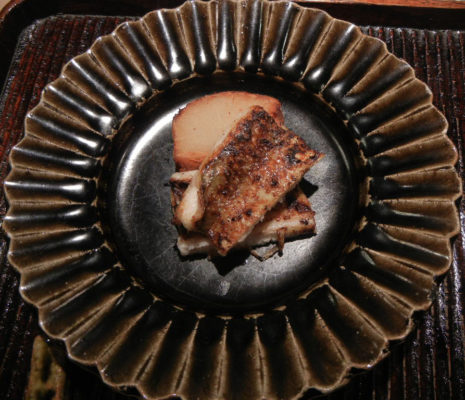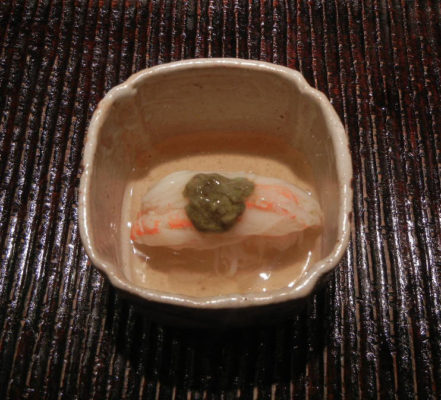 Then came the Hot Pot- Thinly Sliced Japanese Wagyu Beef and Seasonal Vegetables which were filled with paper thin sliced of scrumptious Wagyu beef in hot broth of vegetables. Infused from the beef fat and fresh vegetables, the broth was packed with fantastic savory flavors and aromas.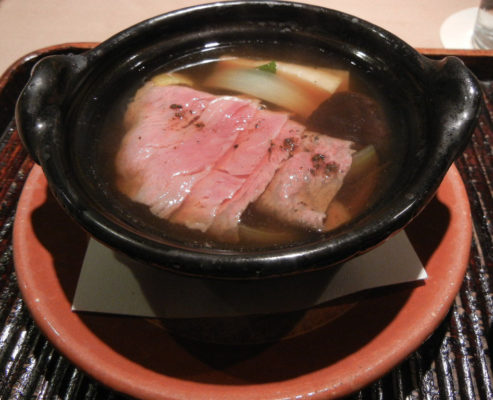 The Steamed Rice-Steamed Rice with Black-throat Seaperch, Miso Soup and Pickeld Vegetables. Chef Ishikawa presented me with a pot of rice with two large pieces of sea perch on top. He proceeded to mix it up before serving in a bowl. This was a very good and filling dish that would satisfy any one if one is still hungry after all the courses were served. There was plenty of rice left that I was asked if I would like to take it home. Miso soup with tofu and mushroom and pickled vegetables accompanied this rice dish.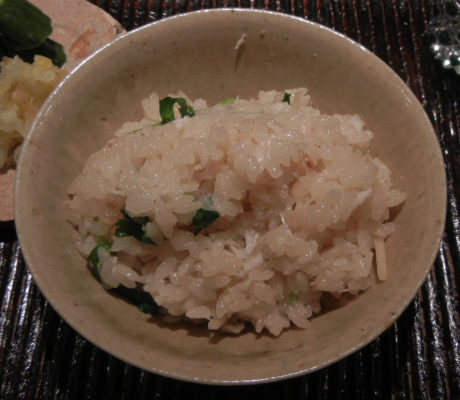 For the sweet course the Dessert-Roasted Soybean Flour Mouse, Floating on Soybeans Soup was served. An interesting starchy dessert with a controlled amount of sweetness I myself liked. As to any ending on a kaiseiki, green matcha tea is served at the end to help with digestion.  
The meal progressed in an order that was extremely pleasing to the palate and where the ingredients are the star of the show with some appearing twice in different plates. Using ultra seasonal ingredients the chef was able to get their full potential. Each course was consistent with subtle flavors, the cooking technique is simple, yet there are so much thought and detail put in them. This terrific kaiseki was further improved with the sake's from the restaurants list. I left it to Chef Ishikawa what would be the appropriate pairings. The different types of sake that he chose and their own distinct intensity asserted the individual plate.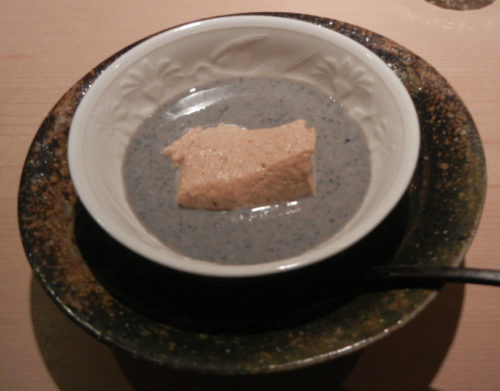 There was a sense that I was coming to someone's home when I came here. I was treated in a more personal level by Chef Ishikawa and his staff but at the same time their service was very proficient. The chef interacted with his guests at the counter and spoke enough English to converse with a foreigner like me. A show of nice gesture before starting the meal there was a printed menu in English with my name on it where I was sitting at the counter. Throughout my meal the chef and his staff were engaging and Chef Ishikawa himself was involved in serving the food.  Even at the end as I exited the restaurant Chef Ishikawa was waiting outside in the street to utter his goodbyes and see me through until I'm out of his sight.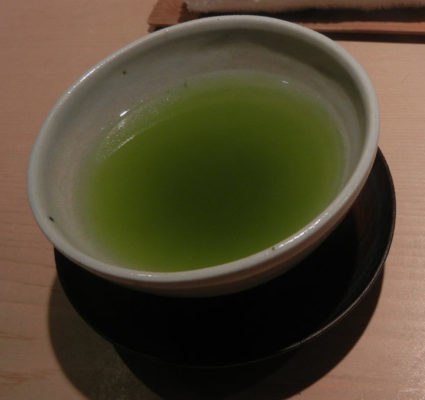 Kaiseki is an elaborate Japanese culinary masterpiece in which Ishikawa exemplifies. At Ishikawa I was treated with a terrific kaiseki meal that had a balance of taste, textures and colors. The kaiseki is Chef Ishikawa own expression of contemporary style of cooking blended with traditional methods of simplicity. As great as the food was at the restaurant the chef and staff hospitality was remarkable, they created an environment where I was able to enjoy all facets of dining. Ishikawa is as good as any restaurant out there, a great destination dining that warrants to be on any food lovers list of places to visit in Tokyo.
For individuals who are ordering medicines online, there are several significant factors that must be mature. Internet is an ideal practice to get medicaments. Several medicaments are antifungal medicines. There are at least some medicaments for each sicknesses. Levitra is a therapy prescribed to treat few ailments. What do you have to consider about cialis vs viagra? When you buy remedies like Levitra you must ask your dispenser about viagra vs cialis. Many drugstores describe it as viagra or cialis. Many probably sure the forcefulness of Levitra is well documented. In complement, there are some of explanations and pharmacists are ordinarily able to pinpoint your problem through biological tests. Ordinarily the treatment options may turn on erectile dysfunction medicaments or counseling. Your generic is for you only. Never give your drugs to other people even if their condition appears to be the same as yours.