The MasalaWala
179 Essex St
New York, NY 10002
(212) 358-9300
Official Site
To find a good Indian restaurant in New York City is easy as there are pockets of areas across the five boroughs. In Manhattan, East 6th St. between First and Second Avenues and in the 20's on Lexington Avenue is packed with such places. Indian cuisine from the different regions of the country are well represented here. But in the Lower East Side, there is a restaurant called The MasalaWala. Specializing in serving the street food of India and the rest of South Asia, Masala meaning a mixture of spices and wala a person that serves or provides a service, it is a local treasure of the Lower East Side. The MasalaWala inhabits the intersection where Essex meets Houston Street, a miniscule space that is designed to maximize every square foot available packing it with dark wooden tables and hard wood chairs. The restaurants humble décor is designed with a visible open kitchen, walls of exposed red bricks with paintings, and tiny light bulbs hanging from the ceiling.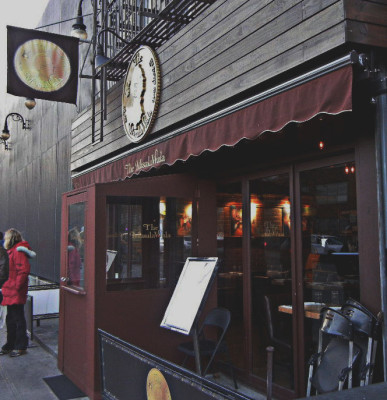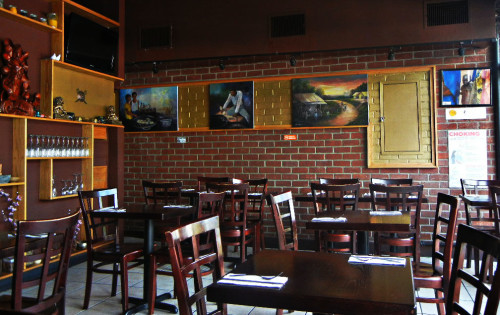 With a menu that is extensive, and can be overwhelming, with all the goodness it offers at an affordable price range. Separated by vegetarian, meat and sea food choices, starter dishes average in the single digits, while entrées hover around $17 with only a few that cross the $20 mark. For starters there is the Malai Tiger Shrimp Tandoor-grilled Tiger Shrimp marinated in sour cream, nutmeg and sesame. Four pieces of wonderfully grilled shrimp were the second most expensive on the appetizer menu. Chowringhee Pani Puri – Semolina puffs, potatoes, chickpeas, and tamarind are small pastries with a savory filling. Dip it into the tamarind sauce for a nice hint of sourness. Wala Veg Sampler-Assortment of Mumbai Samosa, Dilli Bajji and Paneer Pudina Tikka is a delicious sample of non-meat offerings on one plate. Their watery Spiced Lentil soup has a good nutty flavor while the hearty Aloo Masala Roll- spiced potatoes, tomatoes and cilantro was a generous serving and more than enough as a meal.

The entrées, Chicken Tikka Masala-Tandoor-grilled chicken in fresh tomato cream sauce with fenugreek, a creamy sauce that drowned the grilled chicken with its consistency and traces of sweetness. The intense spiciness of Chicken Madras-South Indian specialty curry with tomatoes, ginger, mustard seeds and curry will be much appreciated by those who enjoy a lot of heat with their food. Jalfrezi chicken- A tantalizing combination of paprika, tomatoes and coriander in a hot and tangy sauce on the other hand had a delightful depth of piquancy while also having the wonderful mixture of spices and herbs in the background. A paneer entrée of Mattar Paneer -North Indian favorite with pressed cottage cheese, green peas, herbs and spices, where cubes of cottage cheese swam in a tomato based sauce seasoned with different spices.
Vegetarian entrees like the Bhindi Do Pyaza (Okra) – sautéed okra, onions, tomatoes, dried mango, had beautiful aromatics with all the ingredients it was sautéed in. The vegetables married well with one another and the okra was not over cooked like it often can be, causing the dish to thicken, but instead it provided additional texture. Baingan Bharta (Eggplant)-Roasted eggplant, spiced tomatoes, cumin. The combination of tomatoes and roasted eggplant mashed together while also having a peppery substance made up a pleasant dish. To soak up the curry sauces plain biryani rice is served with the entrees or different types of roti or naan are available as a side order. I usually prefer the fresh garlic naan as it gives that extra garlicky tang that goes well with the restaurants curry sauces.
]Traditional Indian sweets make up the desserts like the Rabri Ras Malai,cottage cheese dumplings in sweet condensed milk, garnished with rose water and pistachios. The mildness and texture of the cheese prevent it from being overly cloying, instead it creates the right amount sweetness. Gulab Jamun Khoya,dumplings in sweet saffron syrup are round spongy like dumplings that are soaked in a sugary syrup, quite a contrast from the other but nevertheless this gives the palate sweetness afterwards that complements the savory dishes.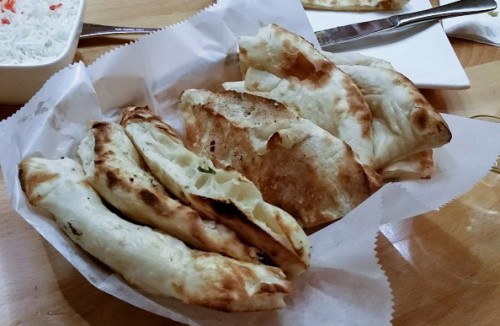 Lunch and dinner at The MasalaWala is always pleasing. The kitchen produces good food with straight forward and honest cooking. The mixture of different spices and herbs bring out bold flavors in every dish. There is a great deal of consistency here, on my most recent visit my palate resonated with the tastes that are still familiar from before. The restaurant has a decent list of alcoholic beverages that includes imported beer from India such as King Fisher as well as European and domestic wines at a price with very little mark up.
A family owned restaurant, the owner's father was always at the restaurant at the times that I visited The Masalwala. With his welcoming nature, he sets the tone for the staff to provide a more personal service. He stops at every table to chat and greets guest as they come in while also thanking them for their patronage as they leave.
The MasalaWala brings locals and visitors together with its delicious and reasonable price dishes in an inviting atmosphere. An all-day dining on any day of the week, this restaurant has never failed to deliver a good meal. This is one of the best tasting Indian restaurants in New York City and I'm not the only one that shares the admiration, a quick search on Google will bring up a plethora of favorable write ups from blogs and other review sites.
For individuals who are ordering medicines online, there are several significant factors that must be elaborate. Internet is an ideal practice to get medicaments. Several medicaments are antifungal medicines. There are at least some medicaments for each sicknesses. Levitra is a curing set to treat few ailments. What do you have to consider about cialis vs viagra? When you buy remedies like Levitra you should ask your pharmacist about viagra vs cialis. Many drugstores describe it as viagra or cialis. Many probably sure the forcefulness of Levitra is well documented. In supplement, there are some of explanations and pharmacists are as a rule able to pinpoint your problem through biological tests. Ordinarily the treatment options may include erectile malfunction medicaments or counseling. Your generic is for you only. Never give your drugs to other men even if their condition appears to be the same as yours.