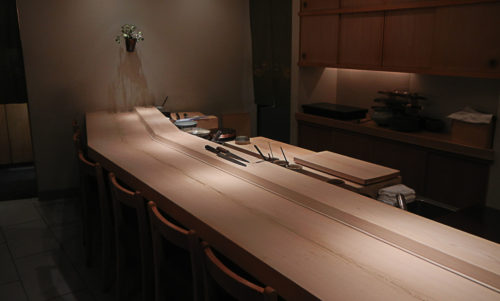 Sushi Yoshitake
3F, Suzuryu Bldg
8-7-19 Ginza, Chuo-ku
Tokyo, Japan
104-0061
+81 3-6253-7331
Official Site
Reserving a top sushi restaurant in Tokyo is a task in itself and some are just nearly impossible to get in. A lot of them require a concierge from the hotel where you're staying to make the reservation and most of the time, using the same service provided by a premium credit card is not acceptable. For the three Michelin starred, Sushi Yoshitake in Ginza, there were no exceptions and I had to go through the same concierge process. Sushi Yoshitake is one of the only three sushiya in Tokyo to receive the maximum rating from the guide, and is regarded amongst the top sushi restaurants in Tokyo.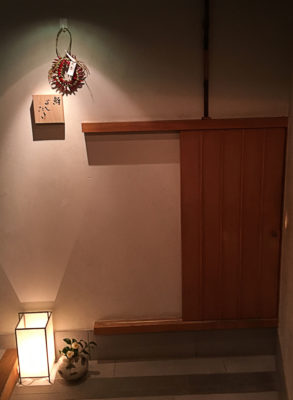 The restaurant received three stars in 2012 when it was first featured in the Michelin Guide. This was an incredible accomplishment by chef and owner Masahiro Yoshitake. Soon after, he opened a sister restaurant called Sushi Shikon in Hong Kong. Sushi Shikon debuted with two stars in 2013 and earned its third star just a year later. Having two restaurants dubbed with three Michelin stars simultaneously is a rare achievement for any chef. This is an honor that Chef Yoshitake shares with only a handful of other chefs in the world.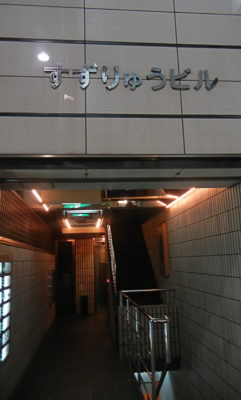 Sushi Yoshitake is on the third floor of a nondescript building on a side street. The place is small, clean and serene. It has a smooth natural finish counter made from a single slab of wood that only seats seven patrons. Behind the unique counter is where Chef Yoshitake does his magic along with his two other chefs. They wait patiently until all the guests on the reservation list arrive before they begin preparing for the meal. There is only one omakase choice for 24000 YEN. It is served daily for two evening seating; one at 6pm and the other at 9pm.
The omakase started with a series of appetizers that began with Steamed Egg Custard with Puffer Fish Soft Roe. A seasonal Japanese delicacy with its nice eggy and custard features combined to create an interesting unique taste. Next was Today's Sashimi, fresh cuts of rockfish. With the skin side charred it added some nice textures and burnt taste to the fish natural flavors. The next dish was Tender Octopus, braised in sweet sauce, the octopus meat was firm yet tender that requires very minimal effort to breakdown. The sauce coated the octopus with color and some sweetness.
Steamed Abalone, Liver Sauce was the restaurant's signature dish. The steamed abalone had several good textures, but the highlight of this dish was the sauce from the abalone liver. I could only describe the creaminess as heavenly as it takes your palette into this wonderful experience of flavors. Dipping the abalone in the sauces enhances it. After finishing the abalone, the chef added sushi rice to what's left of the sauce and I was instructed to mix them together. The mixture produces another divine savory aspect to the sauce, not to mention a whole new dish in itself. 
I was then served Grilled Tilefish, perfectly grilled it was moist and tender while the skin was particularly crispy. Also on the plate was a half sliced Japanese lime, and by squeezing a few drops the mild taste of the tilefish is enhance. To follow was Steamed Clam with Sake and Canola Flower. Sliced clams soaked in sake and covered with green vegetables (similar to a broccoli stem) had a good subtle poise of bitterness and also a light floral oiliness. This was the last of the small dishes and marks the end of the first half of the omakase.
The sushi part of the omakase began with Ika – Squid, a fine piece of squid had smooth and chewy textures. Tai- Sea Bream followed after, its slightly sweet and delicate taste were well balanced. I was then served Yellow Tail which was completely off the menu. The flavors combined were absolutely delightful and just downright tantalizing.
Now the good stuff, Chu Toro-Medium Fatty Tuna, it had terrific equilibrium of delicious fattiness. O Toro-Fatty Tuna on the other hand just melts in your mouth. Tremendously soft and fatty that was sublime.
Kohada-Gizzard Shad, though also rich as the previous pieces, it has an oily content with a compress taste. Akgai-Ark Shell, had a clean ocean presence as well as having a tiny sourness in to it. Kuruma Ebi- Prawn came after, poached in a way that gave the shrimp a nice density that is tender at the same time. Uni-Sea Urchin was enormously buttery and amazingly delicious. Anago-Sea Eel, dashed with sweet soy sauces gives the eel's grainy texture a wonderful sweetness.
Next was Tamaki- Tuna Hand Roll, crunchy seaweed stuffed with sushi rice and tuna. Chef Yoshitake used a lean tuna meat in this light and yet satisfying roll. Tamago-Egg Custard was perfectly done with cotton like softness and a delicate taste of sweet eggs. To end the omakase was Owan-Today Soup which was a miso soup. This was a cloudier version with strong seafood infused flavors. Enticed after seeing other guest ordered an additional Maki Roll I too requested for one which Chef Yoshitake pleasantly obliged. He used similar cut of tuna with the one used in the "Tamaki" to make six filling pieces.
This omakase was nothing short of outstanding. The hot and cold plates were terrific. The abalone liver sauce was exquisite and one the best dishes I've ever had. The sushi was on another level of excellence. Every fish and seafood was extremely fresh and clean. The rice held tightly together and renders a fabulous sour vinegar taste, providing an umami explosion in the palate. I let Chef Yoshitake choose the sake for me as the restaurant offers a range of reasonably price bottles as well as pricier wines. He picked three kind of sake in different temperatures and came in different type of carafes. All three were on point and went very well in the stages of the omakase.
With only seven guests at a time, the staff were able to give us their undivided attention. The service was friendly and authentic. A young Japanese man dressed immaculately in two piece suit assisted the guests while Chef Yoshitake and two of his assistant interact and prepare the meal behind the counter. Chef Yoshitake spent time living in New York with his wife explaining the western friendly attitude towards foreigners at the restaurant. As the night went on, and the omakase coming to a close, the atmosphere became more relax and engaging. The few local diners that were left started a conversation with me and soon Chef Yoshitake joined in.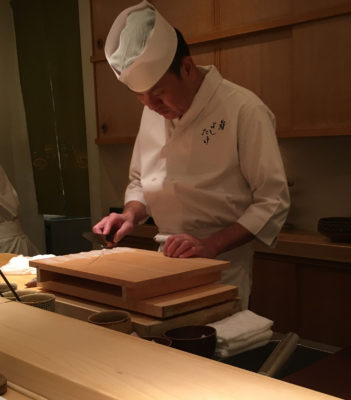 Chef Yoshitake performs all dining phases at the restaurant. He does the slicing, rice cooking and the sushi making. He only uses the finest seasonal ingredients available that he procures directly from his distributor rather than from the market. He serves Edomae style sushi that is less traditional compare to other top sushiya in Tokyo. His sushi preparation and cuts are precisely made to be a perfect marriage with the flavor profile of his rice. His curing methods provide an extra depth of taste. Even with another world class restaurant Chef Yoshitake can be found behind the counter at Sushi Yoshitake at any day of the week. He consistently maintains the standard of the restaurants to stay on top in a city full of great suhiyas.
For individuals who are ordering medicines online, there are several significant factors that must be considered. Internet is an ideal practice to get medicaments. Several medicaments are antifungal medicines. There are at least some medicaments for each sicknesses. Levitra is a treatment prescribed to treat few ailments. What do you have to consider about cialis vs viagra? When you buy remedies like Levitra you should ask your dispenser about viagra vs cialis. Many drugstores describe it as viagra or cialis. Many probably sure the forcefulness of Levitra is well documented. In complement, there are some of explanations and pharmacists are ordinarily able to pinpoint your problem through biological tests. Ordinarily the treatment options may include erectile disfunction medicaments or counseling. Your generic is for you only. Never give your drugs to other men even if their condition appears to be the same as yours.