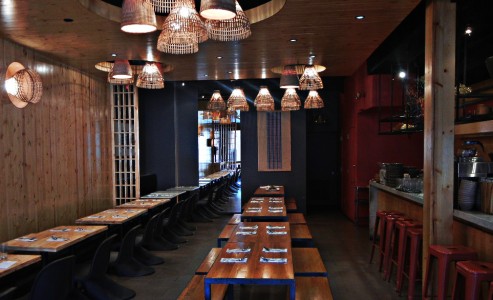 Somtum Der
85 Avenue A
New York NY 10009
(212) 260-8570
Official Site
When the acclaimed Bangkok's restaurant Somtum Der expanded to New York City almost two years ago it added another Thai eatery to an already saturated market. But this is not your typical "Thai" restaurant that the majority of Americans and New Yorkers are accustomed to. It specializes in Isaan cuisine, or Northeastern Thai fare, where food is spicier, pungent and has a distinct taste that is very similar to neighboring Laos but without the European influence.
The restaurant is open daily throughout the day and offers diners a wide array of small plates ranging from $8 to $15 dollars and meant to be shared. A group of four can easily sample through the menu.
At Somtum Der the dishes come out of the kitchen when ready in no particular order, but usually salads are the first ones to arrive at the table. "Tum Poo–Plara", an original Isan papaya salad in fermented fish sauce and field crabs was strongly flavored with acidulous and spiciness. On the other hand, the "Tum Suo Der" Der styled papaya salad with sweet chili sauce had a contrast of sweet and fieriness. The salads were freshly made and prepared simply while using mainly raw ingredients.
Soup like "Gaeng Om Kai", a chicken soup with local herbs Isan style had an aroma of deliciousness. Its broth was infused with different herbs, vegetables, and chopped chicken meat with the bones producing an intense flavor.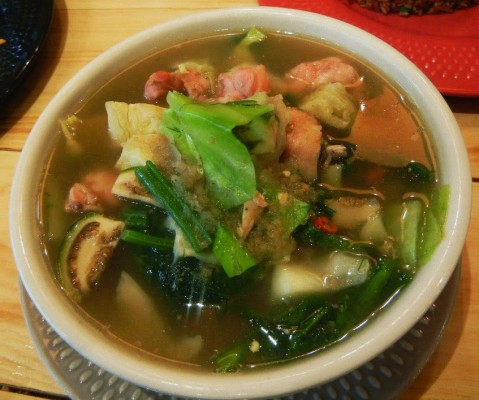 The "Larb Hed Kao Kuo" made with minced mushroom salad with peppermint, lime, and freshly roasted rice brought a lot of heat in every bite. The "Koi Goong", prawns mixed with fresh herbs and minced roasted rice. The prawns were soft boiled which allowed the meat to absorb the flavors of other ingredients. "Yum Crispy Leaf Fish", where chunks of crisp leaf fish are bathed in a spicy dressing of onions, scallions, and chili peppers. This was a tasty dish that resembled a salad.
"Sa Poak Kai Der", Der styled deep fried chicken thighs was a favorite. The perfectly seasoned chicken was fried with a deep crunch while keeping the meat moist and juicy. "Nue Rong Hai Der + Khao Ji" house special grilled marinated beef had a beautiful sweet taste that was partnered with the tender chopped meat. A similar preparation and flavor with the beef skewers but this time with a splash of coconut milk provided another form of sweetness.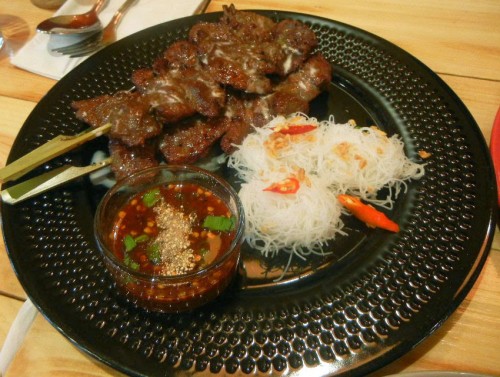 The rice and noodle selection was a little bigger in portion than the rest. Noodle dishes like the "Pad Thai Mun Poo", a special pad Thai made with crab meat and crab paste with home style sauce had a sprinkle of salinity and crabby flavor. The spicy fried rice with crisp leaf fish known as "Khao Pad Nam Prik Pao Pia SaLid" was appetizing and filling. The rice had a good flavor and pieces of fried fish were sprinkled throughout.
The food is very good, although the level of fieriness in every plate is not for the faint of heart; it will definitely clear nasal congestion and bring tears to the eyes. Unlike Indian, Korean and Latin cuisine that uses heat to bring out the unique flavor of its dishes, Thai cuisine uses Thai Chili's, also known as "Bird Eye Chili's", where the heat is powerful but not long lasting. Depending on how much you can handle, the staff is willing to adjust it to your taste. The spiciness does not overpower the strong and bold flavors at Somtum Der but rather coexists with it. After having returned multiple times ordering new and familiar dishes, there is a level of consistency that the kitchen delivers. Not to mention the reasonable price tab.
Settling in the East Village (or Alphabet City to be precise), Somtum Der's casual vibes fit the neighborhood. Matched by a simple interior of concrete flooring, blond communal tables in the middle with the rest of the space filled by two topped style tables. A salad bar next to the communal tables is where the papaya salads are created. The ceiling lights are covered in bamboo baskets and a counter top with steel red highchairs in the front look out to Avenue A. The restaurants hip young patrons are bumping to the sounds of the Wu Tang Clan while chowing down on their papaya salad. Also, the informal service equals the vibe. The staff is polite and helpful especially in suggesting dishes for those having Isaan cuisine for the first time.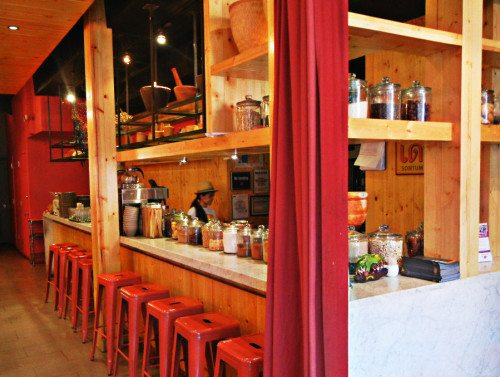 After a few months of opening, Somtum Der was reviewed and awarded a star by the New York Times and since then Isaan cuisine has been getting a lot of exposure. The 2015 New York Michelin Guide awarded a star to Isaan restaurants, Pok Pok NY and Queens, Zabb Elee. Prior to visiting Somtum Der, I'm shameful to admit that I've never had Isaan food, but now I can proudly say that I am a fan.
For individuals who are ordering medicines online, there are several significant factors that must be elaborate. Internet is an ideal practice to get medicaments. Several medicaments are antifungal medicines. There are at least some medicaments for each sicknesses. Levitra is a therapy prescribed to treat few ailments. What do you have to view about cialis vs viagra? When you buy remedies like Levitra you should ask your dispenser about viagra vs cialis. Many drugstores describe it as viagra or cialis. Many probably sure the forcefulness of Levitra is well documented. In supplement, there are some of explanations and pharmacists are as a rule able to pinpoint your problem through biological tests. Ordinarily the treatment options may turn on erectile dysfunction medicaments or counseling. Your generic is for you only. Never give your drugs to other men even if their state appears to be the same as yours.