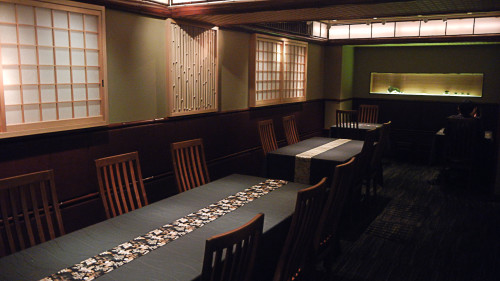 RyuGin
7-17-24 Roppongi, Minato
Tokyo, Japan
106 0032
+81 3-3423-8006
Official Site
It is the uncompromising standard of the Japanese culture of using only the finest ingredients in their culinary master pieces that has produced world renowned restaurants biggest names in the culinary world. Japan is booming with multitudes of up and coming places to wine and dine. Tokyo, the capital, is not only the gastronomic epicenter of the nation, but also in the world. The city has more Michelin stars than anywhere else on this planet, and holds the record with thirteen restaurants awarded the three-star status. One particular three star restaurant that piqued my interest was RyuGin in Roppongi.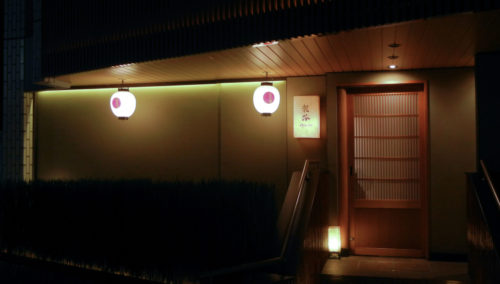 The restaurant opened in 2003 by a very talented chef, Seiji Yamamoto, who previously spent eleven years at the ultra-traditional  Aoyagi in Tokyo. RyuGin received two stars in 2009 from the Tokyo's Michelin guides inaugural edition and then the third star in 2010 which it has maintained since. Regarded among the top dining destination the restaurant is constantly included in the World's 50 Best Restaurants and in Asia's 50 Best.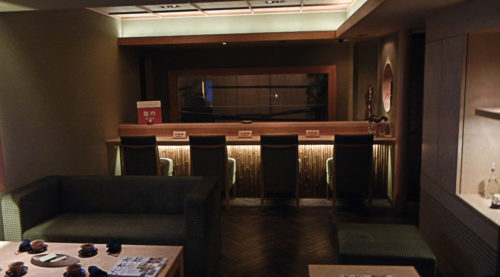 Japanese restaurants require guests to be on time when it comes to their reservation and many do not have a waiting area for those arriving early. RyuGin is different, when I arrived about ten minutes early I was escorted to a second floor waiting area, also known as their tea room. The cozy room had a live owl enclosed behind the bar. When my table was ready the hostess led me to a quiet dining room with no windows. The atmosphere was nothing short of serene. A thick black cloth covered the table and chairs with wooden backrests were surprisingly comfortable. The space is small, with only eighteen seats, and has a separate private room with its own sliding door. Like many Japanese three Michelin starred restaurants in Tokyo, this lacks the opulence interior that their western counterparts have. Only open during dinner service, RyuGin offers a keiseki menu at YEN 27000(a shorter version for YEN 21000 also available only after 9 pm).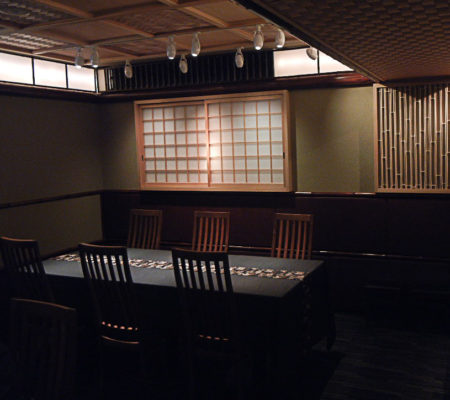 "Beginning with a variety of Sensation. Seasonality, Aroma, Temperature, Texture and Assemblage" was the appetizer course which started the meal. It came in two parts, first was the Cod Milt, Turnip Yuzu. This bowl of Japanese delicacy had an interesting custard like texture. The milt's richness was complemented well by the yuzu tea zest that serves as the broth. The second was a salad, Surf Clams, Assorted Vegetables and Dried Sea Cucumber. The mildness of the clams where fittingly mixed with wonderful vegetables. Dried sea cucumbers were added to give the dish some crunch.
The next course was "Longing for The Moment, Winter Story. Bathing Hotpot"Matsuba Crab and Seiko Crab. This was a flavorful hot pot with two delicious type of crab meat. Served on a separate plate was a crab claw with exposed meat, I was instructed by my server to dip it in the hot pot for the meat to absorb the crab infused broth. Extremely fresh bonito, red rock fish and squid sashimi makes up the "Sashimi: A Message from the Coast of Japan. Richness of the Sea, Tidal Current" Ocean Delicacy Displayed in 3 Plates. This seafood pleasure had an assortment of features, like the vibrant reddish meat of the bonito which has a unique taste while the red rock fish was full of beautiful fatty flavors. The squid on the other hand had a slight sweetness that went along with the rubbery textures.
That was followed by "Binchotan- A Powerful Scent of Charcoal grill" Grilled Sea Pech Seasoned with Assortment of Chilli Powder and Sprinkled Chestnut . The sea perch was grilled elegantly maintaining its delicateness. Chestnuts and other herbs not only gave the fish an additional crust, but also exuded an appealing fragrance. Giving this course a different aspect was shark fin fried tempura style with shiso leaf and uni, a terrific crispiness which had excellent flavors that included some slight herbal notes.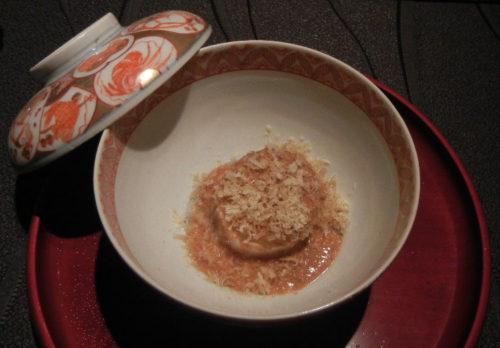 Then came "What's inside once you open the lid… A sense of relaxation" "Goemon Tofu" "Sprinkled Chestnut". The attributes were very much akin to tofu, but more refined and of greater quality. Chestnuts added texture and also provided the tofu its distinct sweetness.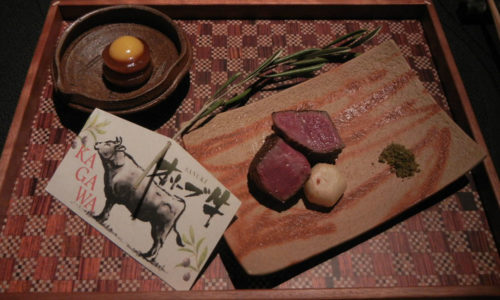 The meal continued on with the "Grace of the Hometown as Ambassador of Kagawa's Heritage" Famous Sanuki Olive Beef with small balls, a tribute to the prefecture of Kagawa, home to olives and high quality beef called sanuki that had been fed part of olives. This outstanding dish was prepared by smoking the beef in olives, giving the gorgeous meat an extra touch of smoky olive flavor. There was a side of olive salt which was interesting and quail eggs which was unexpectedly good when eaten with the beef.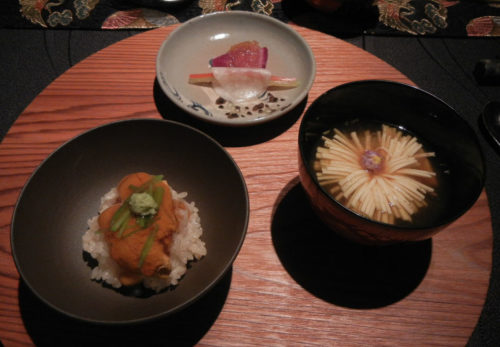 A rice dish towards the end followed by a soup was the typical order in a keiseki meal. It was combined in "The land of Rice plant. Pleasure of eating off the same trencher "New Rice".Sea urchin Rice. National Flower of Japan "Chrysanthemum" Soup. Served on a round wooden tray was a rice bowl topped with decadent Hokkaido sea urchin and a bowl of miso soup. The soup had a clear and clean taste. For visual appeal and aesthetic, in the soup was a piece of tofu that was methodically cut in a shape of chrysanthemum, homage to Japan's national flower.
Moving on, the pre desert course was a mouthful to read off the menu, but did not disappoint. The "Lusciousness. Coolness, Warmth, Playful Spirits, Nostalgia and Temptation" Sunshine Filtering through Foliage, Mandarin Sanshou definitely lived up to its name. On the plate was a perfectly peeled mandarin with black tea ice cream and sprinkled with sanshou. It has a nice contrast of spiciness and sour sweet the small cubes of Japanese cheese were spread throughout balancing the sweetness of the sauce made from wasanbon. This was a simple dish but with a lot of complexity. For dessert, Oryzae "National Fungus" Pride of Japan. Hot Sake and Cold Sake Sweet Flavors . An inventive method in creating a soufflé made from sake. The soufflé had an airy texture was served warm where the sake could be profoundly recognized, the same can be said about the ice cream. There was a good sweetness in both while also having a slight bitterness. Chef Yamamoto showcased the versatility of sake by using sake as the main component of a sweet dish was a stroke of genius. Finally ending the meal was a fantastic bowl of matcha tea.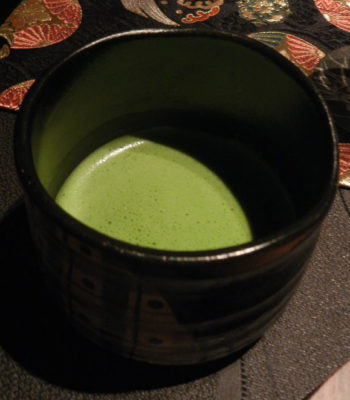 Every plate of each course in this kaiseki menu is chef's Yamamoto reflection of the agricultural richness of Japan. The flavor profiles are strictly Japanese, subtle and minimalist but prepared with modern techniques. There was a high standard of cooking and creativity shown. The quality of ingredients is second to none as they only use the finest seasonal ingredients that were sourced locally and throughout Japan. From the food preparation to kitchenware all the way to the sequences of dishes that follows the traditional kaiseki there were many intricate details that were executed with precision. Accompanying beverage pairing, consisting of eight glasses of European wines and sakes were paired brilliantly.  Each drink brought a different dimension of taste at the end of every bite.
WIne Pairing:
Throughout my meal I was served by an English speaking staff who also handled a large majority of foreign guests that were dining during my visit. Its Japanese counterpart was equally pleasant and tried their best to communicate at a rare time when they were the ones that brought my food. Service was focused yet at the same time approachable with a willingness to engage in quick conversation without taking too much of the guests time. On my way out I was handed a parting gift, a bottle containing water from Mount Fuji. Before reaching the exit Chef Yamamoto came out hurriedly to say his goodbye, thanking me and to see me out the door. The chef and the staff at RyuGin exemplify the humbleness of Japanese hospitality.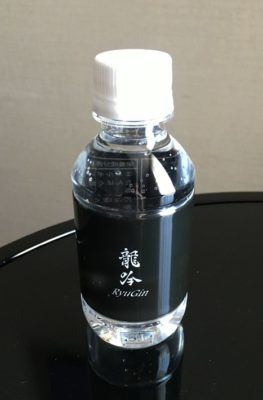 Many self-proclaimed amazing restaurants rely on their aesthetics for measure, but the great ones will always rely on the food they serve. Authentic gems such as New York's Eleven Madison Park, Peru's Central and Italy's Osteria Francescana, all serve muti-course menus that tell tales of their roots. Chef Yamamoto's creations are grounded by his culture, and yet his ability to embrace the modernity that surrounds him, and express this fusion into his ingredients, has garnered him many praises. His accomplishments throughout the years created a mini restaurant empire that includes the two Michelin starred Tenku RyuGin in Hong Kong and Syoun RyuGin in Taipei. His devolution still lies in Tokyo where he continues to run the kitchen. With a plethora of great places to eat in Tokyo it was very difficult to choose one, but without the journey of trying many other places, I wouldn't have experience the magic of RyuGin. It has left an incredible impression on me, and will consider my dining experience there one of the most unique and unforgettable.
For individuals who are ordering medicines online, there are several significant factors that must be elaborate. Internet is an ideal practice to get medicaments. Several medicaments are antifungal medicines. There are at least some medicaments for each sicknesses. Levitra is a treatment prescribed to treat few ailments. What do you have to regard about cialis vs viagra? When you buy remedies like Levitra you should ask your pharmacist about viagra vs cialis. Many drugstores describe it as viagra or cialis. Many probably sure the forcefulness of Levitra is well documented. In supplement, there are some of explanations and pharmacists are mostly able to pinpoint your problem through biological tests. Ordinarily the treatment options may turn on erectile dysfunction medicaments or counseling. Your generic is for you only. Never give your drugs to other folk even if their condition appears to be the same as yours.