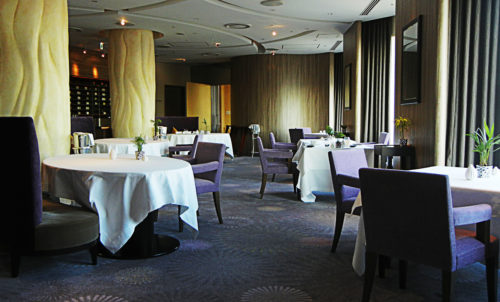 Pierre Gagnaire
at ANA Inetrcontinental Tokyo
36 Floor
1-12-33 Akasaka, Minato 1070052
Tokyo, Japan
+81 3-3505-1111
Official Site
In Tokyo, French is a cuisine that is well represented. Some may even argue that of the shear top quality of ingredients that Japan produces, French food is slightly better here than anywhere else; even in France! The crème de la crème of French chefs have set up restaurants in this city, like the super star chef Pierre Gagnaire, who's been in Tokyo for quite some time now. He first opened Pierre Gagnaire a Tokyo in Aoyama back in 2005, before closing it three years later. In 2010 after a two year hiatus he returned to Tokyo in partnership with the Intercontinental Hotel Group to open Pierre Gagnaire at the ANA Intercontinental hotel in Minato-ku. Immediately the restaurant was awarded two Michelin stars which it maintained ever since. Executive Chef Yosuke Akasaka leads the charge in this kitchen. He has worked with Pierre Gagnaire at his eponymous restaurant in Paris and was also the head chef at the old Tokyo location.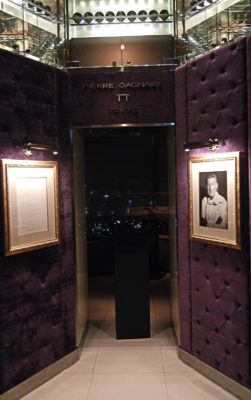 Occupying the 36th floor of the hotel, Pierre Gagnaire offers a fantastic view of the city and Tokyo Tower through its massive windows. In the afternoon, the restaurant has plenty of natural lights while at night the bright lights of Tokyo serves as it's the back drop. The spacious dining room has tables that were covered in neatly pressed linens, and they are distanced far apart enough from one another for a more intimate setting. Comfortable royal purple velvet chairs and curved banquets with tall back rest were paired with the tables. Wood panel walls adorned with beautiful artwork adds to the sophistication of the interior.
There are many set menu options in addition to the a la carte. On my visit I had the "Petit Esprit de Pierre Gagnaire" for YEN 22500, which consisted of five courses. A series of canapes  started the meal, beginning with Roots vegetable soup:salpicon of Botan shrimps and lotus chips. This soup was rich with wonderful flavors of root vegetables. It also had a little sourness that was palpable. Sauerkraut in Espuma, red cabbage and apricot salad, cubes Gewurtzraminer was a cup of thick savory creaminess. Buried underneath, was the apricot salad bursting with a unique musky sweetness. Green brandade, petals of cod, thin slice of red/black radish was a salty dish, but with a nice light watery crunch coming from the radishes. It also offers a hint of bitterness that balanced out the salt. Chaud-Froid of chicken from Nagoyakochin perfumed with tarragon, salmon eggs and campari yogurt sauce, is a creation in which each tiny piece of chicken was carefully selected, as they are usually the finest and priciest in Japan. This type of chicken comes from Nagoya and is an epitome of what a bite of luxury taste like. To cleanse the palate, there was a refreshing citrus Champagne sorbet flavored with lime and frozen clementine.
Petit Esprit de Pierre Gagnaire:
The first course was the Abalone slice and poached in shellfish broth-Saffron braised turnips. Excellent tender chewy abalone had a terrific apparent marine taste.  Next was the Brittany sole  roasted in Sarawak pepper, small shrimp Shimaebi seared with Cognac Galette of Satoimo endive leaf. It had beautiful well rounded flavors with some spiciness. The sole has firm, yet soft textures. All the elements in the dish were in synch with each other.
For the main course I was served the Lamb Saddle cooked in crepine perfumed with marjolaine flower, cauliflower puree and black garlic, green lentil gnocchi. Scrumptious lamb meat was prepared with a lot of care and has plenty of flavors that were complimented greatly with other component on the plate such as the puree and the sauce.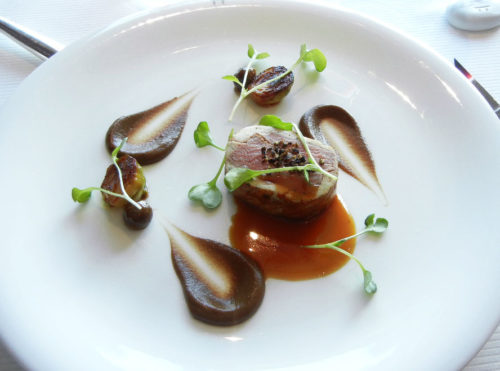 Quelques dessert de Pierre-Gagnaire was a composition of different desserts served at the same time. This tantalizing platter was highlighted by the chocolate cake. The cake was rich, sweet with layers of different types of chocolate while the rest of the dessert was chilled, refreshing and fruity. The petit fours were enjoyable small bites of sweetness that ended this meal.
The "Petit Esprit de Pierre Gagnaire" was a superb tasting menu. A fusion of French cooking technique and high standard Japanese ingredients morphed together to create fascinating flavor profile. Both small and large plate exhibits focus and details. The servings were adequate that left me satisfied rather than full. There was no set wine pairing, but the wine list is vast and was made up of primarily French wine from different regions of the country. The restaurant also had a decent wine by the glass offerings that were reasonably price. Wanting red for this meal the sommelier recommendation of Bordeaux Pauillac was on point.

The restaurant is very formal but with Japanese sincere hospitality. The service was particularly attentive and faultless. English were spoken well that servers were able to explain each of the courses and answered my questions clearly.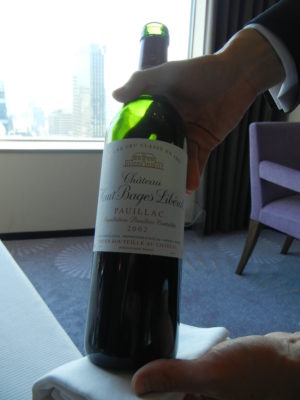 In the Far East Pierre Gagnaire has a restaurant in Tokyo, Hong Kong and Seoul in addition to his others in Europe. It was said by those that had visited all three the Tokyo location is the better one. What separates it from the rest is the superior quality of ingredients that are being used, but also an extremely skilled chef in Chef Akasaka. The chef is very well capable in upholding Pierre Gagnaire cooking standard and mirrors the excellence of a living legend.
For individuals who are ordering medicines online, there are several significant factors that must be considered. Internet is an ideal practice to get medicaments. Several medicaments are antifungal medicines. There are at least some medicaments for each sicknesses. Levitra is a therapy set to treat few ailments. What do you have to regard about cialis vs viagra? When you buy remedies like Levitra you should ask your pharmacist about viagra vs cialis. Many drugstores describe it as viagra or cialis. Many probably sure the forcefulness of Levitra is well documented. In addition, there are some of explanations and pharmacists are as a rule able to pinpoint your problem through biological tests. Ordinarily the treatment options may include erectile dysfunction medicaments or counseling. Your generic is for you only. Never give your drugs to other men even if their condition appears to be the same as yours.