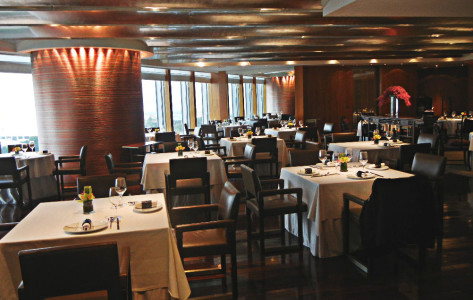 Lung King Heen
At The Four Seasons Hotel
8 Finance St, Central
Hong Kong, China
+852 3196 8888
Official Site
Similar to my home city of New York, Hong Kong has a diverse culinary scene. Restaurants that serve authentic Chinese cuisine from different regions of China are mixed in with western fare often located in small alley ways, inside hotels and, high end malls. Though there are many options that are readily available, Cantonese food still reigns supreme in Hong Kong. From high end to the retrospective hole in the wall, eateries at different price points are seen throughout the city. For fine dining the three Michelin star Lung King Heen in the Four Season Hotel is considered the apex of the bunch.
Lung King Heen's kitchen is under the guidance of chef de cuisine Chan Yan-tak who was convinced by the Four Season to come out from retirement. His contemporary Cantonese style cooking at this restaurant has won him many accolades. He was the first Chinese chef to receive the maximum rating from the Michelin guide and Lung King Heen has the distinction as the first three Michelin starred Chinese restaurant in the world which it had presently retained since 2009. It was also ranked among the top dining venues in Asia according to the Asia's 50 Best Restaurant list.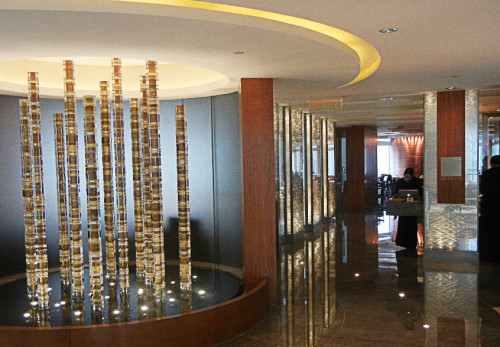 Perched on the fourth floor of the hotel, the name of the restaurant is translated in English to "view of dragon" and offers an unobstructed view of the Victoria Harbor from its large windows. The Asian themed dining room is spacious and can seat more than a hundred guests at a time. Its subtle interior is designed with low ceilings made from wavy silver plates, plenty of dark wood finish, and tables that were close to one another are covered in whites.
The menu is expansive with many varieties, typical of a Chinese restaurant. There are two tasting menus available for dinner and set menus for lunch. To get the experience of Chef Yan-tak cooking on my visit I elected for the "Chef Tasting Menu" for 1880 HKD ($230). An amuse of Crispy Scallop with Fresh Pear and Yunnan Ham to start. Gone in one bite, this deep fried ball has a burst of interesting flavors, creating a terrific intro to the tasting menu.
Chef Tasting Menu: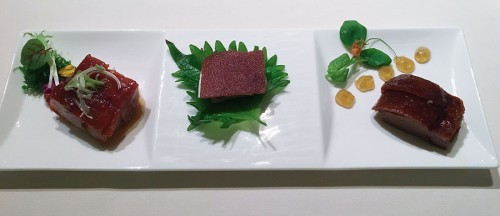 The first course was a delightful trio of goodness, Lung King Heen Appetiser Combination (Crispy Suckling Pig, Barbecued Pork with Honey, and Roast Goose with Plum Sauce).  Each had a different kind of crunchiness as well as having diverse types of tenderness. Next was the Sweet Corn Soup with Lobster and Minced Chicken, this had a well acquainted character to the palate but was far superior. The soup with its thick starchiness and tasty minced chicken that was mixed in with lobster meat provided a distinct context. Simmered King Prawn with Seafood Sauce was next. A large piece of prawn bathed in rich seafood sauce which sat on top of green leafy vegetables was a hearty sea food offering.
I was then served the Braised Abalone with Star Garoupa Rolls in Supreme Oyster Sauce. It had a beautiful combination of contrasting textures of the chewiness from the braised abalones and softness from the steamed garoupas. The "supreme" oyster sauce provided profound saltiness while the stem of broccoli offered bitterness as well as another aspect to the dish. The meal proceeded with the Wok-Fried Superior Australian Wagyu Beef Cubes with Morel Mushrooms and Bell Peppers, superb Wagyu beef was immensely tender and had scrumptious flavors. As a complement, the beef was cooked with fresh vegetables, bell peppers, and morel mushroom. The Shredded Chicken and Vegetable Dumpling in Superior Pottage followed after. Sunken in pottage was a hefty piece of dumpling with a delightful filling of chicken and vegetables. The thick pottage was wonderful and savory.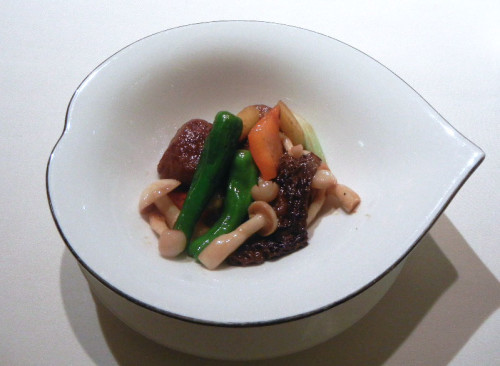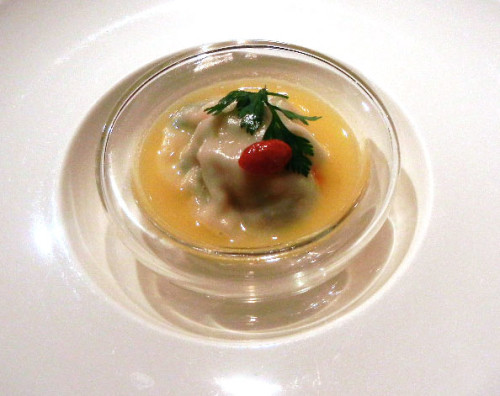 For dessert I was served Ginger Soup with Sweet Potato and Glutinous Rice Dumplings, a syrupy soup that was a little filling. It yielded an extra bit of sweetness from the sweet potatoes while the rice dumplings absorbed the sugary character of the ginger soup. Finishing the tasting was fruit gelatin and biscuit made from rice, both were not too sweet which was perfect after having the the previous dessert.
To sit over a hundred guest for both lunch and dinner and to continuously produce high quality food is unreal. There will be misses but on this particular dinner the restaurant did not falter. Though lacking the "blew me away" factor in the "Chef Tasting Menu" it was still a very good meal. The cooking is restrained with many familiar taste profiles that were elevated by the sheer quality of ingredients used. The dishes were refined and were plated with sophistication, keeping the appeal to western palate without alienating the locals. I added the wine paring with this tasting for an additional 600 HKD ($77) considering the fact that wine mark up in Hong Kong is exuberant this wasn't badly priced. The sommelier was able to curate European wines that properly matched with the cuisine.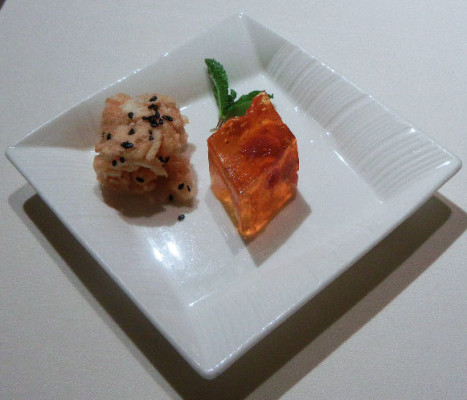 Being a restaurant in a hotel chain with global presence the service was geared toward foreign clientele. The dining room was fully occupied with an even number of locals and westerners. With so many tables, Lung King Heen employs enough staff to keep the high standard of service. The different servers that I had were particularly engaging. They would pass by every so often at my table without disrupting my meal but was fully aware if I needed any assistance.
Wine Pairing: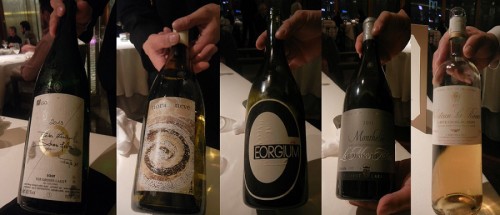 It was both novelty and wanting to try an authentic high end Chinese restaurant in Hong Kong that led me to Lung King Heen. Prior to coming here, my expectations were very high and were achieved in the end. This restaurant can very well be the measuring stick for Chinese haute cuisine.
There are less than 120 restaurants with three Michelin stars worldwide. Attaining one it takes a lot of consistency to produce the highest quality service on a daily basis. In Hong Kong it was believed to be that the guide's criteria is a lot less rigorous than Europe, Japan and even in the United States. So when Lung King Heen was awarded three stars it was debated and criticized. Many had liked it as well as disliked. If basing it on as a Chinese restaurant the food was very good and the service was flawless but the question still remains if this restaurant is "worth a special journey". Well I believe it depends on the individual to decide.
For individuals who are ordering medicines online, there are several significant factors that must be elaborate. Internet is an ideal practice to get medicaments. Several medicaments are antifungal medicines. There are at least some medicaments for each sicknesses. Levitra is a medication prescribed to treat few ailments. What do you have to consider about cialis vs viagra? When you buy remedies like Levitra you must ask your dispenser about viagra vs cialis. Many drugstores describe it as viagra or cialis. Many probably sure the forcefulness of Levitra is well documented. In addition, there are some of explanations and pharmacists are mostly able to pinpoint your problem through biological tests. Ordinarily the treatment options may switch on erectile dysfunction medicaments or counseling. Your generic is for you only. Never give your drugs to other folk even if their state appears to be the same as yours.