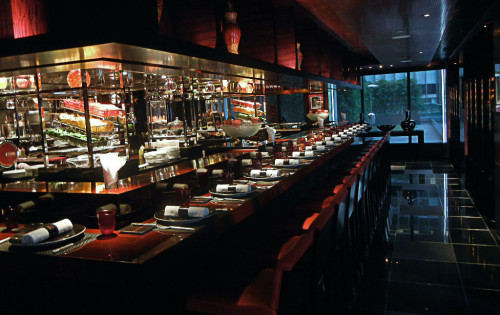 L'Atelier de Joel Robuchon
at The Landmark Atrium
15 Queen's Road, Central
Hong Kong, China
+852 2166 9000
Official Site
Chef of the century Joel Robuchon has the most Michelin stars than any chef in the world and shares a distinction to only a handful of chefs to have more than one three Michelin starred venues at the same time. He has built a culinary empire that stretches continents and his L'Atelier de Joel Robuchon has branches in major cities such as Paris, London, Tokyo and previously New York (closed in 2010) with all being awarded multiple Michelin stars. The Hong Kong location on the other hand is the only of the L'Ateliers to receive the maximum ranking from the Michelin guide as well as being rank in the Asia's 50 Best Restaurants list. After missing out in Paris last year and not able to visit the New York City location before it closed, I made sure to try this one when I visited Hong Kong this year.
Like many of Hong Kong's top restaurants, which are housed inside the malls or hotels, L'Atelier de Joel Robuchon is situated on the fourth floor of The Landmark, one of the city's most luxurious malls. As I emerged from the escalator to the restaurant a beautiful hostess welcomed my arrival. She then led me through a walkway with walls of wine racks enclosed in glass and into the hushed dining room. Dominating the room is a counter with three even sides surrounding the open kitchen. A glossy, dark cherry wood counter top with deep red high chairs, polished black flooring and dimmed lighting gave the interior certain sexiness. Behind the counter I was treated by French born Chef de cuisine David Alves cooking, a veteran of the L'Atelier de Joel Robuchon chain. Prior to settling in Hong Kong he was at the Etoile branch in Paris.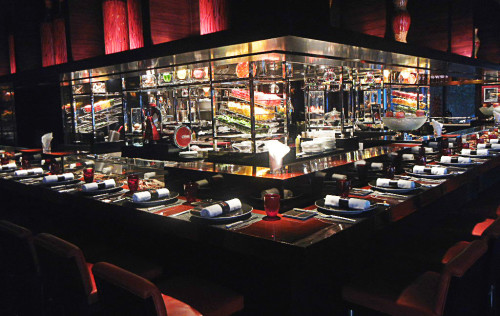 Foregoing my normal practice of always requesting for the tasting menu, on this evening I had the a la carte as per server recommendation. There are more interesting items in the a la carte which has a price range of around 290 HKD per plate, pretty pricey but so is everything else in Hong Kong when it come to this types of restaurant. So to start, was the heralded bread basket with multiple kinds of freshly baked bread. There was a lot of effort put for just the bread but it's also a good sign that this will be a beautiful evening.  For canapé I was served a fried quinoa ball with a small cup of parmigian cheese foam and foie-gras. It was followed by the L'OURSIN-Sea urchin in a lobster jelly, topped with cauliflower cream. Served in cold temperature, it had an essence of the deep sea. This dish had different layers of contrasting flavors that worked accordingly together while the chilled gelatin texture was soothing to the tongue. The LA LANGOUSTINE – Crispy langoustine papillote with basil was next. Covered in a thin crispy batter, the langoustine was complemented beautifully with a bright peppery sauce made from basil.
Continuing the meal was the LE FOIE GRAS Pan-fried duck foie gras with mango, coriander and crispy peanut chips. The foie-gras outer layer had an excellent fried crust with sprinkled peanut chips on top, for extra texture. On the other hand, the mango purée on the plate seemed out of place but it was added appropriately to give a fruity component that went well with the buttery foie-gras. I was then served the LA SAINT-JACQUES – Hokkaido scallop with green curry and coriandre sauce, squid ink farfalle. A large piece of scallop with dense flavors and topped with squid ink pasta for a facet of saltiness. The sauce gives the scallop a lovely piquancy. The following dish was LE RIZ – Risotto style rice with pimientos and vegetable couscous. A dish with a saturated yellow color was a different type of risotto that is savory and pleasing. It had an even creaminess while the garnish of vegetables exuded a beautiful aroma.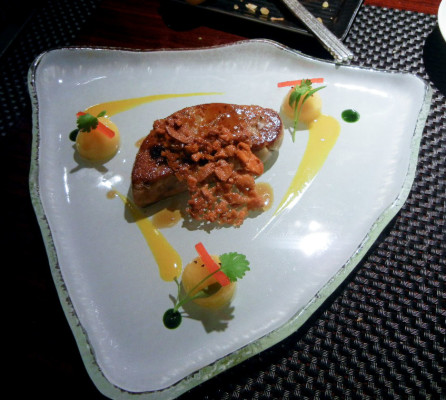 LE BLACK – Black cod with Malabar black pepper sauce, Chinese cabbage and coconut emulsion, was a delicate piece of cod with a terrific balance of both sweet and spicy. The coconut emulsion was brilliantly added to provide an extra dimension to the dish. LE BŒUF Braised Wagyu beef cheek with miso, seasonal baby vegetables was served as the main course. This was a sumptuous braised beef cheek covered in thick sauce packed of flavor. As a supplement to this delicious dish was the famous Robuchon mashed potato served in a small pot. The mashed potato was a fine smooth texture with refined taste. I regretfully decided to skip dessert but the magrindanaise were good enough for a sweet finish.
In the beginning of the meal my server informed me that he would arrange the order of dishes in a way that it would not complicate my palate. At the end, each plate was timed perfectly in between and the succession of taste was in harmony one after the other. The cooking was skillful, especially when incorporating Asian ingredients to provide extra depth of flavors and aromas. There was a lot of emphasis on the sauces to compliment the ingredients on the plate and not to overpower them.
The restaurants award winning wine list is vast and can be overwhelming. Letting the sommelier choose the appropriate wines will be a wise thing to do. For white I was recommended the Château Musar, Lebanon 1999 for HKD 190 ($24), it was paired properly with the fish and seafood dishes. And for the wagyu cheeks and foie gras I had a glass of red Cabernet Sauvignon, Janzen Estate, Napa Valley, U.S.A 2006 for HKD 235 ($30). Wine mark up in Hong Kong is over the top but it was worth it for this meal.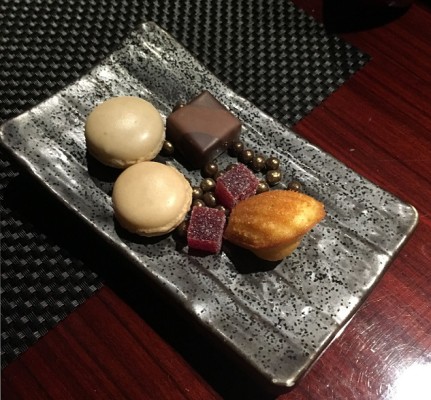 The atmosphere at L'Atelier de Joel Robuchon was relaxed and interactive, which the restaurant encourages between the staff and guests. Service was formal yet approachable. The staff was knowledgeable and had a genuine sense that they wanted the guest to not only enjoy the food but also the service that they provided. For those that prefer the traditional sit down dining there is the Le Jardin on the same premise, located towards the back. It offers the same menu as the L'Atelier de Joel Robuchon but with a more formal setting.
Chef Robuchon sets a standard that is met and maintained by all of his restaurants. With the L'Atelier, each location has identical offerings and atmosphere. When the Michelin guide awarded this restaurant its third star in 2011 (making it the only of the L'Ateliers with such honor) while the rest only have one or two it was surrounded with controversy. Even the two original posts in Tokyo and Paris only managed to secure two stars and many have stated that they were superior to this. Although this was my first visit at any of the L'Atelier or any of Chef Robuchon restaurants I believe that no two restaurants are alike. They might have similarities but there is always something different about them. But as far as my visit goes at L'Atelier de Joel Robuchon in Hong Kong, I was impressed with the cooking and the impeccable service as well as having a superb dining experience.
For individuals who are ordering medicines online, there are several significant factors that must be considered. Internet is an ideal practice to get medicaments. Several medicaments are antifungal medicines. There are at least some medicaments for each sicknesses. Levitra is a therapy set to treat few ailments. What do you have to consider about cialis vs viagra? When you buy remedies like Levitra you must ask your pharmacist about viagra vs cialis. Many drugstores describe it as viagra or cialis. Many probably sure the forcefulness of Levitra is well documented. In supplement, there are some of explanations and pharmacists are mostly able to pinpoint your problem through biological tests. Ordinarily the treatment options may turn on erectile disfunction medicaments or counseling. Your generic is for you only. Never give your drugs to other folk even if their condition appears to be the same as yours.