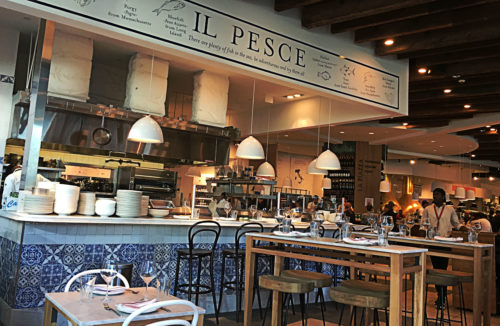 Il Pesce
@ Eataly Downtown
101 Liberty St
New York, NY 10006
(212)897-2895
Official Site
In less than ten years mega food market Eataly has taken the world by storm, opening branches in Europe, Asia and the Americas. Currently Eataly has set up shop in New York City and Chicago, but soon, it will be expanding its reach in Los Angeles and Boston. The summer of 2016 has marked its continuous expansion by opening a second location in downtown Manhattan's Financial District. Though not as big as the original one in the Flatiron, it occupies a sizable square footage on the third floor of the brand new skyscrapers, 4 World Trade Center. Along with the market, it boasts a wine bar, a coffee shop, a gelateria, and four restaurants that include another outlet of the sea food haven, Il Pesce.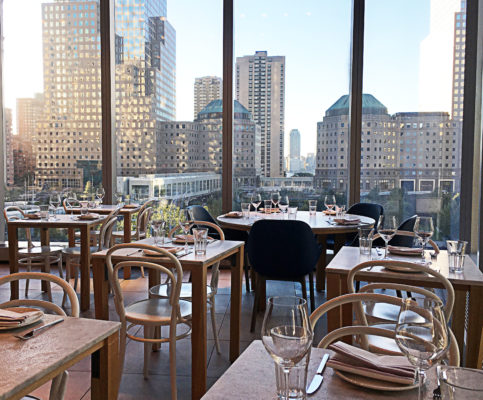 Designed with counter seating in front of an open kitchen, Il Pesce also has a spacious dining area that is frequented by tourist, finance industry workers and Battery Park City residence. The space is filled with marble top tables paired with white washed wooden chairs, and floor-to-ceiling windows that look down on the World Trade Center Memorial.
A single menu covers both lunch and dinner consisting of antipasti, pasta and entrees, as well as raw items. For appetizers, the POLPO-seared octopus with gigante beans, chicory, and pickled onion was a joy to eat. The dense octopus meat was easily chewed and flavorsome. The SALMONE MARINATO-House cured salmon with pickled peppers, radish, and cucumbers had a clean and distinctive cured taste.
Excellent al den te pasta dishes like the TAGLIATELLA AL NERO DI SEPPIA CON COZZE –house made squid ink tagliatelle with mussels, garlic, white wine, chili flakes, and parsley had a very good mild saltiness, and a strong deep sea presence. The CASARECCE CON GRANCHIO – Afeltra gragnano Casarecce pasta with lump crab meat, braised leeks purée, chili flake, chives, and bread crumbs on the other hand, had hints of spiciness blended nicely with lumps of delicious crab meat.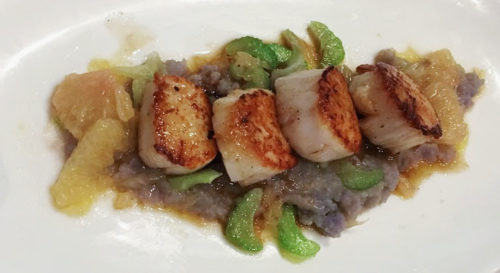 The main course of CAPESANTE ALLA PIASTRA-Seared scallops with purple potato, grapefruit, celery salad, and pancetta vinaigrette was terrific. The scallops were beautifully complemented with strong sour acidity. The RAZZA-seared skate wing with roasted baby carrots, lemon, capers, and brown butter, where the skate was cooked in brown butter gave it a pleasant nuttiness. Enhancing the fish was sour elements on the plate. TONNO- seared yellow fin tuna with peperonata was a beautiful piece of tuna. It had wonderful seared texture and a tender reddish inner section. The tuna scrumptious flavor was fittingly accompanied by the peperonata's sweetness. The FRITTO MISTO ALLA LIGURE-ASSORTED FRIED SEAFOOD LIGUR-IAN STYLE was extremely fresh and delicately crispy. This was an oceanic delight to have.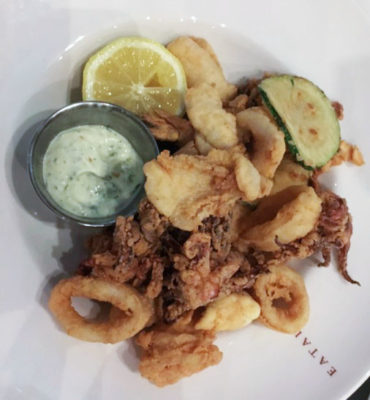 Il Pesce's uncomplicated cooking produces dishes that are both appetizing and satisfying. The freshness of the seafood brightened with layers of acidity, sourness and hints of spiciness can be tasted in every plate.
The casual atmosphere of the restaurant were matched with informal and friendly service. The staff has very good knowledge of the food and wine that it serves.
In the last five years, New York City has witnessed the rise of gourmet food market with quality places to eat in them, and there's no signs of slowing down as more openings are stated in the future. Eataly was at the forefront of this movement when it opened in 2010. It's newer and smaller downtown location have restaurants such as Il Pesce that are capable of delivering well-made food.
For individuals who are ordering medicines online, there are several significant factors that must be considered. Internet is an ideal practice to get medicaments. Several medicaments are antifungal medicines. There are at least some medicaments for each sicknesses. Levitra is a medication set to treat few ailments. What do you have to view about cialis vs viagra? When you buy remedies like Levitra you should ask your pharmacist about viagra vs cialis. Many drugstores describe it as viagra or cialis. Many probably sure the forcefulness of Levitra is well documented. In addition, there are some of explanations and pharmacists are mostly able to pinpoint your problem through biological tests. Ordinarily the treatment options may turn on erectile disfunction medicaments or counseling. Your generic is for you only. Never give your drugs to other humanity even if their condition appears to be the same as yours.