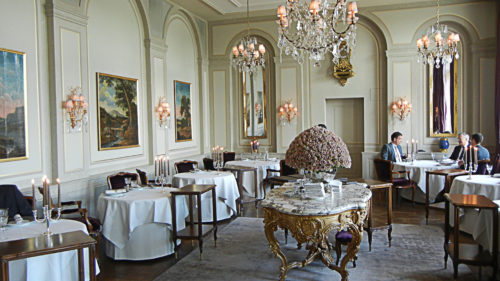 Cheval Blanc
at Grand Hotel LES TROIS ROIS
Blumenrain 8
CH-4001
Basel, Switzerland
+41 61 260 50 07
Official Site
Having the headquarters of the two largest pharmaceutical company in the world, Novartis and Hoffman-La Roche, Basel is known as the world's pharma capital. The city offers more than that, it has a well preserved old town and a dining scene that is underrated compared to other Swiss cities like Zurich and Geneva.  When the restaurant, Cheval Blanc, received the coveted third Michelin star last year, it single handedly put the city of Basel in the global stage of gastronomy.
In charged of the kitchen is German chef Peter Knogl who trained under three Michelin starred chef Heinz Winkler at Tantris in Munich. Chef Knogl came to Cheval Blanc in 2007 and in a matter of months it received its first Michelin star, the second one came a year later and finally the third star was awarded in 2015.  The restaurant also received 19 points from the GaultMillau and was voted as the 2015 best restaurant in a hotel in Europe by the Prix Villegiature. Chef Knogl French haute cuisine with Mediterranean and Asian influence had earned him the title as the best chef in Switzerland in 2011 and 2015.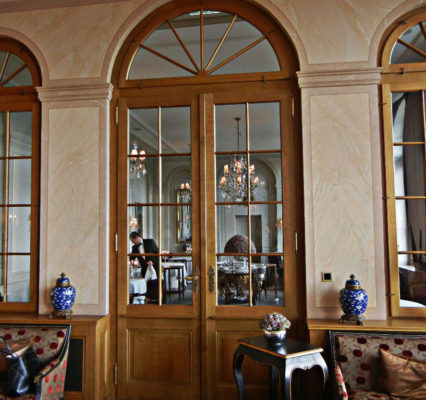 A la carte and two types of tasting menus for lunch and dinner are offered while special lunch set menus are also available. I had the longer tasting menu priced at CHF 220.
Tasting Menu:
The meal began with an array of snacks starting with Espuma Jalapeno.  I was instructed to use the spoon and to start from the bottom where a piece of shrimp buried below a chilled jalapeño cream.  Macaron/foie gras de canard, orange, Garam Masala had an airy texture with a touch of orange zest and spices that was in tune with the buttery foie gras. Ragout de couteau de mer, chopped razor clams presented in its half shell had an abundance of deep maritime essence.  Textures de champignons, Peta Negra, mushroom cream on top of crispy chip with some Peta Negra had a very good earthiness. These tasty small bites were a fantastic intro.
The first course was Kingfish, avocado, radish and Miso. Fresh and delicate kingfish had a sublime citric acidity. Avocado puree and radish on the plate worked in harmony together with the fish to create vibrant flavors. Next was Langoustine, white asparagus and port. Firmed and meaty langoustine sat  on top of beautifully poached white asparagus bathed in thick sauce with port wine. The sauce renders hints of sweetness that is infused into the langoustine which also had a hint of sour note in the background.
Third course was the Filet of red mullet, crispy scales, saffron, black and vinaigrette of tomatoes. The mullet was cooked precisely to have a crispy skin side including the scales keeping the inner part moist and soft. Enriching the fish was the sour acidity of the vivid yellow foam sauce.  Continuing on was the main course of Saddle of suckling lamb, flavored with sweet pepper and ginger. The juicy lamb had a deep scrumptious flavor that was asserted by the strong saltiness of the sauce which was made from its own juices.  Other components gives the dish extra dimension of sweet and spicy.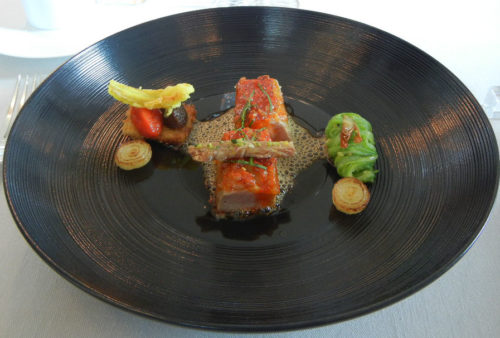 The cheese course was supposedly a Selection of soft and hard cheeses from Maitre Antony in Ferrette but instead I requested for an all Swiss cheese. I was served with some excellent cheeses from different parts of the country with their own distinct sharpness but with similar firm textures that are common with Swiss cheese.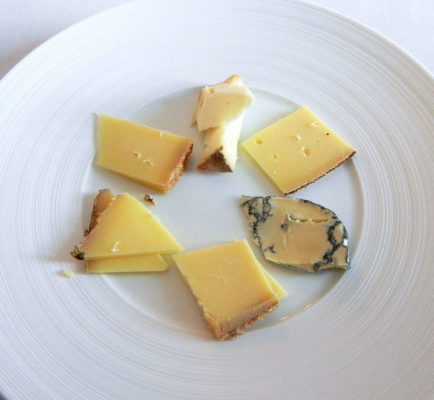 Before moving to the sweet course I was served a refreshing palate cleanser of pinacolada. That was followed by a pre-dessert of Mango passion fruit, rice crispy and pannacotta which was a combination of tropical fruits. For dessert I was served Composition of Gariguette strawberries with lime cress. Using special Gariguette strawberries from France which has longer shape than common strawberry and has a sweet candy like taste it was prepared in different ways with varying textures and temperatures while keeping its natural taste. This was an excellent dessert.  To finally conclude the tasting were more sweets that include the mignardaise which was made up of tiny pastries and the petit four which was a collection of Swiss chocolates.
Chef Knogl was in the kitchen on my visit and his standard of cooking reflected on this tasting menu. One after the other every plate in every course has a level of consistency that is inviting to the palate. Each dish was light and has complex textures and taste prepared meticulously. There was a mixture of quality seasonal and foreign ingredients used exquisitely to create superb flavors combinations.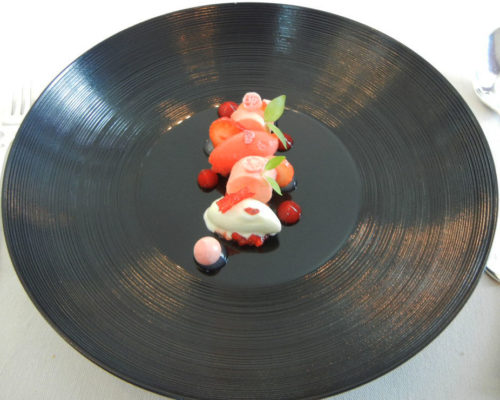 Their wine list is vast and comprised mostly from continental Europe. I opted for the 110 CHF wine pairing and made a special request to only have Swiss wine.  The sommelier came through masterfully in choosing red and white wines from different regions of the country. The pairing was in symphony and enhances each course in the tasting.
The restaurant's staff was properly trained and well verse. They were formal yet extremely pleasant and welcoming. Service was restrained. The servers observed from a distant providing a senses of privacy and allowed me to focus and savor my food one bite at a time without too many intrusion.
Wine Pairing:

Located in the middle of the old part of Basel, Cheval Blanc is housed inside Grand Hotel Le Trois Rois, one of the oldest hotels in Europe and the most prestigious accommodation in the city. The restaurants interior is induced with class and a hush atmosphere. The dining room's high ceilings with crystal chandeliers and tall windows overlooked the Rhine. Its clean white walls are decorated with oil paintings. A marble table serves as a centerpiece while the ten uniformed round tables covered in neatly pressed white cloth with each having its own candelabra are distanced properly from one another. Paired with the tables were classic wooden purple velvet chairs.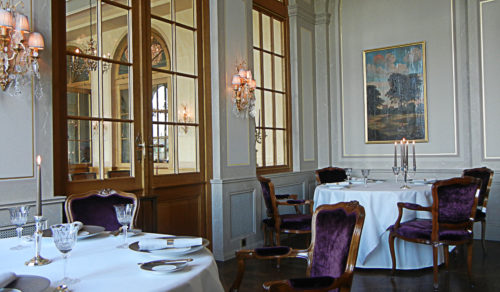 When a restaurant received plenty of accolades and is considered among the best in the country it sets high expectations. Cheval Blanc had exceeded mine and then more. It was perfection, Chef Knogl prepared a fantastic meal complemented with the finest Swiss wines and a staff focus in providing superior hospitality. I had a complete dining experience well worth the third Michelin star it received last year. Covering all aspect of a top tier dining destination Cheval Blanc exemplifies Swiss culinary excellence.