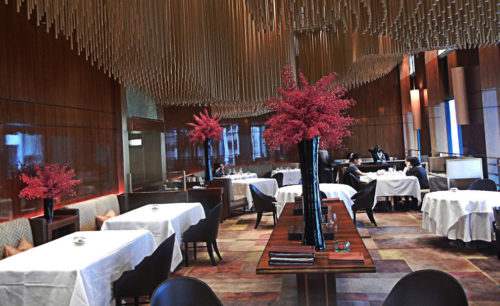 Amber
At The Landmark Mandarin Oriental
15 Queen's Road, Central
Hong Kong, China
+852 2132 0066
Official Site
In Hong Kong, Western fare, like French, has a strong presence and is as popular as their local Cantonese counterpart. The top cooking personalities from France such as Joel Robuchon, Pierre Gagnaire and Alain Ducasse have all setup locations in this city.  The most famous French restaurant, and many believed to be the best in Hong Kong, is the The Landmark Madarin Oriental Hotel flagship restaurant Amber. In a twist of irony the restaurant was led not by a French chef but by a Dutch chef, Richard Ekkabus. He trained under Michelin starred chefs in the Netherlands and in Paris with Pierre Gagnaire, Alain Passard and Guy Savoy. Since 2005 Chef Ekkabus has been the hotel's culinary director which oversees the restaurant and lounge. Under his guidance, Amber was awarded  two Michelin stars in the guides inaugural edition in 2009 and has retained it ever since as well as being included in the San Pellegrino's World's 50 best restaurants and in Asia's 50 Best Restaurant list every year. Currently restaurants day to day operation is being handled by chef de cuisine Maxime Gilbert.
Amber's weekend wine lunch was one of the best deals of any top restaurant out there. It consists of six-courses with wine pairing for 928 HKD.  The meal began with a series of amuse bouche that primarily contained mushroom as one of the main ingredients starting with mushroom and egg custard with puer and mushroom tea. Served in a small cup was the fantastic custard below a strong savory tea.  Then there was the mushroom macaroon with pumpkin puree in between and "beignet" which came in two. The macaroon's noticeable mushroom appeal and the buttery filling of pumpkin purée made up a pleasing combination. The beignet also made with mushroom came with chips made from the pumpkin puree gave a different dimension to the same ingredients. These little snacks were made to wake up the appetite.
Hokkaido sea urchin-in a lobster jell-O with cauliflower, caviar, crispy seaweed waffles (260 HKD extra) was the first course and the restaurants signature dish. Its gelatinous texture had a strong attributes of the ocean. The caviar topping gave it a saltiness that made it a wonderful and luxurious dish. The seaweed waffles served on the side was a nice supplement especially when eaten together.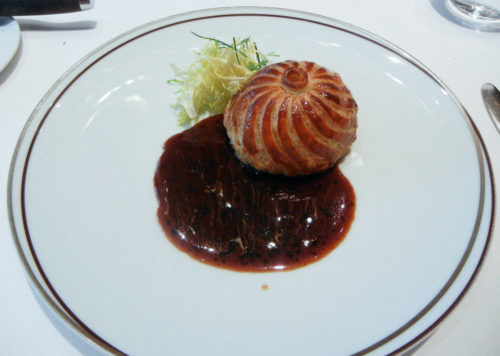 Next was the duck "au sang" legs and wild mushrooms pie, perigourdine sauce. The duck meat filling was flavorful and delectable while the puff pastry with its crunchiness was nicely done. The perigourdine sauce provided the strong earthy tones that worked accordingly with other components of the dish. The third and also the main course was the 'aveyron' lamb ribs braised in pinot noir, boulangere potatoes with taggiasche olives, tomato confit & mizuna leaves. Fatty lamb meat that fell off the bone and was braised in pinot noir was full of deep flavors. Beautifully cooked potatoes complemented the lamb and its sauce properly.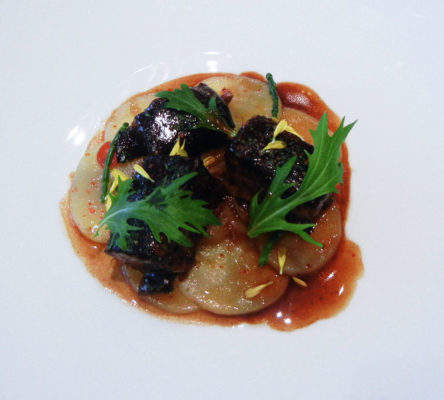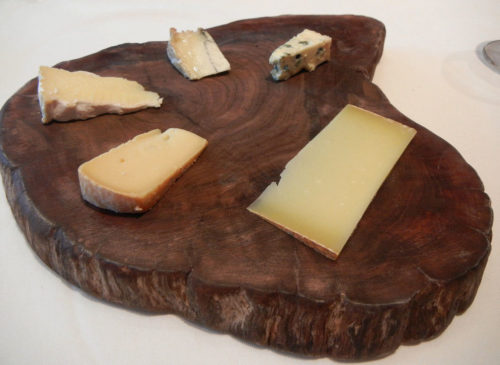 For the cheese course, french unpasteurized cheeses A chefs selection for the table to share matured by bernard antony, features five types of delicious cheeses with different textures and pungency. Moving on to the dessert, first to arrive was the pineapple confit, grilled millefeuille, 'grand cru' madagascar vanilla cream licorice, lime & yoghurt mousse, exotic fruit sorbet. It had plenty of fruitiness as well as was refreshing while also having a hint of citrus undertone. Dulcey chocolate crispy microwave cake & peanut butter ice cream followed after. It was sweet and rich in chocolate. The peanut butter ice cream provided the chilled nutty sweetness. Then finally some more sweets, petit-fours served on a can that consisted of white and dark chocolate ended the meal.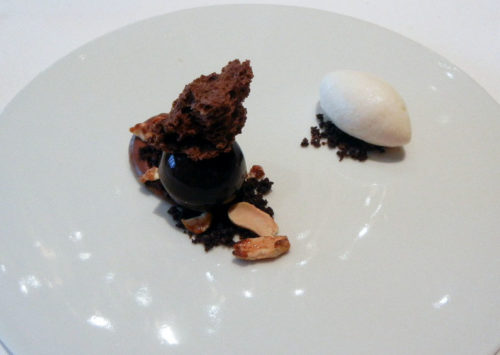 This was a well-executed contemporary French fare with many wonderful flavors. Numerous ingredients were successfully put together on the plate in a way that did not conflict with one another. The four glasses of wines from Europe and South America were accurately matched with each course as it brought out an extra taste at the end of every bite as well as providing a delicate balance.
Wine Pairing: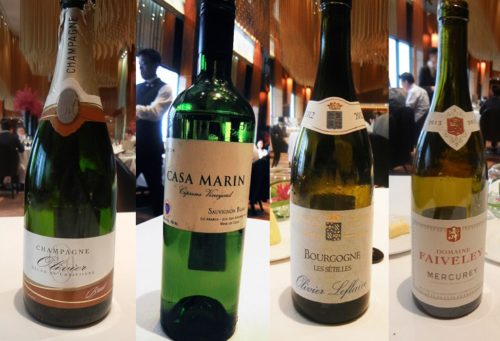 Amber's dining room was designed by super star interior designer Adam Tihany whose works are seen in many of New York City's great restaurants such as Per Se, Daniel, Le Cirque and Aureole. The room evokes luxury yet is understated with a brown color scheme of different types. The walls were handsomely finished mahogany wood, tall oversize vases with fresh flowers were carefully spread throughout. Its wide open space had tables close to each other but at the same time the sophisticated atmosphere kept the noise at a minimal. The center piece and the first thing that guests will notice once they enter the dining room is the chandeliers made of steel rod occupying the whole ceiling.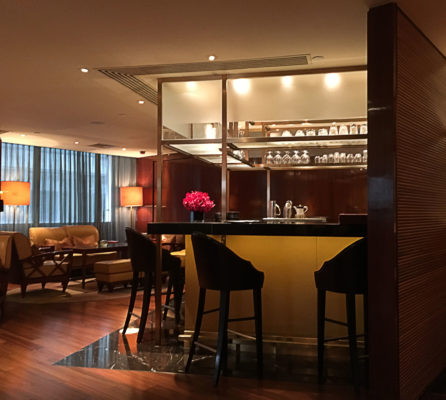 Service at Amber was extremely formal, at times the staff would break the stiffness to have a small chat here and there. The Matre'd did all the talking and was utterly friendly. He stopped by my table at the right timing ever so often without being overly invasive. They were very attentive and communication was never an issue, English was spoken and each course was explained clearly and my questions answered without hesitation.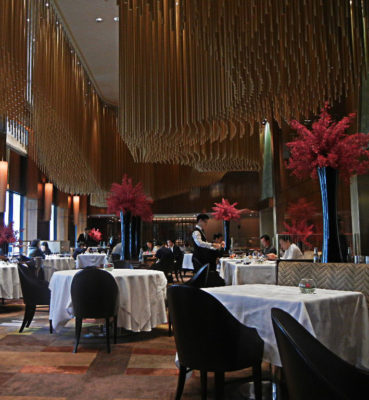 Charging high prices the weekend wine lunch was a great way to try the food at Amber before shelling out serious cash. The regular price of the tasting is very expensive and so is the a la carte. The prices are on the same range as in many three Michelin starred restaurants in Europe and the U.S.  But what you get for this six course tasting is well crafted food with a high level of cooking and an enjoyable dining experience. To many Amber is long overdue for a third star from the Michelin guide only time will tell. When I find my way back to Hong Kong I will definitely go full force at this restaurant.
For individuals who are ordering medicines online, there are several significant factors that must be considered. Internet is an ideal practice to get medicaments. Several medicaments are antifungal medicines. There are at least some medicaments for each sicknesses. Levitra is a treatment prescribed to treat few ailments. What do you have to consider about cialis vs viagra? When you buy remedies like Levitra you should ask your dispenser about viagra vs cialis. Many drugstores describe it as viagra or cialis. Many probably sure the forcefulness of Levitra is well documented. In supplement, there are some of explanations and pharmacists are ordinarily able to pinpoint your problem through biological tests. Ordinarily the treatment options may turn on erectile dysfunction medicaments or counseling. Your generic is for you only. Never give your drugs to other people even if their state appears to be the same as yours.