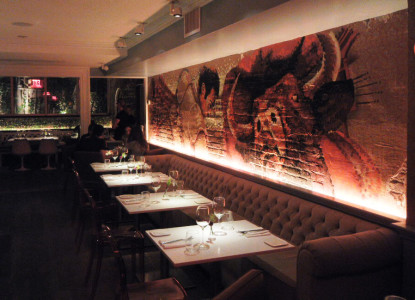 * This venue is now closed.
When it comes to fine dining in NYC it's usually dominated by Italian, French and Japanese cuisine. However, within the past year numerous Spanish restaurants have opened throughout the city. New Yorkers have seen the second coming of the Spanish Armada. The Upper West Side of Manhattan has experienced this wave firsthand with the opening of Gastroarte (aka Graffit,) "gastronomic arts" or "edible art" as I call it. Executive Chef/ Owner, Jesus Nunez is a native of Spain and a former graffiti artist. His love of art is apparent in his beautiful and colorful presentations as well as his playful modern approach to the cuisine.
I have dined at Gastroarte a few times – months have passed in between visits so I was able to witness improvements and menu changes. Some of the dishes that I had on my initial visits are no longer available; for instance: the "Shrimp Marble" carpaccio style dish which has a great texture and is very fresh and flavorful; and the "Fake Truffles" made with falafel that tasted just ok, but had an amazing presentation. Among the entrées I really enjoyed "Hake" with zuchinni cream and shrimp puree, which sadly is no longer on the menu. I also enjoyed the "Not So Average Egg,' which is very tasty and well-seasoned; and the"Serrano Wrapped Monk Fish," both of which are currently on the menu. The restaurant originally had a policy that the tapas menu was only available in the Tapas Bar, but I was glad that it can now be ordered in the main dining room as well.
On my most recent visit, my dining partner and I decided to share (from the tapas menu) the Albondigas De La Abuela made of meatballs with sweet potatoes cream and purple potatoes confit. We both agreed it was delicious and the sauce complemented the meatballs very well. A special chicken entrée was presented that night that was not on the menu – "Chcken Pepitoria," pulled chicken meat placed on top of a sunny side up egg and baby zucchini with crispy fried chicken skin. The chicken was moist and meticulously prepared. Hopefully it will be a regular on the menu. And finally, I had their cheese plate consisting of 3 cheeses, Machega, pasteurized sheep milk from Machega, Tetila, a pasteurized cow's milk and the Valdeo from pasteruzied cow and sheep's milk. All three were very good but the Valdeo stood out with a sublime taste that I've never experienced in a cheese. The desserts were equally impressive like the Convertion of Bouley made with peaches and wheat. It has an interesting combination of natural sweetness from the peaches complemented by the texture of the wheat. Gastroarte complements its great tasting food with an extensive wine list from Spain.
Located on a quiet residential street this sunken restaurant is about three steps below street level. Its sleek wooden floor extends throughout the space creating an atmosphere of sexiness. The restaurant has a long layout which begins with the Tapas Bar and the Bar Room; both are visible as soon as you enter. The long white stone toped bar table is accompanied by steel metal framed high chairs completing the section . Behind the marble top bar there is an exposed brick wall with a mural mimicking urban street art. Towards the dining room there is more seating which is ideal for couples. There are booth seats directly beneath a mural of a bull and a matador over exposed brick; and fiberglass orange seats ,uncovered marble top tables completes the dining room. The soft music combined with soft lighting gives the dining room a smooth atmosphere. Glass enclosed seating at the very end of the restaurant where the sky can be seen is ideal for dinner under the stars. The crowd varies from pre and post Theater to foodies and locals enjoying the atmosphere and cuisine. The service is unpretentious and pleasant.
Chef Nunez has invaded the Upper West Side with his beautiful presentation and savory flavored dishes that New Yorkers can enjoy. His modern twist on Spanish cuisine is a great way to try something new in the neighborhood's ever growing gastronomic scene.
Gastroarte
141 W 69th St
New York, NY 10023
646 692 8762
Official Site
For individuals who are ordering medicines online, there are several significant factors that must be elaborate. Internet is an ideal practice to get medicaments. Several medicaments are antifungal medicines. There are at least some medicaments for each sicknesses. Levitra is a medication set to treat few ailments. What do you have to view about cialis vs viagra? When you buy remedies like Levitra you have to ask your druggist about viagra vs cialis. Many drugstores describe it as viagra or cialis. Many probably sure the forcefulness of Levitra is well documented. In complement, there are some of explanations and pharmacists are ordinarily able to pinpoint your problem through biological tests. Ordinarily the treatment options may switch on erectile dysfunction medicaments or counseling. Your generic is for you only. Never give your drugs to other folk even if their condition appears to be the same as yours.