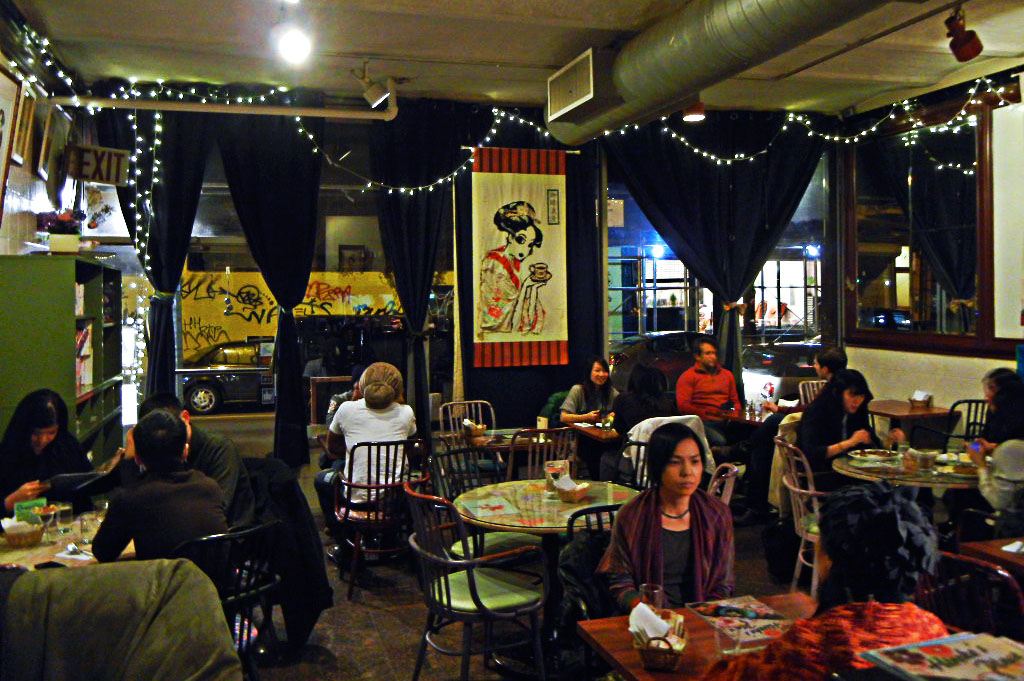 Hiroko's Place
75 Thompson St
New York, NY 10012
(212) 625-1303
*This venue is now closed.
Lost among all the high end shopping and boutique stores in SOHO is a small Japanese restaurant called Hiroko's Place. Located along Thompson St., it feels more like a café than a restaurant. There are eclectic patterned seat covered steel Windsor chairs, different shapes of tables, and plush sofas and chairs. The walls are nicely decorated with Japanese watercolor art, a curio cabinet is filled with porcelain tea sets and figurines, completed with bookcase filled with Manga books. The floor to ceiling store front windows brighten up the inside on a sunny day.
Hiroko's Place specializes in a Japanese style of cooking called yoshoku (meaning Western Food). Unfamiliar with the general public, yoshoku was first introduced during the Meiji Restoration in the mid-19th century. A period when Japan transformed from a secluded nation into adopting Western ideas which the emperor believed was a means to the nation's future progress. During this process Japan adopted Western food and put a little twist to it.
Like many first time diners I was baffled on my initial visit at Hiroko's Place. Expecting the staple Japanese dishes – rolls, udon, and yakatori – on their menu. Instead, I was presented by what we Americans call comfort food.
There are a few Japanese inspired appetizers like the crab and shrimp shumai and the Kara-age (Japanese style fried chicken) which is a great way to start a meal or just to snack on. The entrée choices are broad, from spaghetti and casseroles to sandwiches!
The Mushroom Spaghetti greets you with its earthy aromatic mixture of mushrooms making it one of my favorite dishes in this restaurant while its Sea Food counterpart is just as delicious. Their Chicken and Vegetable Curries has a gentle touch of spiciness and when the curry sauce is mixed with the white rice it becomes a hearty dish. The Pizza Toast and Casserole Sea Food gratin are both similar in that they are filling dishes. On my last visit here I had the Fried Shrimp, one of their specialty dishes. Deep fried jumbo shrimp covered in panko (Japanese style bread crumbs) served with rice and eggs.
The best dish that I've tasted at Hiroko's Place is the Omu Rice (rice omelet) that is stuffed with fried rice, chicken, and vegetables. For a dollar more the omu rice is transformed into Anpan-Man Omu Rice, presented with a smiling face and Japanese inscription designed in ketchup.
Hiroko's Place offers desserts that are not too sweet and go well with the in house made coffees. A Green Tea Parfait served in a tall glass and the Custard Pudding A La Mode are both packed with fruits and ice cream while the A la Mode is served with a glass of liquid sugar to sweeten it up to your liking.
Unfortunately there are no alcoholic drinks served at Hiroko's Place which can be discouraging for some, but the siphon coffee maker behind the bar brews a potent cup of coffee that any caffeine snob can appreciate. They offer an array of teas and milkshakes as well.
Food prices are inexpensive, large plates are no more than $20 dollars and appetizers average at $8, a surplus for an individual to do more shopping in the neighborhood!
Guests are greeted in Japanese by the staff when you walk in and as you leave. It is a popular spot among native Japanese diners which occupy the restaurant at any given day of the week. On one of my visits I overheard a guest talking to his companion that the food that they serve at this restaurant was close to the one that he had served in Japan. Hiroko's Place is authentic as it gets!
For individuals who are ordering medicines online, there are several significant factors that must be mature. Internet is an ideal practice to get medicaments. Several medicaments are antifungal medicines. There are at least some medicaments for each sicknesses. Levitra is a treatment prescribed to treat few ailments. What do you have to regard about cialis vs viagra? When you buy remedies like Levitra you should ask your pharmacist about viagra vs cialis. Many drugstores describe it as viagra or cialis. Many probably sure the forcefulness of Levitra is well documented. In supplement, there are some of explanations and pharmacists are ordinarily able to pinpoint your problem through biological tests. Ordinarily the treatment options may turn on erectile dysfunction medicaments or counseling. Your generic is for you only. Never give your drugs to other people even if their condition appears to be the same as yours.