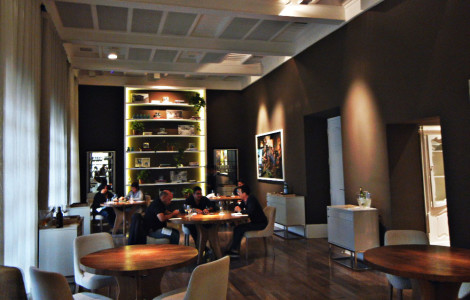 Astrid Y Gaston
Av. Paz Soldán 290, San Isidro
Lima 27, Perú
+511 442-2775
Official Site
For those that don't know who Gaston Acurio is, he is one of Peru's greatest ambassadors; bringing Peruvian food and ingredients to the world. He is the Rene Redzepi and the Ferran Adria of Peru, giving birth to nouvelle Peruvian cuisine that we all know. A restaurateur with an empire of more than 40 restaurants stretching in three different continents and arguably one of the most and influential figures in the world of gastronomy. His flagship Astrid Y Gaston in Lima was voted as one of the 50 best restaurants in the world, occupying the 18th spot in 2014.
After studying at Le Cordon Bleu in Paris, he came back to Lima, Peru and opened Astrid Y Gaston in 1995. Chef Acurio began serving French cuisine and later turning it into a Peruvian inspired fare using only local ingredients while applying the techniques and skills that he acquired in Europe. In September 2014, he announced his retirement from the restaurant relinquishing control of his flagship to Executive Chef Diego Munoz who had been in that position for the past two years.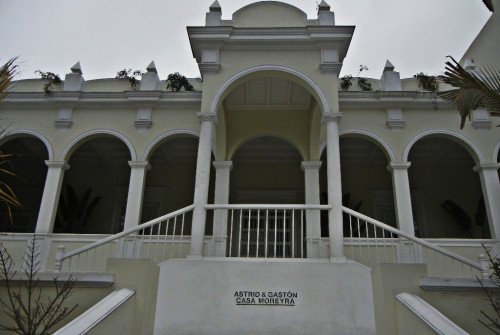 Prior to this year, the restaurant was located in Miraflores for twenty years after relocating to Casa Moreyra in San Isidro (the only restaurant I visited outside of Miraflores). Walled in from the outside, Casa Morerya is an elegant Spanish colonial hacienda. Complete with its own garden, patio, event space, a food lab and another restaurant called La Barra that offer a la carte dishes of Astrid Y Gaston's tasting menu.
On my arrival at this Relais & Chateaux property, I was received at the restaurants spacious reception area, then after verifying my reservation I was asked to be seated at the patio to wait as my table was prepared. A few minutes later the hostess emerged and gave me an escorted tour of the compound that eventually led to kitchen where Chef Munoz was busy with his brigade and then to my table.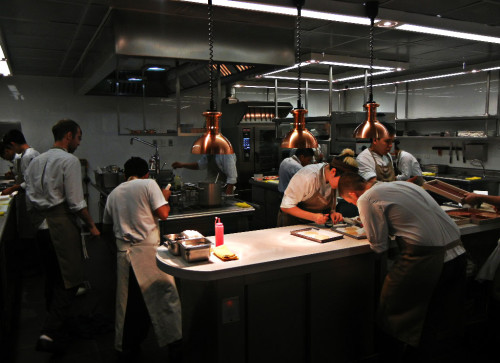 The restaurant's modern décor has a dining room that's clean, airy with high ceilings and bookshelves throughout.There were plenty of windows to brighten up the room with hardwood flooring and grey walls that has beautiful artwork. Large round oak tables paired with ivory padded chairs were distanced far apart from each other giving each guest their own personal space.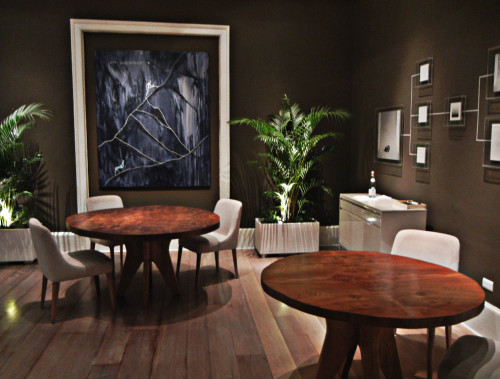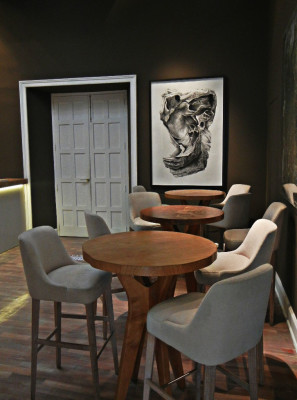 Astrid Y Gaston offers one tasting menu ($125 or Sol 386) for both lunch and dinner that consist of 27 courses and changes every six months. The menu tells the story of Peru and on my visit it was titled Memories of My Land inspired by food and flavors that every Peruvian had growing up.
The first chapter was "Let Us Toast in The Good Old Days". I was served with cocktail called guinda of Huaura made from Huara cherry (a province in Peru) and was accompanied by a snack. That was followed with"Sweet After School", a cookie tin that contained an ambrosial of small bites. Barquillos made of lemon basil, strawberry, rocoto pepper and yogurt. Ginger and chicken skin camotitos, merengue kisses with black botija olives and anchovies, then the charada made with prawns and peanuts. They were served with lucuma chocolate and chestnut ice cream.
Memories of My Land:
The next chapter was "Home Memories". A trio consisting of interesting dishes that were meticulously crafted beginning with the medlar beverage called Garden Fruits. Water infused with exotic Peruvian fruits encased in a large ice cube that needed to be drunken right away. Then there was the vibrant "Mom's Patita", suckling pig trotter (substituted with chicken) with mustard and cress. To finish, a crispy Grandma's Torrejita or chickpea with white asparagus caviar.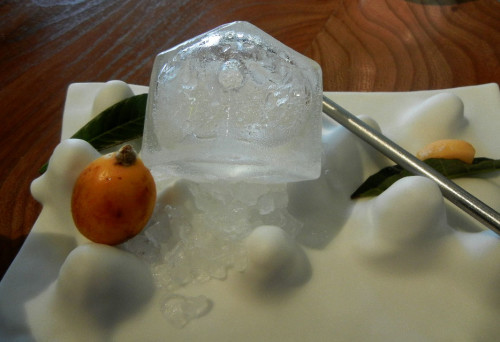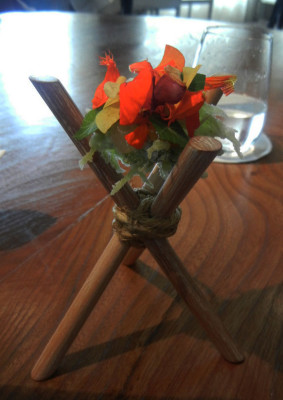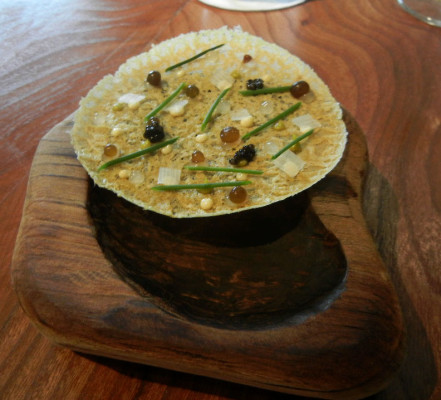 "Summer at The Beach" is the "Raspadilla" made with vegetable ice, syrups, fruits and herbs from the restaurants garden. It had a refreshing and wonderful vegetable essence. "Morning of Punta avocado and crackers" sliced avocado, garnished with white sesame seeds, green onions, aji limo pepper, maca, and candied lemon slices. The plate was placed the long way on the table then I was instructed to eat from the front. There was a lot of elements on one plate that produced some very good flavors. It got better with the next course. "Frozen Delicia Apple", apple ceviche with leche de tigre of rocoto, sea urchin and borage. The curled thinly sliced apple gave the fruitiness that the compliment the citrusy sauce and creaminess of the urchin. Lastly, "That Pink-Clam Chowder" made with fake pink clams from pacae (with a taste and texture like clam) with tender fava beans, creamy potatoes and swimming in spicy sea food broth. A light dish with a profound savor from the sea. The trio makes up "Products that are leaving us", local ingredients that either disappeared or were replaced.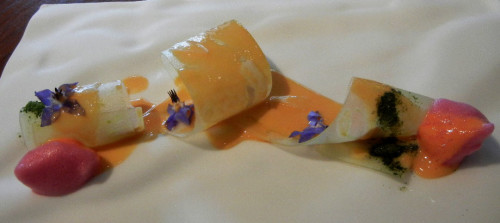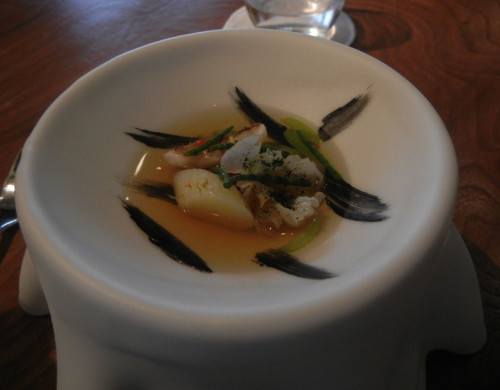 "Recipes That Are Leaving Us" are split into two courses. The first was shrimp tails cooked with roasted peanuts, garlic roasted onion broth, mirasol pepper, nuts, huacatay and shrimp essence oil. The shrimp had a lovely firm textures that was married to an outstanding pungent aromatic sauce. The second was the "Escabeche of Cojinova", smoked onions with marinade oil, tomatoes and aji pepper which had a terrific intense smokiness to it.
"Homage to mashed potatoes with fried eggs" the sole representation of "Going Back Home"and was inspired from a home coming dish after being gone for such a long time. Made with chaulina potato cream, chicken jus, dried tomatoes and pocini, fried quail eggs, tomato powder and spinach.Poached eggs on top it had a creamy texture along with a complexity of flavors.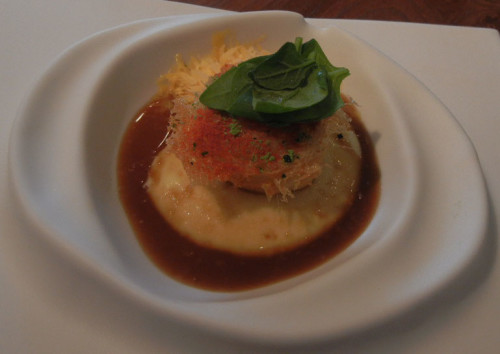 A journey to the different region of Peru in"Regional Longing" began with a tasty dish called "Between a Potato Ajiaco and a Tongue". Semi-dried native potatoes, fresh cheese cream, onions, roasted yellow aji pepper and beef tongue. It was followed by "Rabbit Pachamanca", rabbit loin and liver with corn, garlic cream, oca and olluco. The lean rabbit loin and the nuttiness of liver shared with all the other ingridients created a pleasant dish. "Homage to Shambar", brisket, pork rib broth (was substituted), bean germs and peppermint sprout. The tender pieces of briskets were flavored superbly and marked the completion of the savory courses.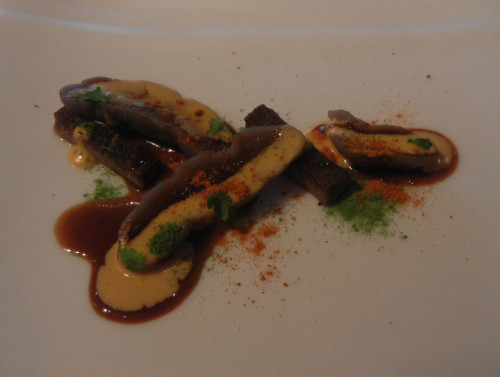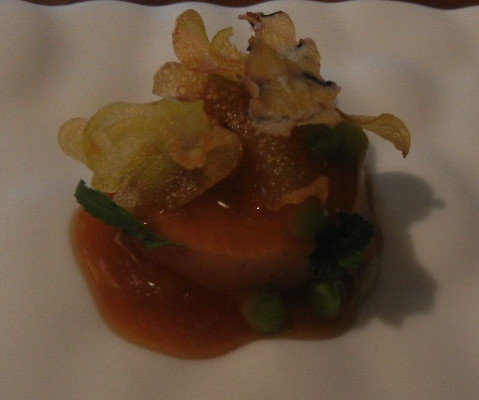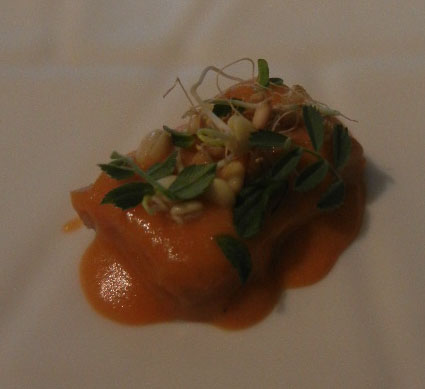 "Children Pranks" was playful introduction to the sweet plates. The enjoyable "The tasty banana and cheese" was made with Isla banana, spices caramel and pisco, crumbs of paria cheese, arugula and black pepper. "Pomegranate Wars During the Break" pomegranate bombe was served on woven steel wires. A dish that had the WOW factor. An explosion in the mouth that felt like a broken glass. "Strawberry with Milk" was a sugary blend of condensed milk and strawberries while the U-Alianza, homage to Mazamorra Morada (Peruvian purple pudding) and arroz con leche was a small bite of compacted saccharine.
Sweet Memory were "Lima blanquillos", apricot cooked with chamomile, almond cake, apricot kernel ice cream and "Why is it called King Kong?" Made with quince compote, peanut jelly, herb soup and flower ice cream, it was a big mess of goodness on plate.
The kitchen reminisced with the flavors that were changed in the last chapter "Lost Flavors". "Real Chocolate Bar with Peanut and Cocada" was the petit fours. Finally to conclude this monumental meal was a made to serve "Emoliente", a classic Peruvian drink is typically served hot during winter. Here it was served in both cold and hot together in one glass with a plantain leaf that served as a separator between two temperatures.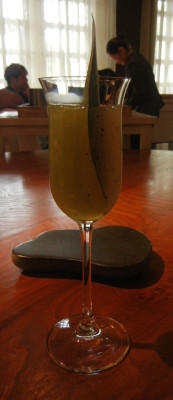 After nearly four hours I was finally done. This was a fine meal, each of the 27 or so courses flowed fluidly with an excellent succession of taste with one to two bites one after the other. Everything about this meal was theatric, from the moment the server explained the theme of the tasting menu and the story of each dish to the presentation of some of the courses that were crafted in front of my table. The cooking techniques were interesting and even playful in creating different textures, elaborate flavors that carefully constructed in each plate. The successful pairing of wines (Sol 255 or $84 for the wine pairing) from Spain, Italy, Portugal, Chile and South Africa was just an exclamation to excellence.
Wine Pairing: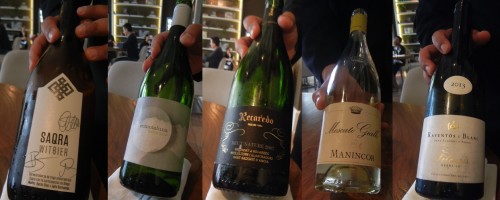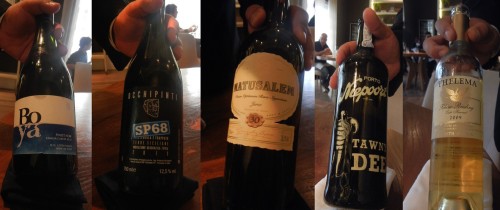 Service at Astrid Y Gaston was formal and professional. Majority of the time there's one individual server focused on one specific table creating a more personal experience. There was definitely no shortage of staff and each and every one of them spoke perfect English which was expected to handle the influx of foreign diners that visits this restaurant on a daily basis.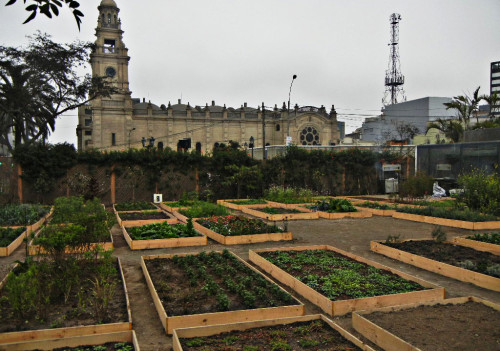 As the birthplace of nouvelle Peruvian cuisine, Astrid Y Gaston paved the way to restaurants like Central and IK Restaurante. This is just not any other restaurant but an institution. For 20 years it has been on top of its game and still lives up to its reputation among the very best not only in Peru but the world. Though Gaston Acurio is no longer in the kitchen the restaurant is in good hands under Chef Diego Munoz.
Visiting Peru is not complete without coming to Astrid Y Gaston. The restaurant and Gaston Acurio is as synonymous to Peru as Machu Pichu and the lines of Nazca.
For individuals who are ordering medicines online, there are several significant factors that must be considered. Internet is an ideal practice to get medicaments. Several medicaments are antifungal medicines. There are at least some medicaments for each sicknesses. Levitra is a curing set to treat few ailments. What do you have to consider about cialis vs viagra? When you buy remedies like Levitra you must ask your dispenser about viagra vs cialis. Many drugstores describe it as viagra or cialis. Many probably sure the forcefulness of Levitra is well documented. In addition, there are some of explanations and pharmacists are ordinarily able to pinpoint your problem through biological tests. Ordinarily the treatment options may include erectile disfunction medicaments or counseling. Your generic is for you only. Never give your drugs to other people even if their state appears to be the same as yours.