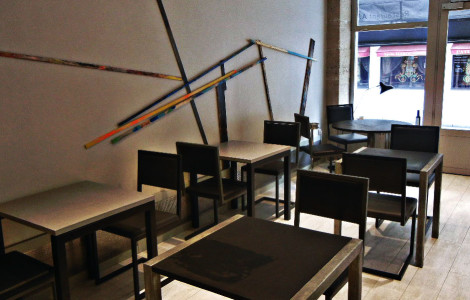 Restaurant A.T.
4 Rue du Cardinal Lemoine
75005 Paris,France
+33 1 56 81 94 08
Official Site
Guides like the Michelin and Gault Millau are a good way to choose a place to dine especially in a city like Paris. In this instance Restaurant A.T. is nowhere listed in those guides, it was from The Forbes magazine where I learned about this restaurant when it published an article "The 12 coolest places to eat in 2015". Japanese born chef and owner Atsushi Tanaka previously cooked at Quique Dacosta in Spain and De Pastorale in Belgium but working with Pierre Gagnaire at his Parisian three Michelin starred restaurant is what laid the foundation to Chef Tanaka's restaurant, Restaurant A.T.
Restaurant A.T. opened last year in the Left Bank close to the Notre Dame Cathedral. Its humble store front and décor defines simplicity. Bright ceiling lights are assisted by clean white walls and stone ash wood flooring to brighten up the dining room. The fixtures of assorted heavy tables with table tops that are either made of concrete or black rubber, and steel chairs with black leather cushions seemingly built for an office space rather than a restaurant add sleekness to the interior.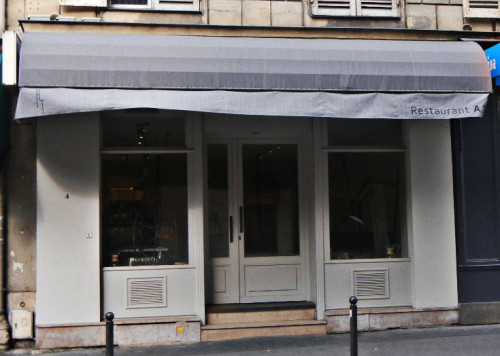 There were different set menus for lunch while in the evening there's only the tasting menu that consist of twelve courses for EUR 85(at the time of my visit but has since increase to EUR 95) which I requested. The first to arrive was a charcoal chip served on a bed of rocks, it was quite crunchy with a fascinating burnt taste. Leeks sautéed in brown butter was next. The leeks with the toasted nuttiness of the brown butter was interesting. Following the leeks was parsnip cake, a creative dish, using a root vegetable that had a hint of sweetness along with an undertone of bitterness.
Tasting Menu:
Afterwards a combination of sea food and animal proteins arrived. Kicking it off was a lovely piece of oyster drowned in a pungent citrusy light sauce made of kalamansi (a small citric fruit found in the Philippines) that was counteracted by the harshness of the kholabari creating a balanced dish. Then there was a wonderful bowl of veal tongue with thinly sliced radish, mushroom, and green leafy vegetables. Its subtle broth was infused with vegetables and absorbed by the juicy pieces of veal tongue. The next course, Artic char, had a robust essence and the chips covering it, made from juniper and parsley, created a very good dish.
To continue was an excellent marinated beef that was nearly raw and served with Jerusalem artichoke and hay. This was a savory dish where the scrumptious beef had plenty of flavor. I was then served whelk, also known as sea snails, with salsify chips on top. It had a nice briny sweetness that went perfectly with its light and tangy consume.
A lovely piece of Hake drowned in cockles broth was next. The broth had a strong deep sea taste combined with the clean tasting Hake meat. For added texture was dehydrated oca plants leaves. Beautifully prepared and tender pieces of lamb meat with rosemary and turnips was the final course before dessert.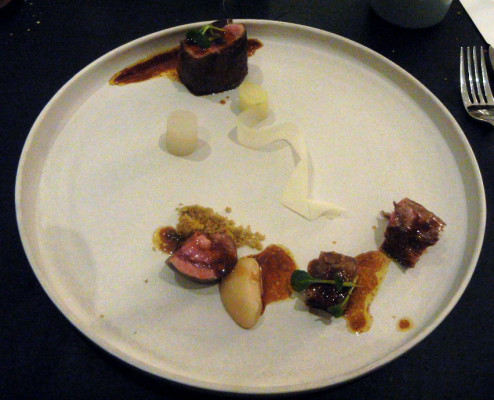 Dessert courses consisted of raspberry with beet root and timut pepper, although not as sweet as I thought it would be, the combination of berry fruitiness and lemon added a slight soily texture. The chocolate and lavender with its sweet chocolaty and distinct floral aroma rounded the tasting in a wonderful way.
With this tasting I decided to go with the wine pairing for EUR 55. There were seven glasses all together that consisted of French wine and a single Scandinavian beer. Arranged by Sommelier Thibault Simon (formerly of Michelin starred Agape Substance) they were paired perfectly with each course and provided an extra jolt to the palate.
Wine Pairing:
Chef Tanaka prepared a very good meal with wonderful creativity that matched its refined flavors. His cuisine is neither French nor Japanese and the ingredients that he uses are international. He manipulates textures and taste that is similar to the molecular gastronomy style of cooking while his plating depicts modern artistry.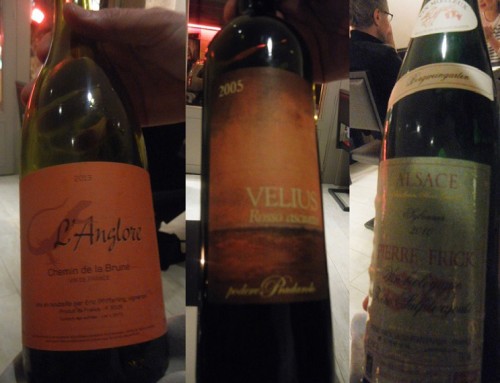 Service was competent starting when I arrived at the restaurant. I was greeted pleasantly by the staff in their uniform gray shirt and black apron and through my time at Restaurant A.T. they were attentive and engaging. Chef Tanaka served some of the courses himself to my table and even found time to chat on a busy evening during and after my meal.
With so many dining choices in Paris there tends to be a number of restaurants that are often overlooked, but as the dining scene changes more Parisian chefs are steering away from classic cooking to new and more experimental methods. Underrated Restaurant AT will get its recognition in due time, especially with a chef in the kitchen that has a strong pedigree and cooks some of the most creative cuisine in Paris.
For individuals who are ordering medicines online, there are several significant factors that must be elaborate. Internet is an ideal practice to get medicaments. Several medicaments are antifungal medicines. There are at least some medicaments for each sicknesses. Levitra is a curing set to treat few ailments. What do you have to consider about cialis vs viagra? When you buy remedies like Levitra you must ask your dispenser about viagra vs cialis. Many drugstores describe it as viagra or cialis. Many probably sure the forcefulness of Levitra is well documented. In addition, there are some of explanations and pharmacists are ordinarily able to pinpoint your problem through biological tests. Ordinarily the treatment options may switch on erectile dysfunction medicaments or counseling. Your generic is for you only. Never give your drugs to other people even if their condition appears to be the same as yours.