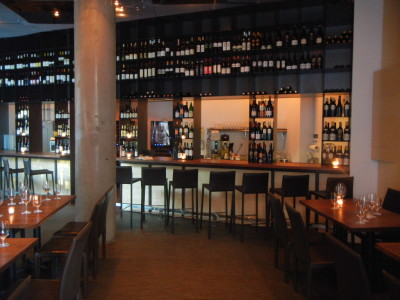 bahr | che
26 Astor Pl
(between Broadway & Lafayette St)
Manhattan, NY 10003
(212) 260-2220
Website
The wine bar bahr|che, located in the St Marks/ Cooper Square area may be a bit hard to find but once discovered it's a nice change of pace from the typical area bars with dollar shots and packed with NYU college students. To avoid spending hours on the search, be sure to find bahr|che on the ground floor of the Gwathmey Siegel building, behind the Chase Bank.
Bahr|che is small, "L" shaped with high ceilings and a modern interior design by Richard Bloch (Bloch is also responsible for such notable NYC restaurants as Masa, Bar Masa and Dovetail to name few.) The walls are covered with square shaped light maple wood panels arranged on top of each other in awkward angles resulting with some wood pieces artfully sticking out. The dark colored bar has an array of wines perfectly arranged on shelves that reach the ceiling. Toward bahr|che's rear is a brighter section with a view of the street. The area is complete with red semi-circular booths and round tables.
This wine bar also specializes in cheeses and charcuterie but still serves good food for lunch and dinner and weekend brunch. The portions are very small and will leave you yearning for more.On my first visit to bahr|che I had the three cheese selection: Latur from Piemonte, Italy – made from cow, sheep and goat milk; Tomme Crayeuse from the Rhone Alpes of France – made from cow milk; and Cabot Clothbound from Greensboro, Vermont. I'm normally not a goat cheese lover, but the Latur was very good it did not have the particular goat cheese smell/taste that I find unpleasant. The cheeses complimented the fruity taste of the Riesling Spatlese wine that I ordered. I also had their Lobster Mac and Cheese which was also very good. Although the food was very tasty, the wine selection is the highlight of this place. With over 1,500 to choose from there's always something new to try. Their wines from every region of the globe are available either by carafe or bottle at reasonable New York City prices.
The atmosphere at this place is subdued and very relaxed, a great way to unwind after work or end of the day. At night it's romantic and intimate with soft music, dim lights and candles on the table.
Over all bahr|che is a pretty solid place, a great selection of wines, great food and a comfortable atmosphere. After my first visit, I was sold on this place and kept on coming back for drinks. It's great to start or end the evening for a pre or post dinner drinks. Whenever you're in the area and just want to relax and enjoy a glass of wine, make sure to visit bhar|che and don't forget your GPS, you might need it to find it.
For individuals who are ordering medicines online, there are several significant factors that must be elaborate. Internet is an ideal practice to get medicaments. Several medicaments are antifungal medicines. There are at least some medicaments for each sicknesses. Levitra is a medication preassigned to treat few ailments. What do you have to regard about cialis vs viagra? When you buy remedies like Levitra you must ask your pharmacist about viagra vs cialis. Many drugstores describe it as viagra or cialis. Many probably sure the forcefulness of Levitra is well documented. In complement, there are some of explanations and pharmacists are ordinarily able to pinpoint your problem through biological tests. Ordinarily the treatment options may include erectile disfunction medicaments or counseling. Your generic is for you only. Never give your drugs to other folk even if their state appears to be the same as yours.