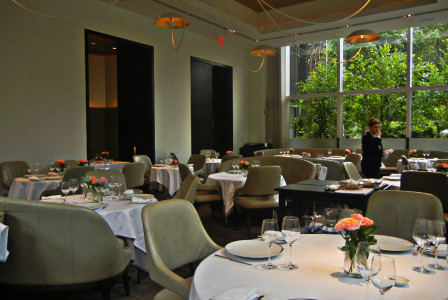 Jean-Georges
1 Central Park W
New York, NY 10023
(212) 299-3900
Official Site
World renowned chef and restaurateur Jean-George Vongerichten has amassed a gastronomic empire across the US and a handful more in different continents. In New York City alone, he has eight restaurants with more openings on the horizon. His flagship restaurant Jean-Georges in Columbus Circle is in the elite group of the crème de la crème of New York City fine dining establishments.
Highly praised by the city's dining purist and critics, this restaurant has been a three stars Michelin recipient for the past nine years and one of the select few to be awarded four stars by the New York Times.
Situated in the lobby of Trump International Hotel and Tower, Jean-Georges contemporary subdued dining room is frequented by business men and women during lunch and food buffs and guests on celebratory dinner in the evening.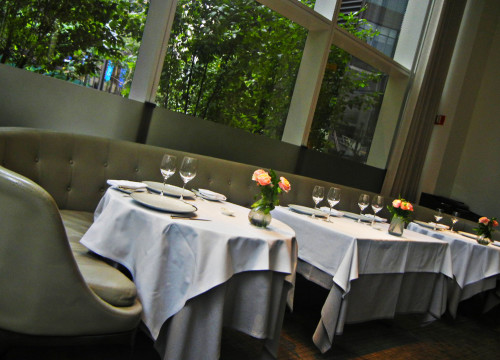 The restaurant is designed with high ceilings and floor to ceiling windows that provide natural light which brighten up the dining room during afternoon service. Tables covered in smooth white table cloths with fresh flowers on top are paired with brownish grey leather seats and booths. Two alcoves, reserved for intimate dining, complete the simple but elegant interior.
French born Chef Vongerichten has worked in some of the top kitchens in France, but his travels to Asia are what developed his love for the continent's cuisine. His experience has created a fusion that defines the character of each dish at Jean-Georges. A combination of Asian ingredients and flavors alongside with French cooking techniques are both innovative and creative.
Jean-Georges haute cuisine is both light and flavor packed. The use of heavy cream that is associated with French cuisine is replaced with savory sauce that brings an exotic taste to each plate.
Having visited Jean-Georges a few times, I was able to sample numerous items on their menu. The dishes are carefully crafted and the kitchen's attention to details is immaculate. To start, their Peekytoe Crab Dumplings swimming in Myer Lemon juice was flavorful! Succulent pieces of crab meat went well with the Meyer lemon juice sauce. There's also the Sea Scallops with caramelized cauliflower and caper-raisins emulsions. The scallops were adequately seared and the caramelized cauliflower had a nice texture and combined with the emulsion became a successful union.
Fish dishes like the Sea Trout draped in trout eggs with lemon foam and olive oil was enjoyable. The light taste of the trout was flavored by the subtle saltiness of trout eggs and balanced by the lemon foam. The Hamachi Sashimi was so fresh, its smoky buttery taste married with the distinct flavor of the avocado and the bitterness of the radish making this a stellar dish. Black Bass crusted with nuts and seeds, sweet and sour jus had a balance of texture and flavors. The bass was cooked perfectly and beautifully complimented by its sweet and sour sauce.
A dish that caught my eyes was the Foie Gras Brulée with fig jam. This was an exceptional dish. It showed the creativity of the restaurant. The buttery foie gras that was caramelized tasted equally as good as it sound. While the Sesame Crusted Foie Gras might not be on the same level as the aforementioned, the nuttiness from the sesame crust was enough to make it a worthwhile dish.
The hearty Japanese Risotto with porcini marmalade was less creamier than an average risotto and very light. This dish is a classic example of the East meets West cuisine at Jean-Georges. Licorice Braised Sweetbreads were nicely cooked and the baby carrots, ginger and shiitake mushrooms gave it an additional earthy flavor.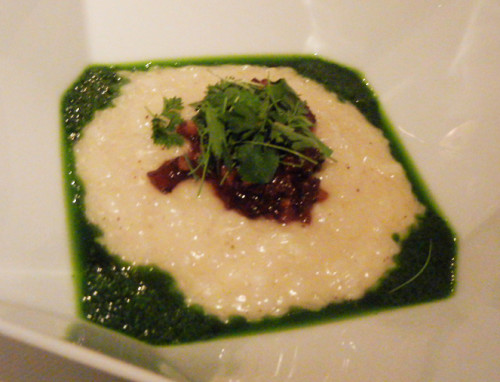 Entrées like the Colorado Lamb with smoked chili glaze, broccoli rabe and pistachios and The Duck Breast topped with cracked Jordan almonds, amaretto ju and foie gras were both carved table side before serving. There were a lot of elements on both plates that complimented each other perfectly. Lamb meat was tender and clean, while the duck breast was moist and soft. Both dishes were full of flavor.
The restaurants greatness continued with their desserts. Here the guests were allowed to choose one base ingredient to create four kinds of desserts. I selected the Caramel that consists of a gelée, crème brulée, ginger bread and strudel as well as the Citrus that was made up of sorbet, crème caramel, apple confit and torte. None of the two quartet are less than the other and both put an outstanding sweet ending to my already remarkable meals at Jean-Georges.
There are several dining options at Jean-Georges, for lunch there's a $39 two course ($19 for each additional course) and a $148 tasting menu. The two courses was an affordable way to experience a restaurant of this caliber. Dinner on the other hand is more expensive, $118 three course pre-fixe plus desert and two kinds of tasting menus valued at $198 each. Both lunch and dinner menu are identical, though serving size in the evening is slightly larger.
Dessert:
Their predominantly French wine list is impressive with reasonable prices. You can get a bottle of both red and white below $80. Wine by glass is offered at price point and average about $14 a glass.
As a member of the Relais & Chateux you can expect a luxurious experience. From the minute you walked in you are pampered by its professional and knowledgeable staff. Service is formal, typical of a fine dining establishment were the servers are engaged to a certain point. They know when it's time to leave the table and let you savor the moment.
At Jean-Georges guest are guaranteed a stellar meal whether they are paying for a $39 lunch or an $118 dinner. In my visits there was no drop in level of the food and service from previous ones, their consistency is second to none.
High quality ingredients and creative flavors are jammed into dishes that can only be found in this restaurant. When paired with impeccable services it makes this fine dining venue a gastronomic destination.
For individuals who are ordering medicines online, there are several significant factors that must be considered. Internet is an ideal practice to get medicaments. Several medicaments are antifungal medicines. There are at least some medicaments for each sicknesses. Levitra is a medication prescribed to treat few ailments. What do you have to consider about cialis vs viagra? When you buy remedies like Levitra you must ask your druggist about viagra vs cialis. Many drugstores describe it as viagra or cialis. Many probably sure the forcefulness of Levitra is well documented. In supplement, there are some of explanations and pharmacists are as a rule able to pinpoint your problem through biological tests. Ordinarily the treatment options may include erectile disfunction medicaments or counseling. Your generic is for you only. Never give your drugs to other people even if their condition appears to be the same as yours.