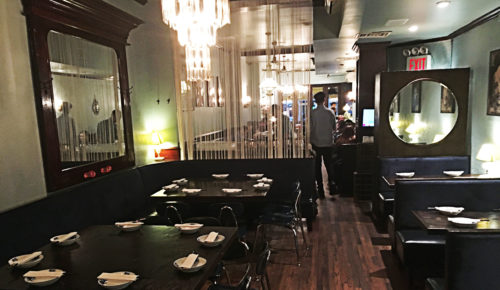 Cafe China 
13 E 37th St.
New York NY 10016
(212) 213-2810
Website
Chinese food has been one of the most popular here in the US. It is cheap, tasty, quick, and readily available at any hour of the day. For the most part it has been a quintessential food to many Americans.. There are a number of widely known dishes such as fried rice, sweet and sour chicken, lemon chicken, egg roll and of course, none is more famous than General Tso Chicken, (which was also voted as Grubhub fourth most ordered dish), that can found at every Chinese restaurant in New York City, and all across America. Nestled in Midtown Manhattan, Café China is not your proto-typical Chinese restaurant that serves bastardized version of Chinese food made to please American palates. Instead, they specialize in Sichuan cuisine which is distinctively spicy and pungent.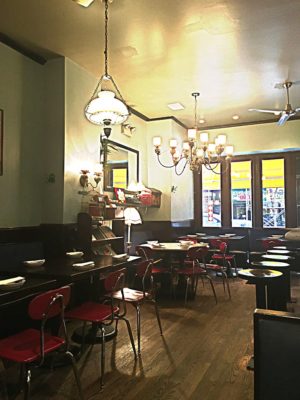 Unlike other Chinese restaurants, Café China's interior is appealing. It has an L shape marble bar in the front that greets guests as they come in. Chandeliers and lamps brighten up the space. Its walls are adorned with large mirrors, and 1920 Old Shanghai photographs of Chinese women. Uncovered tables are paired with chairs that are seen in NYC public school. There are also leather benches with velvet back rest.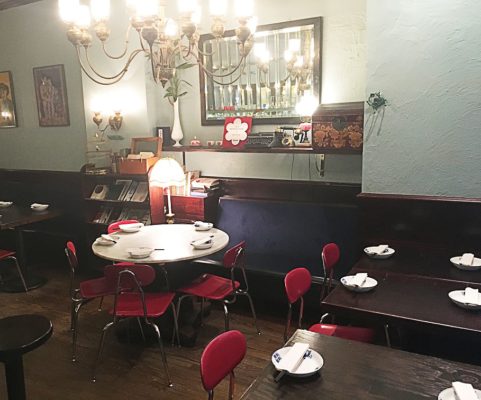 Café China has garnered a two star review from New York Times, a Michelin star for four consecutive years, and continuously ranked as among the top Chinese restaurant in New York City. Its menu is not overly extensive compared to others, and for the most part the dishes are offered for both lunch and dinner. The prices are fairly reasonable with entrée averaging about $25 for dinner and even cheaper during the afternoon.
Small plates like the Jellyfish in Scallion Pesto- Julienne jellyfish seasoned with scallion pesto were an interesting use of western ingredient in Asian food. In this case it was done properly, the subtlety of the gelatinous jelly fish was wonderfully flavored with pesto sauce. Both the Crystal Shrimp Dumplings and the Vegetable Pot Stickers were good, but nothing really to rave about. But the simple Sweet Potato Pancake on the other hand, had a nice fried crust and sweetness.
For entrées, the classic Kung Pao Chicken- stir fried with peanuts, peppercorn & chili peppers was a better version that I had before and has an abundance of tingling sensation. The Three Pepper Chicken- stir fried with chili peppers & peppercorn were tender pieces of chicken cooked with three types of pepper that yielded a numbing spiciness.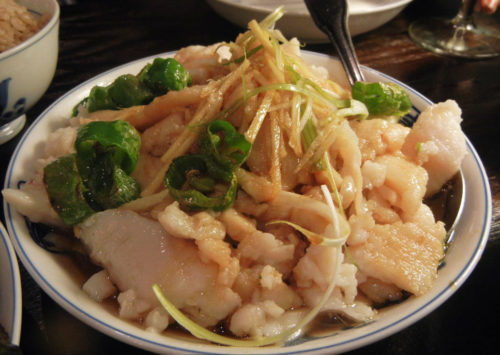 Fragrant Fish Filet filets of sole w/snow pea shoots & green chili pepper, were steamed chunks of sole that were lightly dressed with soy sauce which provided the right amount of saltiness. Snow pea shoots gave it an herbal aroma that went very well with green chili pepper's spiciness. The Braised Fish Filet with Tofu filets of sole w/ chili sauce, peanuts and cilantro was a bowl of fiery pleasure. Fillet of braised sole and tofu are drowned in thick spicy sauce. Both of these dishes were pleasant.
Shredded Beef with Green Chili had a nice sum of spiciness that went along with tasty shredded beef. The Beef Sautéed with Tea Tree Mushroom was slightly milder and has very good flavors. It also has a strong earthiness provided by the tea tree mushroom. The vegetarian entrée of Egg Plant in Garlic Sauce were egg plants swimming in sweet syrupy garlic sauce was surprisingly appetizing.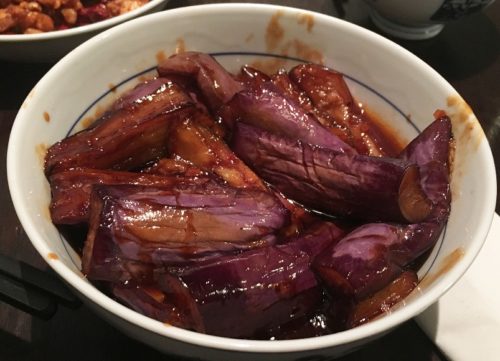 My meals at Café China were quite enjoyable. The food was consistent, straight-forward, and had a certain refinement. It also had tremendous amount of spicy element that manages to blend properly with other ingredients on the plate without over powering them.
Subject to personal opinion, Cafe China might not compare to other Sichuan restaurant in New York City, but there is no denying that this is a solid restaurant. Cafe China constantly delivers spicy and flavorsome Sichuan food that New Yorkers have come to enjoy.