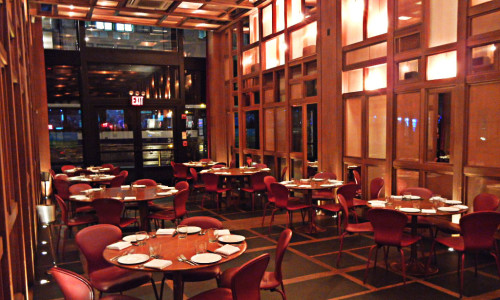 Ilili
236 5th Ave
New York,NY 10001
(212)683-2929
Official Site
Lebanese cuisine is rarely mentioned in the same sentence as high-end dining in New York City. It's mostly associated with small falafel shops and food carts. Up to this day there are still only a handful of venues, such as Al Bustan and Almayass. So in 2007, when Lebanese born chef, Phillipe Massoud opened the restaurant Ilili steps away from Madison Square Park, in the Flatirion District, it was an ambitious undertaking that was eventually followed by success and consequently was embraced by the dining public.
Visible along Fifth Avenue passerby's can't help but notice the bustling dining room of Ilili, occupying a huge space that can seat at least 200 diners. Guests are greeted by a spacious lounge with wood panel walls, suede benches, and long bar in back with a thick stone top. The main dining room is designed with an abundance of wood and dominated by uncovered large round tables with cherry red armless chairs. The room's high ceilings create an echo that can get loud on busy nights but that's what gives Ilili its fun atmosphere. Tucked in the corner of the room is chamber that has more of an intimate settings and much quieter compared to the main dining room, the tables are covered in white cloth are setup for two people.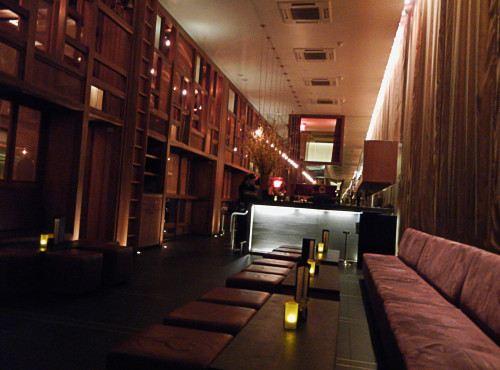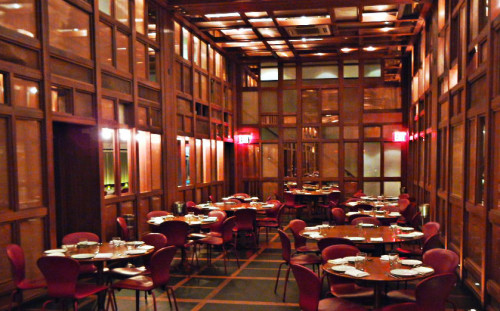 Leading the kitchen at Ilili is Chef Massoud. He left Beirut for New York at a young age to escape the civil war and after college; his love for Lebanese cuisine led him back to Lebanon cooking with some of the country's best chefs. He returned to the US in the late 90's to head the kitchen at Neyla in Washington D.C. before settling in New York.
Ilili offers a la carte lunch and dinner menu to go along with their $25 lunch pre fixe special and the lounge offers small bites and drinks. Small plates or Mezzes are separated in hot and cold. For the hot mezzes I had an excellent Octopus-lamb bacon, Piquillo peppers, garbanzo beans, eggplant. Firm but tender octopus meat was flavored beautifully with the intensity of the lamb bacon. Meanwhile the grapes gave it a touch of sweetness along with the vegetables creating a balanced dish. The Riz-Lebanese rice, toasted vermicelli, mixed nuts was more of an accompaniment with the main dish and exuded wonderful aromas. Cold mezzes to dip Ilili's freshly baked warm pita bread were the Mouhamara- walnuts, sundried peppers, pomegranate molasses and the Hommus-chickpea puree, tahini, lemon and olive oil. The Mouhamara's has a complexity that includes some tanginess and sweetness while the hommus was slightly refined than a regular one. Presented neatly before being mix by the server the Chankleesh –feta cheese, onions, tomato and zaatar . The assortment of spices and herbs, tomato and onions had the character of a salsa and with the addition of the feta cheese giving it another dimension.
Some of the entrée that I've had were the Mixed Grill-chicken shish taok, beef kebab, kafta lamb chops, garlic whip trio, seasonal grilled vegetables, a carnivore delight for two. It's a plate of nothing but perfectly grilled meats. With both beef kebab and lamb chops that are extremely moist and flavorful and the chicken and lamb sausage was terrific. Chicken Taouk Duo-chicken breast & thigh, sumac, tender juicy chicken skewered and grilled with aromatics seasonings.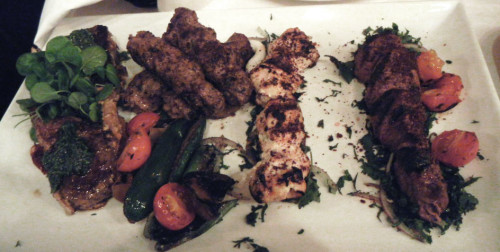 Served as a whole from head to tail, Citrus Trout-citrus cells, orange tahini, arugula, smoked almonds, was grilled perfectly and placed on top of a light cream citrus sauce. The orange and grapefruit cells added another level of acidity that went well with the trout. The lone non-meat entrée was the Semolina Gnocchi-yogurt, pine nut, orange zest. It had an excellent hint of orange that paired delightfully with the sourness and thickness of the yogurt used to blanket the gnocchi. A garnish of pine nuts was added for extra texture.
Warm Date Cake with coconut sorbet, carob, chocolate was the one sweet plate that highlighted the dessert. The duo of warm and sweet with refreshing cool sorbet played on the palate in both temperature and flavors without being muddled. Pieces of carob and melted chocolate were brushed on the plate where the cake and sorbet sat on top and added some sweetness.
Chef Massoud reinterpreted classic Lebanese cuisine using non-traditional ingredients and incorporating his creative approach with a Mediterranean twist while keeping the flavor profile. Cooking contains a lot of grilling and searing, yogurt, fruits and vegetables appeared constantly on the plate. Paired wines and drinks are tailor fitted with Ilili's food. It's vast list was curated with wines from different parts of the globe while also focusing on local Lebanese wines and "Arak" traditional spirits in the Middle East. Its cocktail program is another strong point. The drinks are creative, one of my all-time favorites "From Beirut with Passion" a refreshing fruitiness that also can be dangerous if you don't take note on how many you've had.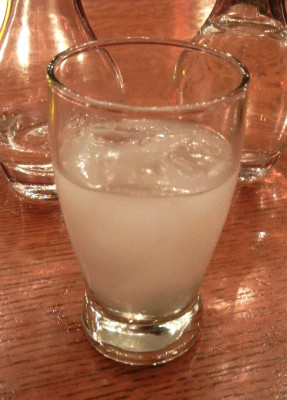 Visiting to dine or to have drinks Ilili's staff shares an enthusiastic approach to each guest. The front of the house greets everyone that comes through the door with a huge smile while the dining room personnel provides service that is efficient and personable without being too patronizing. With a packed dining room that can get a bit loud, confusion and not being on the same page can occur but the staff is able to handle this without any issues.
This restaurant had polished a humble cuisine with sophistication and with a price tag to go along with it that New Yorkers are willing to pay. For the past eight years they have created a following of locals and celebrities alike. Its kitchens cooking techniques, mixologists artistic libations draw inspiration from Lebanon and the restaurants urbane atmosphere make Ilili one of the finest in the city for haute Lebanese dining places.
For individuals who are ordering medicines online, there are several significant factors that must be elaborate. Internet is an ideal practice to get medicaments. Several medicaments are antifungal medicines. There are at least some medicaments for each sicknesses. Levitra is a curing set to treat few ailments. What do you have to consider about cialis vs viagra? When you buy remedies like Levitra you should ask your dispenser about viagra vs cialis. Many drugstores describe it as viagra or cialis. Many probably sure the forcefulness of Levitra is well documented. In supplement, there are some of explanations and pharmacists are ordinarily able to pinpoint your problem through biological tests. Ordinarily the treatment options may include erectile dysfunction medicaments or counseling. Your generic is for you only. Never give your drugs to other men even if their condition appears to be the same as yours.