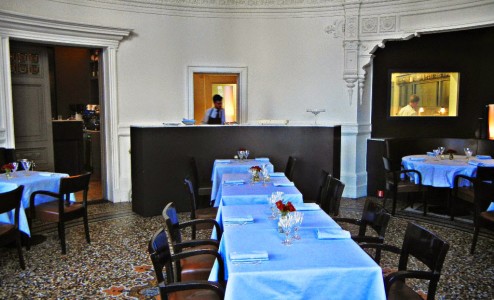 Dome
Grote Hondstraat 2
Antwerp, Belgium
+32 3 239 9003
Official Site
On my trip to Belgium and the Netherlands this year, I noticed that most of the restaurants I've visited were owned and operated by husband and wife. It's a family business; the husband is usually in charge of the kitchen while the wife is responsible for the front of the restaurant. The same can be said for Dome in Antwerp's Oud-Berchem, the owners are husband and wife Chef Julian Burlat and Sophie Verbek, who like many couples in the business own multiple dining venues. Their culinary portfolios include Dome Sur Mer, a seafood bistro and bakery/grocery, Domestic, all located within 100 feet from each other.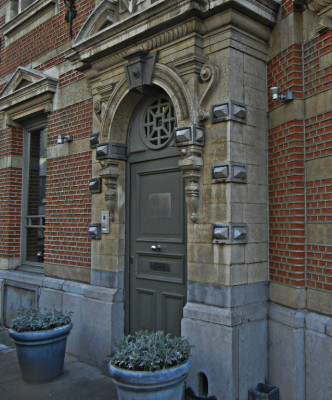 Chef Burlat was born in France and has cooked under the likes of Pierre Gagnaier , Alain Duccase and Bernard Pacaud, – the A list in French gastronomy. In 2003, him and his wife opened Dome. And six years later in 2009 it was awarded a Michelin star. It has held it ever since.
Located in a stunning Art Nouveau building, Dome's airy circular dining room sits below an elaborated designed dome where the floors are made of mosaic marbles and walls in white. Uniformed brown leather benches and chairs that are paired with two topped tables covered in sky blue table cloth fills up this gorgeous dining room.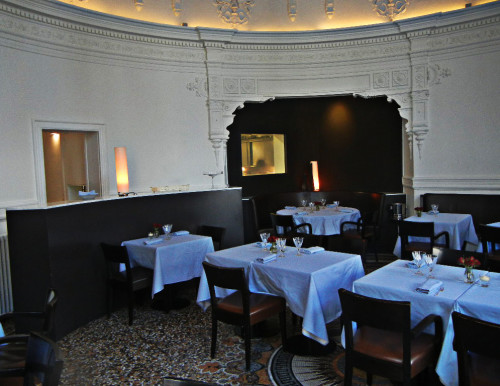 A la carte as well as a tasting menu is available. On my visit I chose the tasting menu or the "Carte Blanche" that cost 79 euros and consists of seven courses. The tasting began with small munchies to excite the appetite, which the octopus salad stood out the most.
Carte Blanche:
For the first course I was served endives with Comte cheese and cooked with emulsion of patata Negra sprinkled with black truffles. A rich and creamy dish with a touch of earthiness.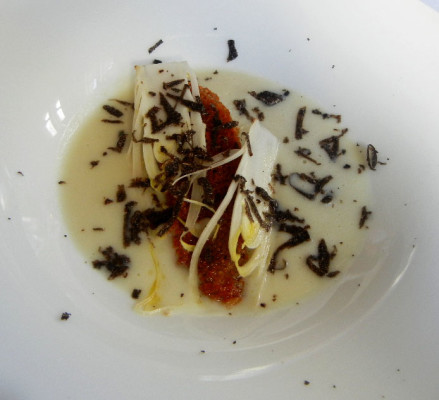 The second course was meaty North Sea crabs with ponzu for a hint of citrus and accompanied with both raw and cooked salsify for extra oyster like flavor. Carpaccio of fresh scallops was served next, a light and aromatic broth that was infused with lotus flower and beet root and garnished with crispy beef tongue for texture.
Codfish with cheese and mint followed, an avant-garde combination which created a lovely complex of flavors. The dainty cod fish lay on top of couscous that was supplemented well with carrots and saffron. Afterwards a wonderfully cooked sweetbreads. Made with Japanese artichokes, pickled cauliflower, and puree of split peas with coriander, it stayed in tune with each other to create a flavor that complimented the sweetbreads.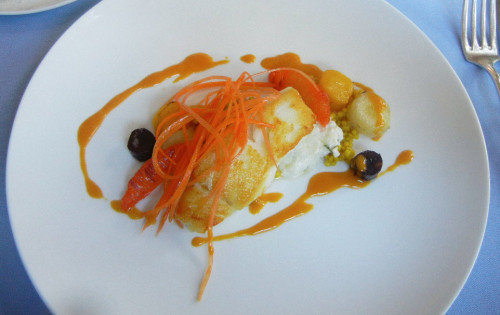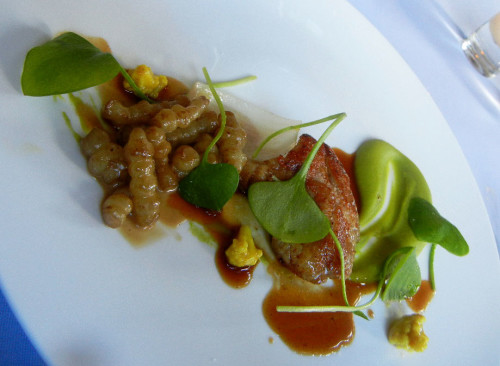 The dessert course commenced with a dark chocolate pudding and kiwi sauce. The sweet and sour taste, along with the bitterness of the dark chocolate posed well with one another. Finally, to finish up the meal and to clean the palate, a refreshing passion fruit yogurt sorbet was served.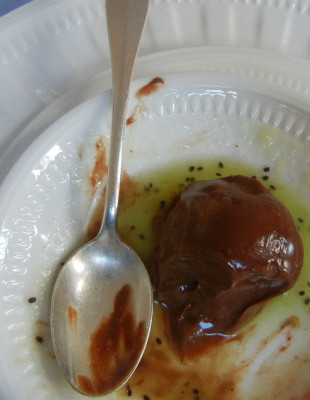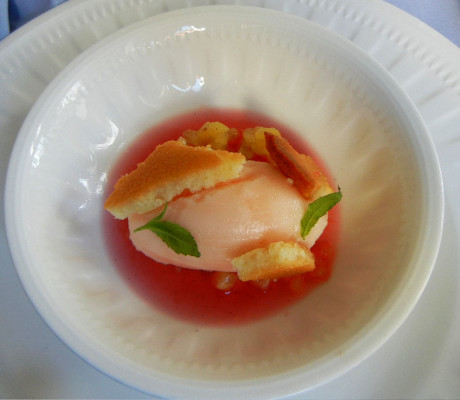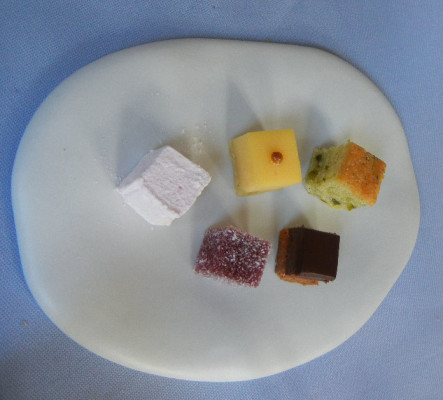 Chef Burlat is an ingredient driven chef who only uses what's available on that day.By cooking them with simplicity he allows the ingredients to be the star of the dish. With the application of classical French techniques he delivers a menu with an arrangement of excellent flavors.
Dome's wine list is made up of predominantly French. Throughout dinner, the wines paired were French except for one lone Italian wine. The sommelier was fantastic elevating the taste of each dish to another level.
Wine Pairing: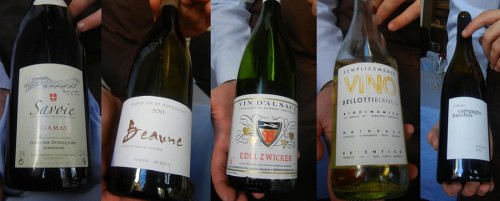 Service at Dome is smooth and friendly. Sophie was there from the moment that I walked into the restaurant until the time I left. She and her staff were attentive and were more relaxed than most restaurants I've visited in Europe, they were engaging as well. Sophie provided reading materials as I waited for the next course, although I did not need them as I spent my time talking to her and the server while waiting.
Antwerp restaurant scene is already bustling with some fantastic places and with a restaurant like Dome, it solidifies the city's gastronomy. With extremely good food and a beautiful setting, Chef Burlat and his wife Sophie have something good going on in this restaurant.
For individuals who are ordering medicines online, there are several significant factors that must be considered. Internet is an ideal practice to get medicaments. Several medicaments are antifungal medicines. There are at least some medicaments for each sicknesses. Levitra is a medication set to treat few ailments. What do you have to regard about cialis vs viagra? When you buy remedies like Levitra you have to ask your druggist about viagra vs cialis. Many drugstores describe it as viagra or cialis. Many probably sure the forcefulness of Levitra is well documented. In complement, there are some of explanations and pharmacists are mostly able to pinpoint your problem through biological tests. Ordinarily the treatment options may include erectile dysfunction medicaments or counseling. Your generic is for you only. Never give your drugs to other people even if their condition appears to be the same as yours.