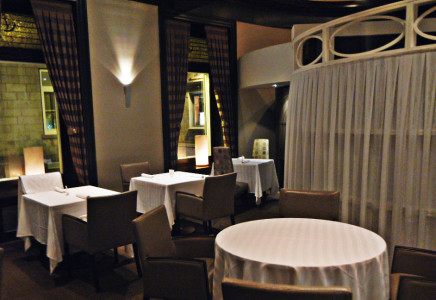 Restaurant Initiale
54 Rue Saint-Pierre
Quebec, QC G1K 3Z9
Canada
+1 418-694-1818
Official Site
In the French speaking Canadian province of Quebec, Montreal, their excellent restaurants from fine dining to casual bistro and talented chefs tend to get all the gastro praises. The province's capital of Quebec City on the other hand, with its European charm, feels like a little brother that doesn't get enough credit. The city has an outstanding gastronomic scene that is anchored by Restaurant Initiale. Guide books and food blogs recommend and also recognize this as the best restaurant in Quebec City. A member of the prestigious Relais & Chateaux, one of only two restaurants here to be awarded the CAA/AAA five diamond and is considered amongst the top dining venues in all of Canada.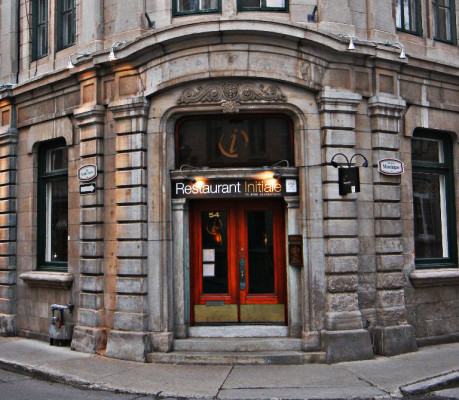 In charge of the kitchen is French born chef, Yvan Lebraun from Cancale, Brittany who moved to Quebec in 1986 while the dining room is handled by Rolande Leclerc. The co-owners worked together at Hilton Quebec prior to Restaurant Initiale. They first opened the restaurant in 1990 before relocating to its current location in 1998 below the old city and away from all the hordes of tourists. The building that the restaurant is housed in was once bank; it was then transformed with neutral tones designed with a contemporary elegant interior. Its dining room has large windows, brown carpet that covers the whole space, and tables with neatly pressed coverings are positioned with enough space from each other along with sizable cream leather seats. The dimmed lights with very soft music provide an intimate setting. A relaxing lounge upon entering is where pre and post drinks are held and is often used as additional seating on busy nights.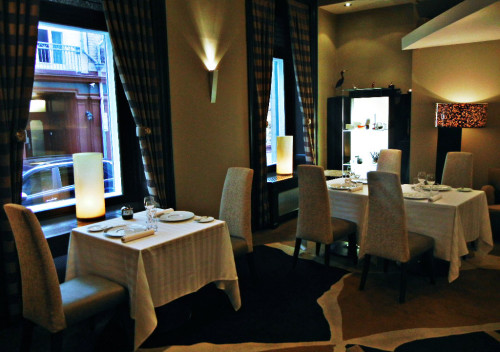 There are different set menu options for both lunch and dinner to go along with a la carte, but to get the full experience of Chef Lebrun the tasting menu was my choice. For aperitif, I was offered the "Initiale", an in house concoction named after the restaurant made from bubbly wine with a slice of orange peel resembling a kir royal.
Degustation:
A light and refreshing amuse-bouche of chilled beet root, cantaloupe, and radish started the tasting. This was then followed by another amuse of mushrooms with quail eggs, salmon roe on top of potato almond cream which had a sensational earthiness. For the first course I was served scallops lamelles, oxalis and horse radish with marinated lobster, verjus and cameline, pousses de mme Allison. It had an enthralling floral essence and distinct notes that suited the sliced raw scallop. An added item on the plate was the chopped marinated lobster filling on half circled crispy rolls creating a superb first dish. Next was the dice of halibut and caviar de British Columbia with leeks and potato, dried yolk powder, and lemon confit. The delicate clean tasting piece of halibut was topped with caviar providing a touch of saltiness while the creamy sauce gave it some richness.
For the third course, I was served Royale d'ail nouveau and breast of pigeon-petits pois, concentrated juice buckwheat and galette. Flavorful tender pigeon breast meat with a vivid pink middle was intensified with the boldness of the buckwheat juice. While the heavy cream custard prevented the juice from overpowering the rest. An accompaniment on the side of the plate was a pastry rolled up with chopped pigeon meat stuffing, showing the versatility of the meat and the creativity of the chef.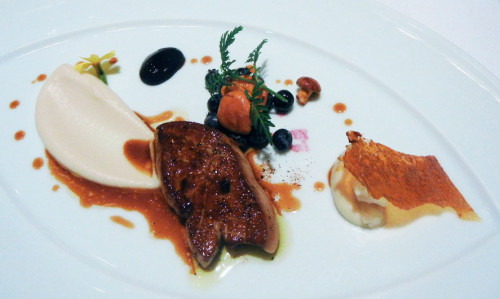 Continuing on, a seared foie gras-cauliflower purée, blueberries, chanterelles and duck juice. The foie gras was seared perfectly giving the outer layer a beautiful seared texture while keeping the inside buttery. Complimenting this was creamy cauliflower puree and a strong duck juice sauce. The dish also had nice undertones of sour and sweet. Then came the veal loin -fried medaillon, roasted tomatoes and green olives condiments and almonds. An excellent course where the veal was impeccably prepared and succulent. As complex as this dish may seem with all of these elements on one plate the chef was able to make it work in harmony.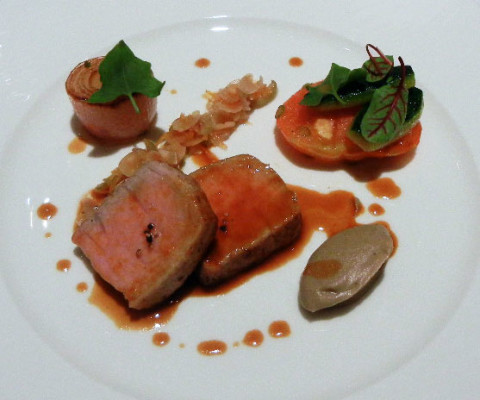 A cheese course of Tomme sheep de Kamouraska-vegetal tartare-fruits & vegetables, oil of anis-hysope and pourpier that is made locally from the region had a defined nuttiness. The toast with spread and tartare of fruits and vegetables supplemented the cheese and can be eaten together or individually.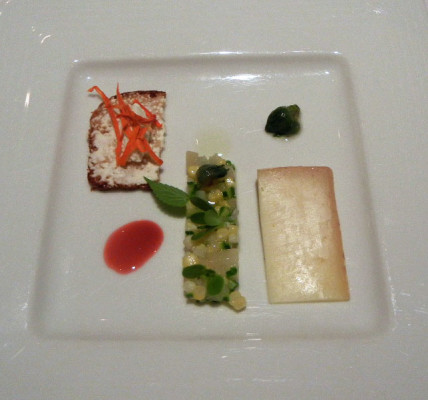 Dessert courses began with the eggnog buttermilk and lemon thyme-Langue de chat and fleur de sel. The light eggnog with a pastry stick coated in chocolate and a sugary cookie at the bottom of the bowl was a beautiful combination of sweet and savory while also slowly acclimating the palate for a sweeter course. Gourmandise-entremet lemon and pistachios biscuit, raspberries and rose sorbet. It was more refreshing than sweet. A chilled sensation from the rose sorbet while also maintaining a citric fruitiness from the rest. Then finally the Mignardise, sweet pastry with blueberry adding saccharine richness ended the meal
At CAN 139 (at the time of my visit but has gone up to CAN 149) this was the most expensive tasting menu in Quebec, but with a strong US exchange rate this is a bargain and well worth it as I was treated with a fine multi-course meal by Chef Lebraun while showcasing the bounty of the region and its artisans. Most, if not all, of the ingredients were sourced locally and within Canada. He uses high quality ingredients prepared with meticulous and intricate combinations to create a contemporary French-Canadian cuisine. Each plate had multiple features that managed to complement one another to produce well balance flavors. There was a CAN 119 wine pairing arranged by Isabelle, the sommelier, that I opted out of and instead I gave her my price range that she was able to work with. It was a wonderful pairing that was spot on and interesting, especially when she paired one of the desserts with a sparkling rose that cut down the sweetness and gave it an additional taste.
Wine Pairing:
On the weekend evening of my visit the dining room was full of locals and tourists. Rolande assured that each guest was serviced to the utmost and that they were given a top notch dining experience. The staff was proficient, pleasant, and engaging. She visited every table often and even assisted in serving the food. Her hospitality from the time I spoke to her over the phone for my reservation and until my visit was unparalleled.
Restaurant Initiale is an outstanding restaurant, the cuisine identifies with Chef Lebrauns and the sublime hospitality by Rolande provided an unparalleled dining experience. It is the apex restaurant of Quebec City's dining. And, just like every city in the world that has at least one or two restaurants that represent their city, Quebecers can proudly call Restaurant Initiale as their own.
For individuals who are ordering medicines online, there are several significant factors that must be considered. Internet is an ideal practice to get medicaments. Several medicaments are antifungal medicines. There are at least some medicaments for each sicknesses. Levitra is a therapy set to treat few ailments. What do you have to consider about cialis vs viagra? When you buy remedies like Levitra you should ask your pharmacist about viagra vs cialis. Many drugstores describe it as viagra or cialis. Many probably sure the forcefulness of Levitra is well documented. In supplement, there are some of explanations and pharmacists are ordinarily able to pinpoint your problem through biological tests. Ordinarily the treatment options may turn on erectile dysfunction medicaments or counseling. Your generic is for you only. Never give your drugs to other folk even if their condition appears to be the same as yours.