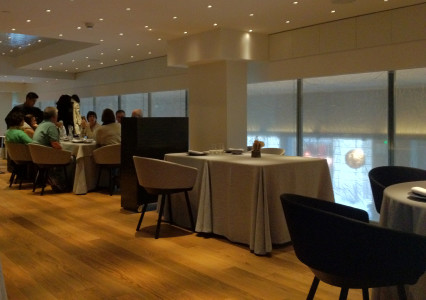 SAUC Restaurant
Via Laietana 49
08003 Barcelona, Spain
933 21 01 89
Official Site
When I was in Barcelona a few months ago I wanted to visit a Michelin Star restaurant, of course I've heard all about the great restaurants that the region possessed, like the now closed El Buli and El Celler de Can Roca.The closest restaurant to my hotel was SAUC restaurant at the Ohla Hotel. A one Michelin star restaurant, it is known for its classic Catalonian cuisine prepared with a modern technique by Chef Xavier Franco.
Located on the mezzanine of the Ohla Hotel, SAUC is small and has a clean modern décor. The interior is designed with hard wood flooring, a black wall that serves as separator between the kitchen and dining room as well as counter, and it is surrounded by glass windows overlooking the street. While the covered tables and the low ceilings provided a dim lighting giving it an intimate atmosphere. Oddly enough the space and atmosphere reminded me of SHO Shaun Hergatt and Ai Fiori here in New York City.
Now on to the food, I began with an amouse bouche of olives in different textures. The one that left a lasting impression were the black olives that looked and had the texture of a gummy bear but with a black olive taste. My first course was the Spanish mackerel with almond milk poured over it. Surprisingly enough the almond milk and mackerel created a milky fish flavor. The second course, was the potato artichoke with poached egg, it was good but nothing spectacular. The entrée, cod fish with beans was very enjoyable.The salty flavor of the fish was neutralized by the beans when eaten together. To finish the meal I had Milfull and Cream with strawberries for dessert. It was very good, the dessert wasn't as sweet as I expected and was well balanced. I paired my meal with a handpicked white wine by their sommelier which enhanced each of the flavors in my meal.
SAUC was a good choice to have a Michelin Star meal in Barcelona. The food was very good and the service was not less than spectacular while the setting was subdued and intimate.The question I would like to ask is, can this restaurant be as successful in New York City as it is in Barcelona? New York diners and critics are thorough when it comes to Spanish cuisine, just ask Miguel Romera. Then again Gastroate, on the Upper West Side, has been well received here. There's only one way to find out and that is to dine there and have your own opinion like I did. In my opinion (SAUC Restaurant) will do very well here in NYC.
For individuals who are ordering medicines online, there are several significant factors that must be considered. Internet is an ideal practice to get medicaments. Several medicaments are antifungal medicines. There are at least some medicaments for each sicknesses. Levitra is a curing prescribed to treat few ailments. What do you have to consider about cialis vs viagra? When you buy remedies like Levitra you should ask your dispenser about viagra vs cialis. Many drugstores describe it as viagra or cialis. Many probably sure the forcefulness of Levitra is well documented. In complement, there are some of explanations and pharmacists are ordinarily able to pinpoint your problem through biological tests. Ordinarily the treatment options may include erectile disfunction medicaments or counseling. Your generic is for you only. Never give your drugs to other folk even if their condition appears to be the same as yours.