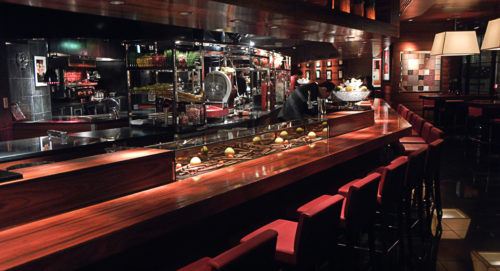 L'Atelier de Joel Robuchon
2F Hillside, Roppongi Hills
6-10-1 Roppongi, Minato-ku
Tokyo, Japan
106-0032
+81 3-5772-7500
Official Site
In 2003, super star chef Joel Robuchon came out of retirement to launch the first L'Atelier de Joel Robuchon in Tokyo. The success led to outpost in major cities like London, Paris, Hong Kong,  Shanghai, Singapore and will soon re-launch in New York. The concept of the L'Ateliers dining style was inspired from the chef's admiration of Japanese dining. This typical setting is where the guest sits around the counter behind an open kitchen providing the front row seats to their meal. Most of the meals consists of small plates which is an influence from Spain's notorious tapas. Coincidentally, Spain is where Chef Robuchon currently calls home.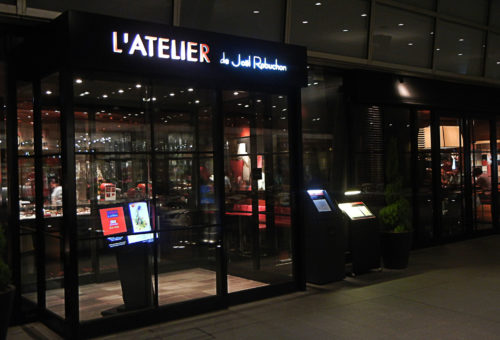 Located in the upscale development of Roppongi Hills,  L'Atelier de Joel Robuchon has earned two Michelin stars. He ensures that this standard is kept by leaving it in the hands of Japanese chef, Kenichiro Sekiya. Chef Robuchon expects nothing but the best as he maintains his accolades along a string of other venues in Tokyo, all of which totals seven Michelin stars.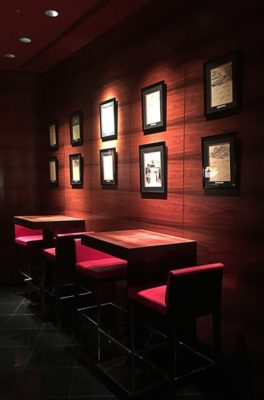 His taste for high quality does not end with the combining the styles of Europe and Asia into his dishes, his knack for class flows into the designs of his venues. L'Atelier for one is designed with a long glossy dark mahogany counter that stretches the length of the space providing guests with a sense of ease and comfort. These warm tones are paired with high chairs with short back rest, accented with two top bar tables.  The interior color scheme is a theme of L'Ateliers black and deep red branding. This particular location also houses, La Boutique de Joel Robuchon, which is a pastry and bakery shop.
The restaurant is open for lunch and dinner where one can find many set- menus to choose from. A popular choice is the a la carte, in which guests are able to design their meal from a large number of items in the menu.
On the night of my visit I came with a dining companion and we each ordered a different set menu. We were thrilled to be able to sample multiple dishes. To start the meal, we had morsels of fried quinoa balls, very similar to what I had in the Hong Kong branch a week ago. Then came the renowned L'Ateliers breadbasket, a carb monger's delight for sure. For the appetizer we had LA BETTERAVE-Beets and apple duo served with an herb salad and a green mustard sherbet. The distinctiveness of the beets was perfectly paired with the intensity of the green mustard sherbet. The cauliflower mousse served on snow crab with caviar had a wonderful consistency. Its luxurious topping of caviar presented a deep salty undertones to this excellent dish.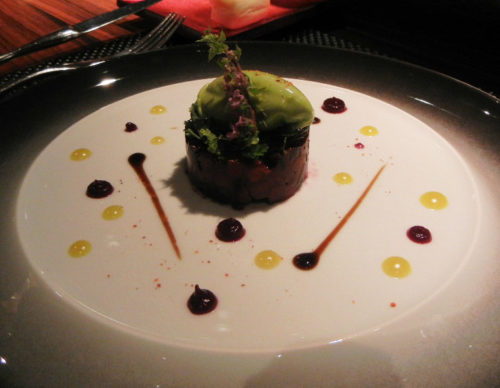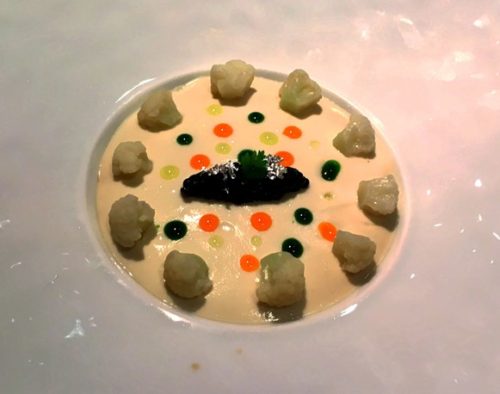 The soup courses like LA CHÂTAIGNE- Chestnut cream soup with smoked bacon and celery had a lavish blend of creaminess. LES RAVIOLES-Duck Liver ravioli in a warm chicken broth, with herbs and spicy cream had a marriage of many savory flavors with just the right hint of herbal and spicy presence.
For entrees, LA PINTADE -Roasted guinea fowl served with pastoral salad and natural gravy was roasted with fantastic crispiness. The inner part of the meat was moist and juicy. An accompaniment of the world famous Robuchon mash potatoes was served with this dish. LE CHEVREUIL-Roasted venison accompanied with stewed red cabbage, brown butter sauce, and venison had to be prepared with utmost love. The scrumptious venison meat seemed to have been painted with gorgeous colors that were indicative of its bursting flavors.  LE BLACK COD – Black cod with Yuzu Daikon velouté, spice scented oil, was a beautiful tender piece of fish that had a bit of sweetness while also having a citrus and spicy notes.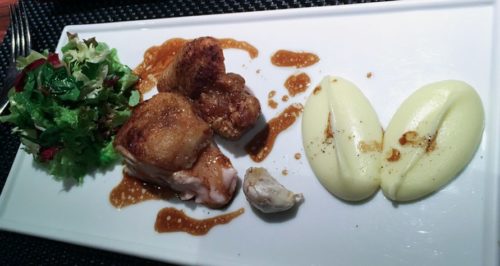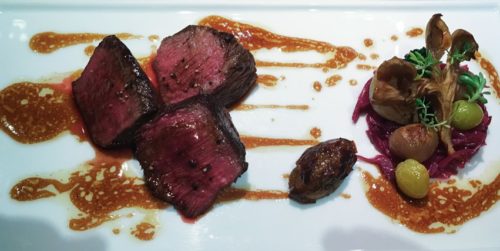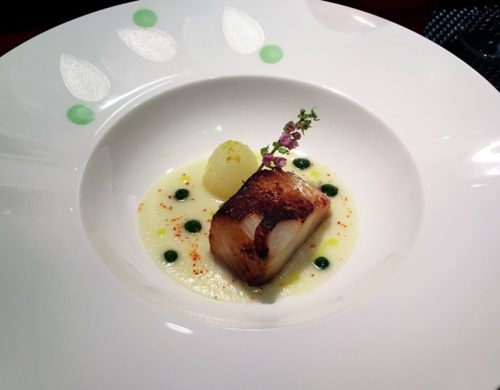 To top it off, the cheese course offered were intricately concocted of cheeses imported straight from France. I allowed my server to choose it for me, I was served with three types of cheese with different textures and pungency. The desserts that I had was the Chocolate soufflé which was made to order. This chocolaty delight was served warm and had a soft spongy textures. EL-ANDALUZ -Strawberry marinated with lime, tequila sherbet and tomato-strawberry coulis was fruity and cold that also had a noticeable refreshing tequila presence.  Who wouldn't want a tequila presence in everything, much less dessert?
The service was interactive and relaxed. The well-trained staff in their black and red uniforms managed the restaurant guest that comprised of both foreigners and locals effortlessly. We had a French man served us through the whole dinner who had a friendly personality and conversed in perfect English. He was extremely helpful and honest when it came to his recommendations. The Japanese servers that occasionally came to us were pleasant and tried their best to communicate.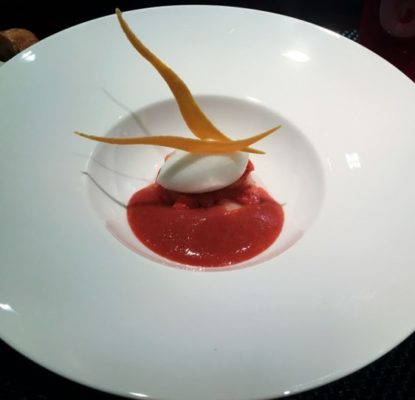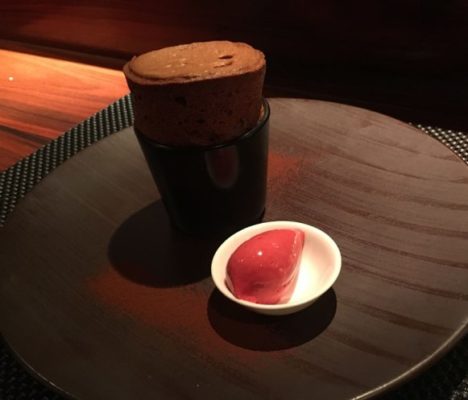 The different L'Ateliers serves similar dishes all across the board, but the Tokyo location on the other hand might have a slight edge from others due to the quality of ingredients that it uses. The dishes were not only presented with such class but the combination of taste and quality was effortlessly served, and of course, welcomed.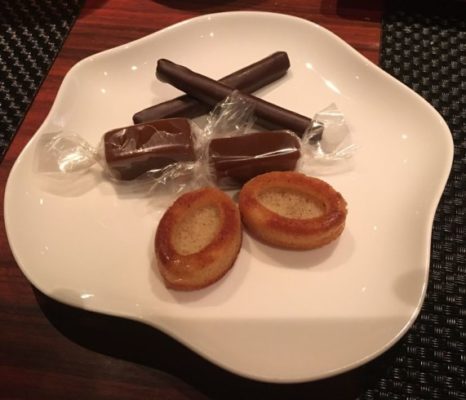 I found that the dining at this restaurant was less of the upper class nature and approachable compared to the Hong Kong outpost (which have three Michelin stars and the only other L'Ateliers ive been to) where I dined a few days prior. This casual and yet interactive atmosphere at Tokyo's L'Atelier de Joel Robuchon is quite enjoyable.
For individuals who are ordering medicines online, there are several significant factors that must be considered. Internet is an ideal practice to get medicaments. Several medicaments are antifungal medicines. There are at least some medicaments for each sicknesses. Levitra is a treatment prescribed to treat few ailments. What do you have to consider about cialis vs viagra? When you buy remedies like Levitra you should ask your druggist about viagra vs cialis. Many drugstores describe it as viagra or cialis. Many probably sure the forcefulness of Levitra is well documented. In complement, there are some of explanations and pharmacists are ordinarily able to pinpoint your problem through biological tests. Ordinarily the treatment options may include erectile dysfunction medicaments or counseling. Your generic is for you only. Never give your drugs to other folk even if their status appears to be the same as yours.