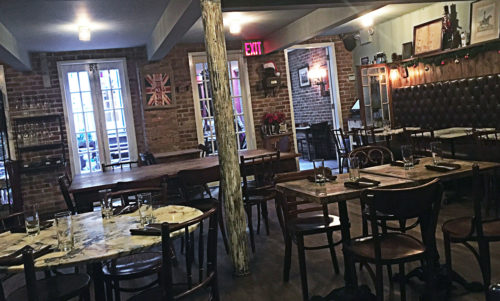 Jones Wood Foundry
401 E 76th St.
New York, NY 10021
(212) 249-2700
Website
In the late 1700's, there was successful merchant named John Jones who owned a large land in upper Manhattan in what is today the Upper East Side. During that time, the area was known as Jones Wood. Fast forward four hundred years later, a restaurant housed in a 19th century building on 75th street by First Avenue was fittingly named Jones Wood Foundry.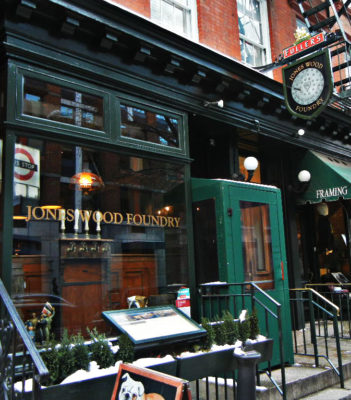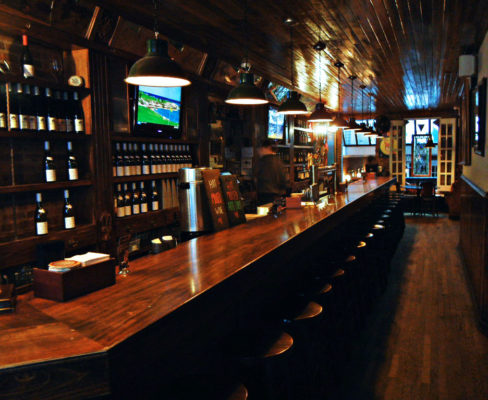 At first glance Jones Wood Foundry looks more like a pub than a restaurant. A long bar greets you as you enter. After making your way through the bar and down a few steps is an area next to a tiny courtyard (use for outdoor seating on warmer months). It has exposed brick walls and a lengthy communal table in the middle sitting directly below the skylight. Behind it is the dimly lit main dining room with low ceilings. Worn out wooden floors, heavy marble tables with cabin chairs along with the décor, created a rustic interior in the space imitating an old English pub.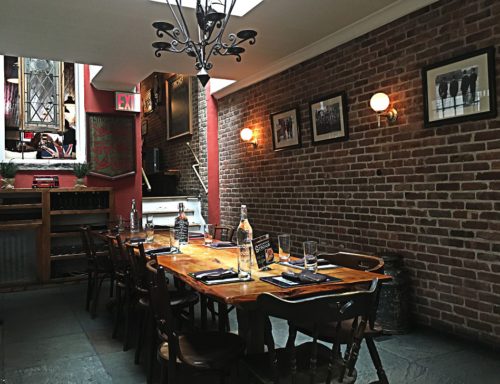 The restaurant is open for lunch and dinner as well as brunch on the weekend. The menu has a slight variation but for the most part dishes are available at all times.
Starters like the RICOTTA – sourdough, aged balsamic, thyme, rosemary were the blandness and thick textures of the ricotta was delightfully flavored by the strong balsamic vinegar. The CHICKEN LIVER FOIE GRAS PARFAIT- brioche, grape chutney, cornichon was buttery, extremely rich, and bursting with so much flavor. Toasted brioche was the perfect company for the parfait.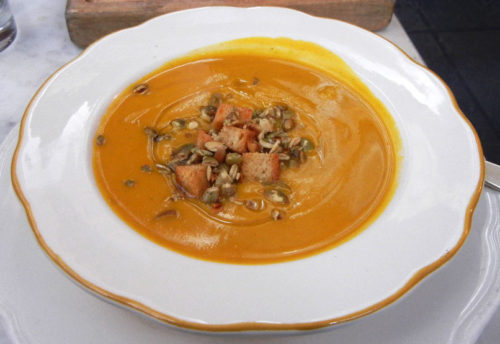 The soup of SPICED BUTTERNUT SQUASH -brown butter crouton, toasted pumpkin seed and its pleasant thick earthy sweetness was perfect for the cold weather. On the lighter side the KALE SALAD – red cabbage, green apple, spiced pecan, shaved parmesan was particularly fresh and lively. The crunchy leafy vegetable has a nice bitterness to it.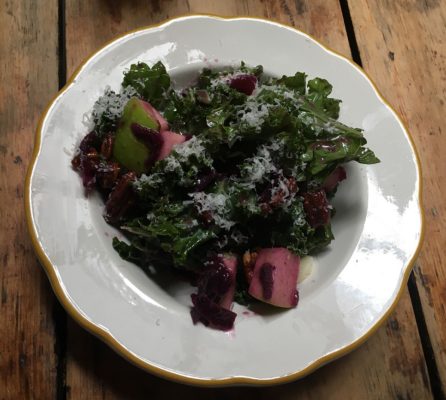 For the entrée, the FISH & CHIPS -beer battered cod, triple cooked chips, tartar sauce, lemon at $25 is probably the most expensive fish & chips I've seen so far in New York City. The batter has a beautiful crispness while the cod was incredibly moist and tender. The ORGANIC SCOTTISH SALMON BURGER red pepper relish, avocado, chancellor sauce has the right meat to bread ratio. Scrumptious salmon patty on a potato bun was cooked beautifully. Enhancing the burger are the toppings and its pickled sweetness. Served on a cast iron skillet was the hearty SHEPHERD'S PIE- lamb shoulder, mashed potato, cheddar cheese. This filling dish has different savory layers that will undoubtedly satisfy any signs of hunger.
For dessert, chocolate lovers will be pleased by the MILK CHOCOLATE MOUSSE – creme anglaise. This thick chocolate mousse was dosed in syrupy sweetness. The bitter citrus notes in background kept sweetness at bay.
The humble British fare is often seen in many New York City pubs and sport bars. But in the kitchen of Jones Wood Foundry it was given a certain refinement. They focused on serving dishes that looks appetizing and taste good. While its generous portions will not leave diners feeling unsatisfied at the end of the meal. Furthermore, the prices are not outside the norm for the area. They have good beer selections which consist mainly of American and English brew available in draft and in bottles. Surprisingly for a pub, they have a pretty decent wine list that includes "British Fizz" or British sparkling wines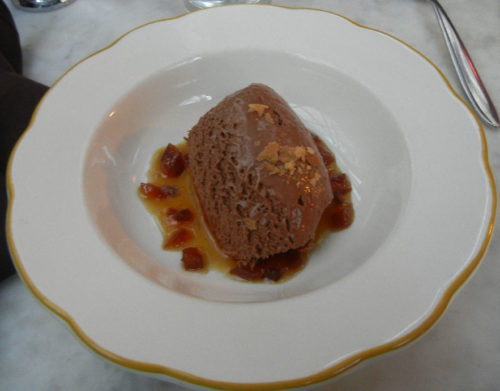 Named after what the area was once called, Jones Wood Foundry does not only reflect the Upper East Side and its history, but it is also a neighborhood restaurant usually filled with locals. Its casual settings coupled with staffs that are genuinely friendly and willing creates a homey vibe. Here guest can have a nice cold pint while watching a game at the bar or dine in for some quality pub fare at any given time.