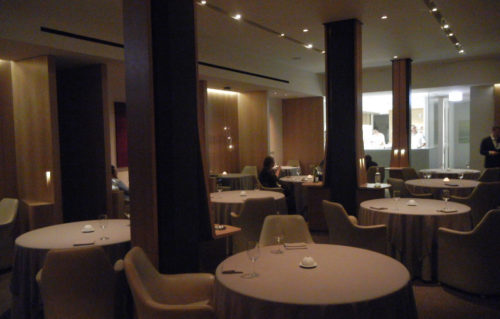 Grace
652 W Randolph St
Chicago IL 60661
(312) 234-9494
Website
*The restaurant abruptly closed on December 19, 2017.
Along with New York City and San Francisco, Chicago is hailed as one of dining capital in the US. The city has a total of 25 Michelin starred restaurants sprinkled throughout. At the epicenter is the neighborhood of West Loop. With an abundance of great places to eat and drink, the neighborhood's culinary excellence is anchored by the three Michelin starred, Grace.
Grace was opened in 2012 by co-owners head chef Curtis Duffy and GM/sommelier Michael Muser. At that time, it was by far the most ambitious and most anticipated restaurant openings in Chicago, as well as in the country. The restaurant was immediately awarded two Michelin stars after a few month of opening. A year later in 2013, Grace was elevated to three stars, a status it has maintained ever since. The restaurant has since received other accolades in such a short span, adding merits such as the four-star review from the Chicago-Tribune, Forbes Five Stars and AAA Five Diamonds.
Chef Curtis Duffy can easily boast a robust kitchen experience working in some of Chicago's top restaurants. He once worked with the late Charlie Trotter at his eponymous restaurant before moving on to Trio, cooking alongside Chicago's most decorated chef, Grant Achatz. In 2004, he was recruited by Chef Achatz as the opening sous-chef of the critically acclaimed Alinea. After a few years there, he took on the head chef position at Avenues in the Peninsula Hotel where he also met his future business partner Michael Muser. At Avenues, Chef Duffy cooking reportoire was awarded two Michelin stars.
The restaurant resides along the strip of W. Randolph Street where some of Chicago's best dining venues are also located. Grace unassuming façade of rusted steel with glass doors opens directly to the hostess table. A short hallway leads to a muted and windowless dining room with tones of neutral colors. It is dimly lit by hanging decanter lights and the floors are cover in thick carpets, which helps dampen the noise. In the dining room are identical oversize round table draped in grey cloth, cream leather chairs, handsome blond wood panel walls, and a glass enclosed kitchen. The columns in the middle are nicely incorporated with its modern interior.
Fauna: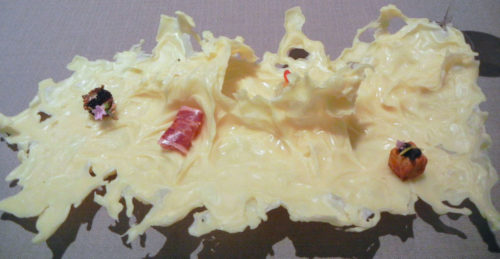 There were only two dining option at Grace, the vegetable centric "Flora," and the meat and seafood "Fauna," which were both priced at $235. I had the latter which began with an array of small bites on a plate made from beeswax. Consisting of Iberian ham, beets, chickpea and yuzu gummy, these small bites were a very good start to this meal.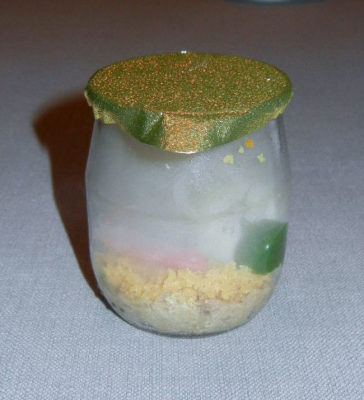 For the first course, GUINEA HEN-ramp, radish, chive blossom was presented in a yogurt glass cup sealed in foil, and when opened it releases an enticing smoky aroma. I was instructed to lick the other side of the lid which was spread with a zesty coconut cream. The glass was stuffed with guinea hen pate infused with a wonderful smokiness in company of radish, ramps, scallions and coconut cream.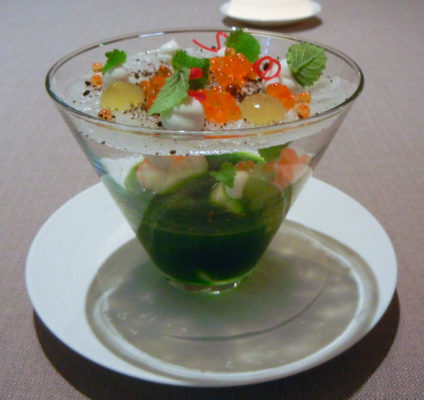 ALASKAN KING CRAB-sudachi, cucumber, lemon mint was next. Served on a martini tumbler glass, it has a crystalized sugar in the middle separating the ingredients. At the bottom of the glass are pieces of delicious crab meat in cumber juice. Breaking the crystalized sugar mixes all the ingredients, creating a fantastic balance of flavors. There was also a distinct peppery note that blended perfectly.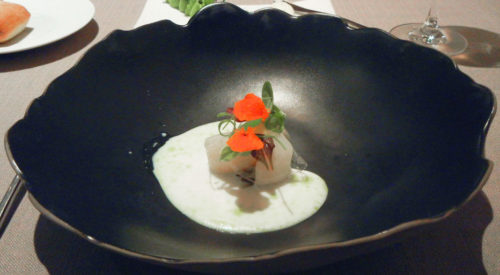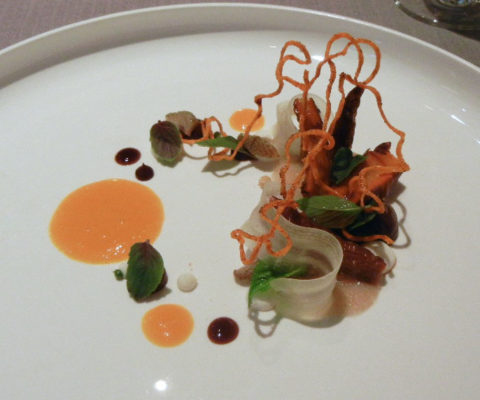 Third course was the BAY SCALLOPS-white poppy, romaine, nasturtium. Meaty scallops were ultra-fresh and sweet. Rich milky sauce from white poppy seeds elevated the scallops by providing an extra layer of flavor. That was followed by an extra dish from the Flora menu, CARROT-green strawberry, hazelnut, amaranth. This vegetarian plate has so much going on. It has an earthiness coming from the carrot, some nuttiness from the hazel nuts, citric features from the orange sauce, and a refreshing acidity from green strawberries. Yet, they all managed to come together in harmony.
The meal proceeded with PORK- gnudi, porcini, spinach. The nicely braised pork was topped with crispy red cabbage and spinach. A piece of gnudi on the side was a pleasant accompaniment to this dish. Afterward the SQUAB-beet, fig, endive was served. The flavorful squab meat was extra tender, moist with a beautiful pink middle. And, complementing it was a vibrant thick beets puree with a honey like sweetness.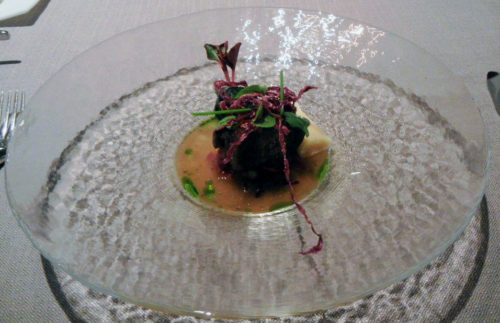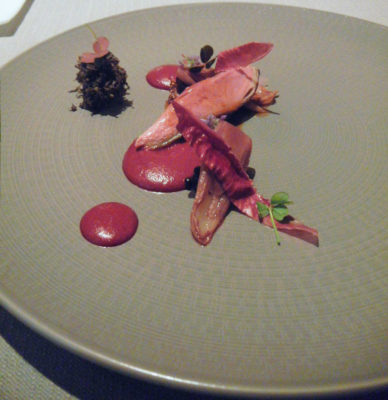 For the main course, MIYAZAKI BEEF – grains, hon shimeji, kaffir lime was a pure luxury. Miyazaki beef is one the finest on the planet and it was cooked impeccably here. Each bite melts eloquently in the mouth like a cotton candy. There are hints of nutty and citrus element in the background that paired accordingly with the beef.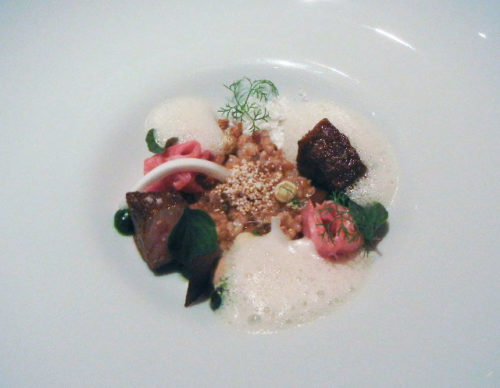 Prior to dessert, the BLOOD ORANGE- vanilla, tangerine lace was the palate cleanser. The chilled blood orange yields a soothing citrus tang with a nice touch of vanilla cream. Dessert was HUCKLEBERRY- honey, fenugreek, basil, huckleberry ice cream has a nice sweet sourness while other components provide an interesting peppery and minty combination. This was refreshing and fruity at the same time. Next was the CASHEW- cocoa, crème fraîche, Hoja Santa, which was a plate of chocolaty pleasure. The chocolate came in mouse, jelly and cake form and the hoja santa was featured as a sorbet, cream drops and leaves. The assortments of rich chocolate sweetness, herbal essence and savory tartness were put wonderfully together. Lastly a green sphere served on wooden rocker pops with chilled honey dew liquid inside the mouth. It was a refreshing finish to this meal.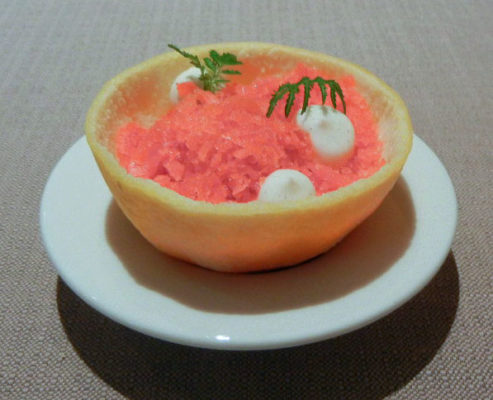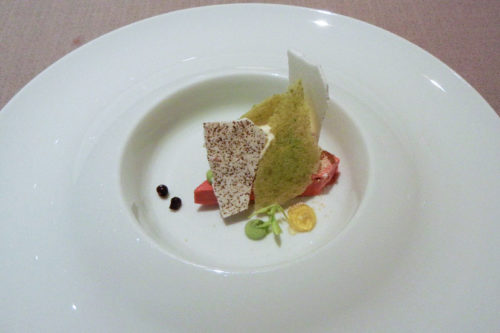 The "Fauna" was a terrific tasting menu that showcased the restaurant's ability and the technical cooking prowess. Using quality and luxurious ingredients sourced both globally and locally, the kitchen creates food that is complex and light. They were able to successfully marry different elements on the plate to create a unique myriad of taste. Every dish was artfully conceived, full of colors and pleasing to look at. Additionally, the $125 wine pairing comprise of nine glasses of predominantly European wines were perfectly designed to add an enriching after taste with every course.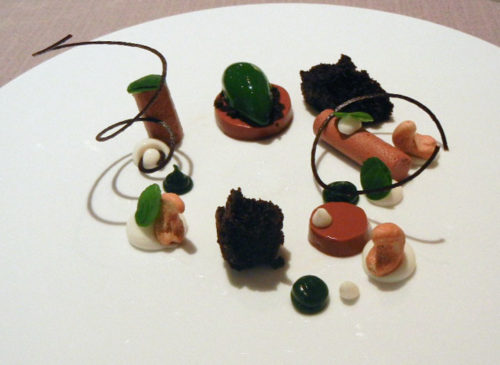 There is a hushed atmosphere in dining room. It is so quiet that you can hear the pin drop, and even the staff spoke in low clear tone. The service was formal throughout my meal, but managed to loosen up from time to time. They handled each table flawlessly and were significantly in tune with one another. Their attention to detail and awareness was incomparable. Providing an exceptional dining experience to each guest was expertly performed by the staff.
Wine Pairing:
Chicago dining has gotten better throughout the years, the city was voted as Bon Appetite best restaurant city in 2016. At the top spot are the three Michelin starred Alinea and Grace. Though Alinea gets majority of the praise, Grace on the other hand has been making a name for itself since opening in 2013. My visit at this restaurant was outstanding in every aspect. The food and the service were equally magnificent, a true tale sign of what greatness represents.
The documentary "For Grace" chronicled the process of opening the restaurant and the challenges that Chef Duffy and Mr. Muser had to face. In the opening scene, Chef Duffy talks about his goal to make Grace as one of best the restaurant in the country. Along with Mr. Muser they had achieved that goal in such a short time. Grace rightfully sits among the great restaurants in the US.