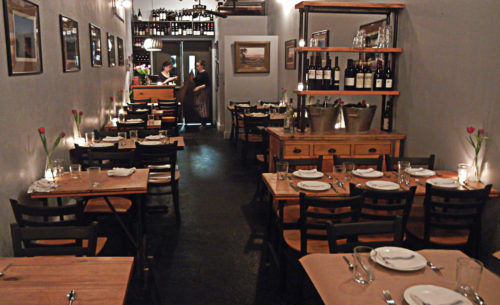 Delaware and Hudson
135 N 5th St,
Brooklyn, NY 11249
(718) 218-8191
Official Website
Williamsburg, Brooklyn, the epicenter of hipster nation, has a glut of places to eat and drink. Along with highly rated restaurants, there are Michelin starred venues scattered throughout the neighborhood including Delaware and Hudson. Its Chef and owner Patty Jackson, is a seasoned veteran of the New York City culinary scene with an impressive cooking resume. Starting as a pastry chef, she was the Executive Pastry Chef of Alto before taking on the Executive Chef position for both Centovini and I Trulli simultaneously. In 2014, Chef Jackson opened Delaware and Hudson, a 40-seat seasonal American restaurant.  Her Mid-Atlantic inspired cuisine at the restaurant was well received by both critics and the dining public. Garnering one star review from the New York Times as well as being named as one of their best new restaurant in 2014. Less than a year later, it earned its first Michelin star, which by itself an incredible feat.  With the Michelin star, Chef Jackson joins a very select group of female-led kitchen with this accolade.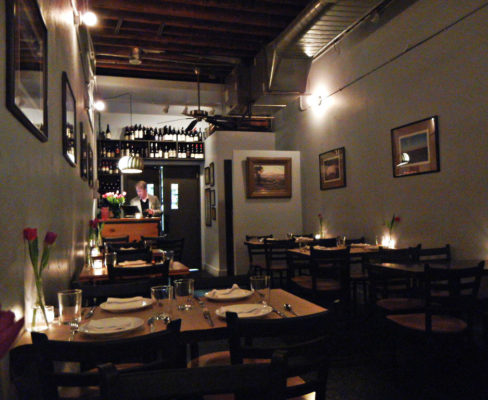 The restaurants interior is simple and plain. It has bare wooden tables, exposed ceilings, epoxy coated floor, and walls with framed photographs of vegetables. Adjacent to the dining area is the bar room, also known as The Tavern.
A la carte menu are offered for lunch, brunch and all day at The Tavern. At dinner, the only option is the $68 pre fixe that consists of four courses, and diners are allowed to choose their entree.
My meal started with a parade of snacks placed in front of me simultaneously. The pretzel rolls were freshly baked and still warm. The savory cup cheese custard with chow chow was thick and heavy. Cutting down the richness of the cheese was its relish topping.  House-cured duck pastrami, damson plums has a tremendous of amount cured flavors that was enhanced by its mustard like sauce. The smoked mackerel pate with radish presented on top of thin crispy bread yields a deep oceanic essence with a touch of profound smokiness.  Served on the shell, were the crispy fried malpeque oysters, kohlrabi slaw that had a nice briny sweetness to it. Sour-braised meatball, ginger snap gravy was scrumptious with good lingering sour note. There is also a gingery spiciness from the gravy that complemented the meatballs.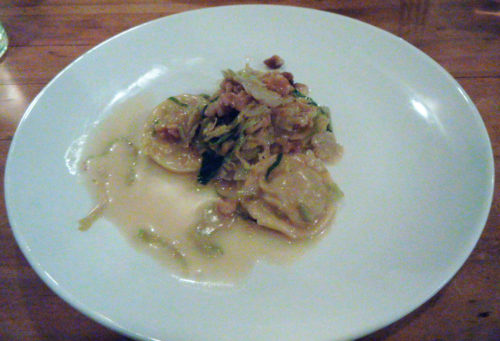 The first course was the potato and cheese filled dumplings, country ham, and brussels sprouts, walnuts.  In this hearty dish all the component play a significant role. The bacon's saltiness provided the flavor while the walnut gave the dumplings the extra texture that it needed.
Dining with a companion, I was able to sample two of the four main courses available on that evening. The Atlantic cod-parsnip puree, roasted carrots, sauteed greens was a superbly cooked piece of cod placed on a bed of sautéed vegetables. It was tender yet also firm and the puree of parsnip provided a certain nuttiness to the dish. Hasenpfeffer-rabbit leg, roasted corn mush, oyster mushrooms is a traditional German rabbit stew brought by German immigrants that settled in the Mid-Atlantic States in the mid 1800's. The rabbit leg was seared with a beautiful layer of crispiness; on the other hand the inner part was juicy and flavorful.  The earthiness of the mushroom and carrots combined with the roasted features of the corn mash made up a pleasant accompaniment to the rabbit.
For dessert I was served the chocolate cake, with vanilla mouse and banana, which was dosed in sweet syrup. There was nothing special about this dessert, but there's no better way to end a meal than with chocolate and vanilla. Petites four were brought by Chef Jackson herself, and consisted of more chocolates.
The meal was pleasant and enjoyable. Each plate had very good flavors that were uncomplicated. The food was neither simple nor complex, but rather prepared with solid cooking technique driven by fresh seasonal ingredients sourced from local farms in the surrounding area. The restaurant has terrific collection of craft beers and ciders from New York and the Mid-Atlantic States, as well as a modest wine list. By the glass options are reasonably priced, and there are plenty of both red and white bottles below the $60 mark.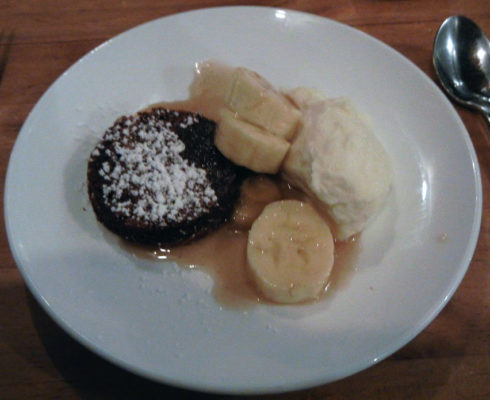 The staff had a good deal of knowledge of food and drinks. Service was smooth, efficient and has a relax attitude that was a perfect fit for the neighborhood. Delaware and Hudson has a casual vibe. During my visit on a Saturday evening, the restaurant was bustling with an eclectic group of guest from all age range; some are dress to impress while others are with their jeans and t-shirts.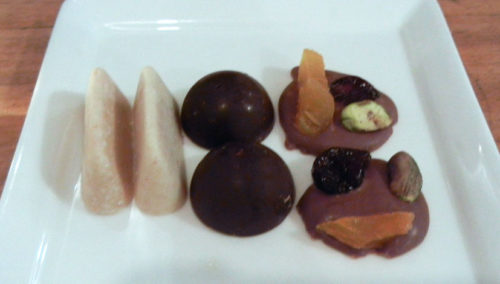 Dining trends these days stay away from white table cloth, immaculate dress wait staff and the formality in service. Instead, chefs and restaurateurs shifted their focus more on the food and less on the settings. Now, there are casual restaurants that serve multi-course meal prepared in ultra-modern techniques with global influences and a hefty price tag. Delaware and Hudson followed this trend halfway and was able to succeed. They offer very good tasting food without the fireworks that produces the wow factor, a relax atmosphere, and a price point that is approachable to many.