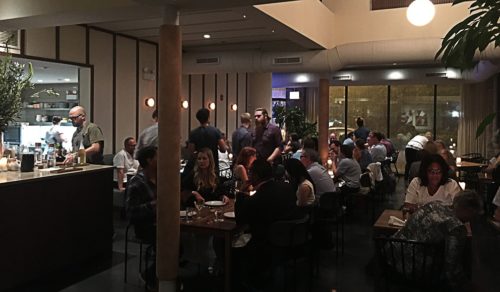 Elske
1350 W Randolph St,
Chicago, IL 60607
(312) 733-1314
Website
Last year, Chicago's West Loop welcomed the Danish-inspired restaurant, Elske. Located along W Randolph Street, this was a great addition to a neighborhood with a bustling dining scene. As one of the most awaited opening in 2016, the restaurant did not disappoint. It was voted number two in Bon Appetite Best New Restaurant in 2017, a three star review from Chicago Tribune, and most recent accolade, a Michelin star. The owners are husband and wife David and Anna Posey who both worked at the Michelin starred Blackbird in Chicago. Prior to opening Elske, David held the position of chef de cuisine at Blackbird while Anna was a pastry chef at Publican.
The restaurant's expansive space seats about fifty guests, and has large store front windows that looks out to the street. The dining room has uncovered dark wooden communal tables, walls of exposed brick, and smooth concrete for floors. At the front is the bar area located next to the open kitchen. On a good day, an outdoor space with a fire place doubles up as an additional dining space.
Elske has an a la carte menu that is inexpensive. There are no plates over $24. In addition, an affordable $85 tasting menu is quite appealing to my pocket, which is what perpetuated my visit.
The tasting menu started with Tea of lightly smoked fruits and vegetables, which was a cup of tea infused with subtle smoked vegetables and fruits flavors. This was followed by Broccoli and amaranth fritter with spicy date jams. A single crunchy bite of grainy fritter boasts a dynamic duo of both sweet and spicy. Duck liver tart with salted ramp and buckwheat was next. The decadent tart teases nice hints of brininess with a touch of bitterness.
The meal continued with an interesting dish called, Chilled zucchini and buttermilk cream with braised pistachio, blueberries and elder, which were thinly sliced chilled zucchinis blanketed in thick cream. The cream has a mixture of sour, sweet, and nuttiness that worked superbly with the zucchini's cold element. Roasted sturgeon with fried artichoke, caviar and lovage came afterwards. The sturgeon was roasted impeccably, it was tender and moist. The lovage sauce with caviar provided the saltiness, elevating the fish, while the fried artichoke makes fine accompaniment.
Grilled Vegas strip steak with braised dandelion greens, smoked beef and roasted marrow was the main course. The steak was scrumptious, packed with flavors, and has delightful presence of smokiness. Adding richness to the dish, was the roasted bone marrow consommé.
Frozen fennel jelly with mint followed the main dish. This concoction was a tongue soothing cube of jelly mint that helps rinse the palate off savory remnants. For dessert, Roasted peach sorbet, frozen yogurt, rose and bitter almonds was served. The peach sorbet went perfectly well with the yogurt, creating a pleasant blend of cold fruitiness and sourness. The garnished of dehydrated rose petal added texture.
Needless to say, this was quite the enjoyable meal. The dishes were creative and refined using cooking techniques that are evident of experienced chefs. The flavor combination was unique but made sense as it rightfully complemented each other.  Though the restaurant served "New American" cuisine with Danish influence, I find that the flavor profile leans more towards Nordic. The wine pairing was also decently priced at $45, and comprised of five glasses. It was mostly European wines with the exception of the red wine paired with the steak, which came from California.
Wine Pairing: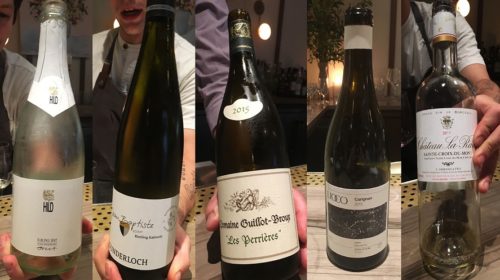 After dining at the three Michelin starred Grace the previous night, I wanted something informal and relaxing. Elske was the right place. I had an early dinner on this particular visit and was seated at the bar. The bartender that evening was genuinely friendly and conversant. When I started my meal there were a few tables occupied but as the night progressed, the dining room and bar filled up fairly quick. Despite the sudden influx of patrons at this time, the service did not falter.
There is a growing number of restaurants opening up in the past few years that offers quality food in strip down settings. From Paris to New York, this type of dining trend has been well received by the masses. In Chicago, such restaurant came in the form of Elske where I was treated with fine dining fare without the prentious atmosphere.